World's First Smart Knee Opens Door to More Smart Joints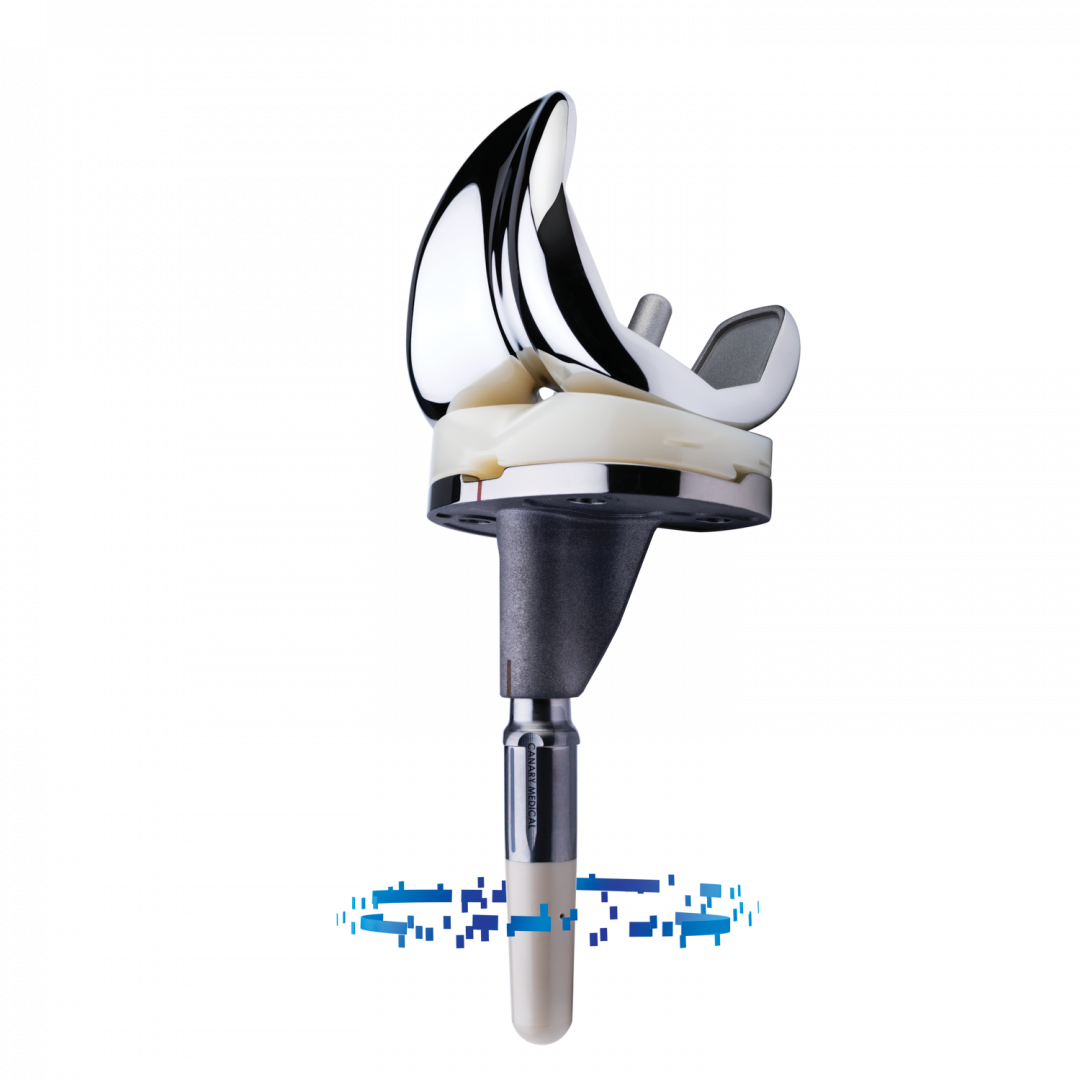 An Indiana-based orthopedic powerhouse is launching the world's first "smart" implant. Zimmer Biomet Holdings Inc.'s new Persona IQ Knee Implant is embedded with tiny sensors that—inside the patient's knee—measure range of motion, step count, walking speed and other gait metrics. The data is delivered wirelessly to the cloud, so the patient and clinician have newfound insight into the recovery process. While the Persona IQ Knee Implant is the first smart orthopedic implant in the world, Zimmer Biomet says it won't be the last; the Indiana manufacturer has other joints already in the pipeline.
Approved just weeks ago, a handful of U.S. patients now have the high-tech total knee replacement device. All standard total knee replacements have a small tibial stem that extends into the top of the tibia, or shinbone. The Persona IQ adds a layer of technology by embedding tiny sensors into the tibial stem of Zimmer Biomet's long-established total knee replacement device. Headquartered in Warsaw, the ortho giant partnered with California-based medical data company Canary Medical to incorporate the sensor technology into the total knee device.
"Think about all the smart devices in your life—a Fitbit that helps you track your sleep and exercise, or smart home features on your garage or fridge. But if you take a step back, how much do you know about what's actually happening inside your body?" says Zimmer Biomet Vice President of Smart Implants Jiny Kim. "Compared to all the other smart optimization…we actually know relatively little on how things are working [in our body]—especially after a significant surge in total knee replacement surgery."
Once implanted in the knee, the first-of-its-kind orthopedic device measures, records, and securely sends to the cloud a wide range of gait data. Surgeons can also compare post-operative gait metrics with mobility metrics collected before the surgery.
"So the clinician can see data on a daily basis and see how the patient is progressing; this is in addition to other physiological primary measurements," says Kim. "It gives them objective data on a daily basis for them to understand how the patient is doing outside the clinic walls."
While similar technology is common in other medical devices, such as pacemakers, no other smart orthopedic implants exist in the world; the Persona IQ Knee Implant is the first to earn clearance from the U.S. Food and Drug Administration.
Zimmer Biomet is Canary Medical's exclusive partner in the orthopedic space, and the two have forged a long-term relationship. While Kim can't share specifics, she says Zimmer Biomet's vision is to develop more smart implants for other joints.
"We are definitively saying this is first of many iterations and many other joint spaces that we're going to go after. We are very much in the works of building out a total portfolio," says Kim. "We believe this post-op data collection in implants is the direction [the industry is going]. Think of what [smart implants] bring to the table: a doctor will be able to see, on a daily basis, is the patient walking enough? Does the patient have a range of motion that dictates they're doing well and on track? With all the other input they're going to have with current standards of care, that [information] is very much an added bonus."
Kim says the Persona IQ Knee—and future joints to come—is just one piece of Zimmer Biomet's "connected health" continuum of care. The company's mymobility program with Apple Watch helps patients "pre-op" prepare for surgery via an app, as well as recover from the surgery; the app will soon integrate Persona IQ data. "Intra-op," or during surgery, a robotic surgical assistant provides data to help the surgeon individualize the placement of a knee implant. And now, Kim says Persona IQ provides objective data "post-op" for the surgeon and patient, which is "super powerful for a patient in understanding their recovery and being engaged with the process."
"That's the super exciting part of IQ—not only as the first smart knee—but that this component gets into the much larger ecosystem we're creating that could, hopefully, in the future truly improve patient care," says Kim. "We think innovation is going to continue to happen in the orthopedic space, and this is one of many [technologies] that's going to get us there."
Surgeons have traditionally relied on patient-reported metrics during intermittent post-op follow-up visits, but Kim says the Persona IQ will supplement that process with objective data.
Kim says Persona IQ will enhance the recovery process for both the patient and surgeon.
Story Continues Below