Stellantis plans $2.5B EV battery plant, 1,400 jobs in Kokomo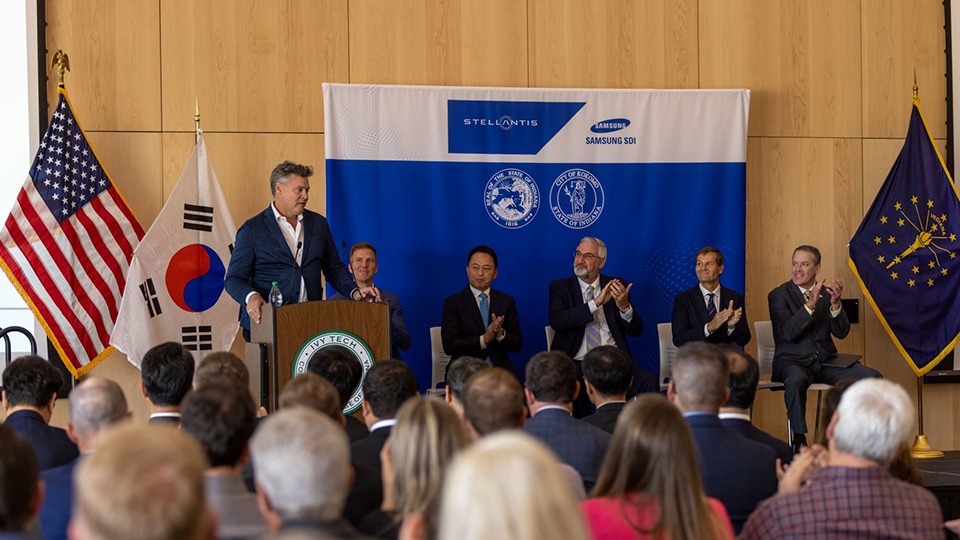 A major manufacturing plant is expected to bring hundreds of jobs to Howard County. Global auto giant Stellantis (NYSE: STLA) and Samsung SDI are forming a joint venture that will invest more than $2.5 billion to build an electric vehicle battery facility in Kokomo and create 1,400 jobs. The partners say the plant will supply batteries for a range of electric vehicles produced at Stellantis' assembly plants throughout North America, and the investment could grow to $3.1 billion as the automaker ramps up EV production.
Stellantis Chief Operating Officer Mark Stewart made the announcement this afternoon during a news conference on the Ivy Tech Community College campus in Kokomo.
"[The investment] ensures the Kokomo community continues to play a central role in our company's efforts to provide safe, clean and affordable mobility to our customers today and in the future," Stewart said. "Today's announcement is the fifth battery plant around the world established by Stellantis, the first in the U.S., second in North America."
The joint venture plans to begin construction on the plant later this year with production expected to begin in the first quarter of 2025.
"Just under one year ago, we committed to an aggressive electrification stragegy anchored by five gigafactories between Europe and North America," Stellantis CEO Carlos Taveres, said in written remarks. "Today's announcement further solidifies our global battery production footprint and demonstrates Stellantis' drive toward a decarbonized future outlined in Dare Forward 2030."
Stellantis says the plant will initially be able to produce 23 gigawatt hours per year, which is expected to grow to 33 gigawatt hours in the next few years.
The Indiana Economic Development Corp. has offered a substantial incentive package for the project, including up to $37.5 million in conditional tax credits, up to $2 million in conditional training grants, and up to $20 million in conditional redevelopment tax credits. Stellantis can only receive the incentives once Hoosiers are hired for the new jobs.
The IEDC says the city of Kokomo can also receive up to $2 million for infrastructure improvements, as well as up to $100 million in "conditional structured performance payments" and $25 million for site readiness "to offset capital and infrastructure costs."
Stellantis was previously known as Fiat Chrysler Automobiles and rebranded after FCA's merger with France-based automaker Peugeot.
Last year, the company detailed plans to sell 5 million electric vehicles by 2030 with 50% of North American passenger car and light-duty truck sales being battery electric vehicles.
Earlier this year, Stellantis detailed plans to spend $4.1 billion in a joint venture with LG Energy Solution of Korea to build one of the plants in Windsor, Ontario.
The company in October announced plans to spend nearly $230 million to retool three of its facilities in Kokomo to produce produce its fourth-generation eight-speed transmission that can be used with traditional internal combustion engines, as well as mild hybrid and plug-in hybrid propulsion systems
Earlier this year, Stellantis began production at the retooled Kokomo Engine plant. During his 2020 State of the State address, Holcomb announced plans for the automaker to invest $400 million to repurpose the idled transmission plant, which would create 200 jobs and retain 1,000 more.
The facility is now producing the GMET4 engine, which is used to power the Jeep Wrangler and Jeep Cherokee. The Kokomo Tribune reported in March production began with 450 employees, and more would be added as production ramped up.
The Associated Press contributed to this report.
Story Continues Below