Startup gives IU researchers $1.2M to advance first norovirus vaccine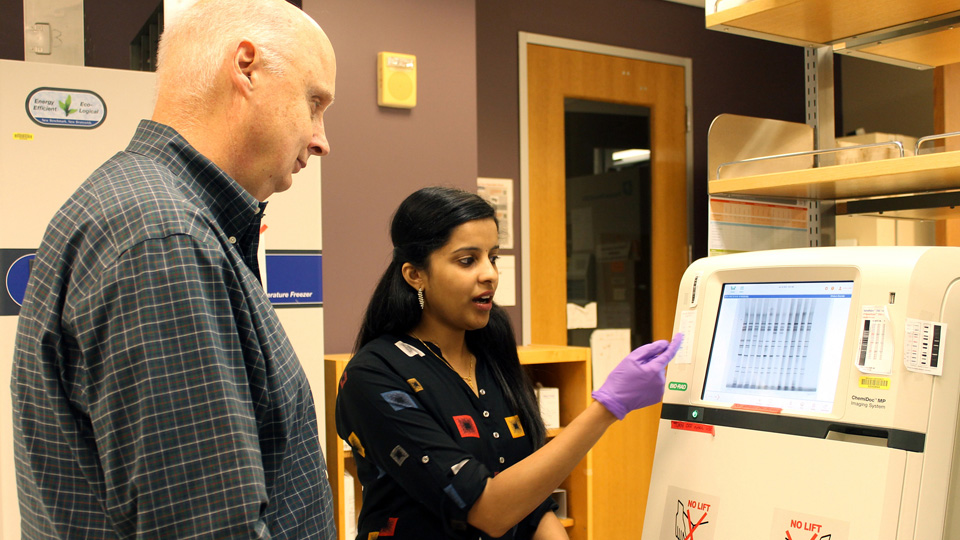 Norovirus is incredibly common in the U.S. with about 2,500 reported outbreaks each year; the CDC says it's the number one cause nationally of vomiting and diarrhea for all age groups. But babies and toddlers are especially vulnerable; they're more likely to have complications that lead to hospitalization or life-threatening dehydration. Scientists have been chasing a vaccine for three decades, but Indiana University researchers say they've found a unique solution for babies by piggy-backing on an existing vaccine—and a Boston-based startup is speeding its development with a $1.2 million shot in the arm.
Norovirus is highly contagious and can spread quickly in close quarters, such as schools and day care centers.
"The severity comes from the dehydration associated with the continuous diarrhea," says Dr. Asha Philip, the lead researcher and a post-doctoral student at IU Bloomington. "Because of this dehydration, babies may be taken to the hospital; if they're not given proper rehydration therapy, the baby's life is in danger."
Philip says the reason why the norovirus is the top cause of vomiting and diarrhea is because the other major culprit—the rotavirus—is prevented by a vaccine that babies are given as part of the standard regimen. But developing a norovirus vaccine has been much more challenging because there's "no good culturing system for norovirus," making it difficult to grow in a lab.
To attack the norovirus, Philip and IU Biology Professor Dr. John Patton instead turned their attention to the widely used rotavirus vaccine. The researchers' strategy centers on modifying one of the genes in the rotavirus.
"When we grow this modified rotavirus, it will be making all the proteins for rotavirus, but in addition to that, it will make the norovirus protein," says Philip. "So the body will be recognizing the proteins from two different viruses. The body is saying 'Oh, I'm infected with two different viral proteins, so let me make antibodies against both of them—rotavirus and norovirus. So we have double immune response."
The team aims to replace the currently used rotavirus vaccine with this dual vaccine, giving babies protection against both with a single vaccine.
"The [current rotavirus vaccine] is a great vaccine, and we know it's capable of preventing rotavirus," says Philip. "We're taking the exact same vaccine in the market, modifying it and will be reintroducing this modified vaccine into the same market as a better vaccine."
When the project began in 2016, it was supported by funding from the National Institutes of Health, but the recent $1.2 million from Boston-based biotech startup GIVAX comes at a critical time as the team aims to move toward human clinical trials. Patton founded GIVAX through seed funding from Boston-based investment firm RA Capital.
"GIVAX is aiming to use this technology to make the real vaccine," says Philip. "They gave us $1.2 million to make the human strain of the vaccine that expresses the norovirus protein…and also proceed with clinical trials. They're giving a huge amount of money to actually bring this technology to market."
Philip worked on the project to earn her PhD and says, typically, "everything ends once [students] graduate."
"It's so amazing, because it's a rare case that the results from the graduate student's work will be taken up by somebody else, given some external funding or developed into a real product," says Philip. "I'm so proud and happy to say that our work is being recognized by others… and that, ultimately, somebody is benefitting from our effort."
Because the dual vaccine is based on an existing vaccine, Philip expects a smooth path to regulatory approval. She's hopeful the dual vaccine will be on the market in five to 10 years, protecting babies from both infections.
"I've spent years and put my thoughts and everything into this project," says Philip, "because I really, really want to see it be successful."
Because the research team is basing the new dual vaccine off of the existing rotavirus vaccine that is given orally, Philip says the aim is to maintain its oral delivery.
Story Continues Below