Lumavate Raises $6M to 'Make Everyone an App Builder'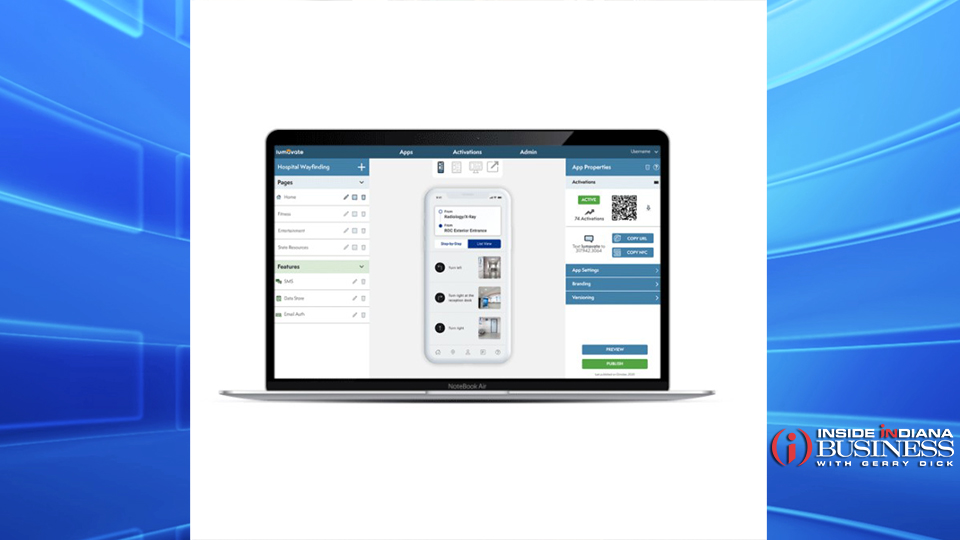 Lumavate's line of work is still a surprise to many business leaders, says Chief Executive Officer Stephanie Cox. The Carmel-based tech startup, which recently closed a $6 million funding round, helps businesses build their own apps—no need to know code or use an IT developer—and "still a large number of people don't even know that's an option," she says. Lumavate's list of clients includes big names like Roche Diagnostics and Indiana University Health, and the young company says it's seeing explosive growth as it leads "the no-code movement where everyone is an app builder."
Founded in 2015, the Software-as-a-Service company has developed a platform for businesses to design, build and launch mobile apps without the need for coding, IT developers or large technology investment. Lumavate says empowering business users to "own the creation process" disrupts the conventional app building model, in which a company enlists its own IT department or hires a third-party development shop.
"If you look at other low-code app developer platforms, they tend to be more focused on providing ways for IT developers to build apps," says Cox. "We focus on the rest of the organization; oftentimes starting with marketing, but expanding into other departments…service, internal communications or HR—enabling those business users to build apps rapidly. That's a highly unmet need."
The life sciences and healthcare industries are two of Lumavate's largest client segments, and Cox says most of its customers are enterprise organizations with more than 10,000 employees. Lumavate's melting pot of clients "runs the gamut," including pharmaceutical and medical device companies, as well as large hospital systems.
Roche, for example, uses the platform for apps in a variety of its business operations, including internal communications, product onboarding and marketing campaigns. Clinics have built apps that help onboarding for point-of-care devices. IU Health uses Lumavate for a patient tracker app, deployed at its hospitals and surgery centers to provide real-time patient status updates to family members. IU Health also uses the platform for a way-finding app at Riley Hospital for Children.
"In the past, if you wanted to do a way-finding app, you'd install beacons throughout the entire facility and build a native mobile app; that's extremely cost prohibitive, and that's why so many places haven't done indoor way-finding," says Cox. "With our solution, you don't have to do that; you can upload an image of your floorplan into our platform, drop little points for all the different locations, draw lines 'connecting the dots, so to speak, and it uses a math algorithm to tell you how to get from one place to another with photos for every step as you walk."
Other big name clients include Cummins and Republic Airways. Lumavate says the number of apps built on its platform ballooned by 216% in 2021. Cox credits the explosive growth to a new approach that lets users create apps for free; when an app has more than 100 monthly users, the client rolls over to a paid plan.
"And [Lumavate] is easy to use," says Cox. "Oftentimes, it sounds too good to be true, so the best way for us to show you that is to give you the keys and let you see for yourself."
In addition to being less expensive than creating a custom app or hiring a third-party provider, Cox says the pandemic sparked a major shift as clients prioritized speed to market.
"COVID showed them their digital transformation plan can't wait three to five years; you need to be able to do things much faster, which means it can't be custom," says Cox. "Even with our current customer base, as they continue to invest and use Lumavate in more and more ways, we're seeing that they need to be able to move digitally at the speed of the business and their customers—and that happens in days or weeks, not months or years anymore."
The $6 million funding round, which included the state's life sciences initiative BioCrossroads, is a major milestone for the small company. Cox says the capital will help grow its current team of 20 employees to nearly 50 and continue to build its platform.
"There aren't a lot of competitors in [our] space yet," says Cox. "They're starting to come in, which is exciting, because it means there's a big market opportunity. The future really is no-code."
Cox says Lumavate has a large life sciences client base because the company is "very focused on the customer experience."
Cox says, as a female CEO of a tech company, she hopes to pave the way for other women.
Story Continues Below