Four Winds Casino expansion opens in South Bend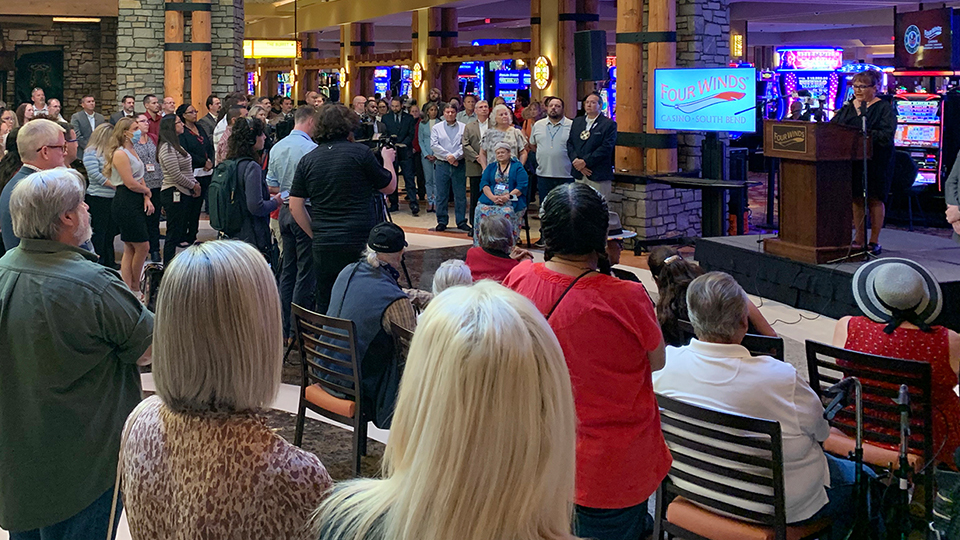 The Four Winds Casino in South Bend on Thursday dedicated the addition of 40,000 square feet of gaming space. The casino expansion is part of a broader project that includes the construction of a 23-story hotel and event center. The Pokagon Band of Potawatomi Indians first opened the casino in January 2018 and announced the expansion the following year.
In an interview with Inside INdiana Business, Rebecca Richards, tribal council chairwoman of the Pokagon Band of Potawatomi said the resort complex brings new opportunities.
"The expanded resort brings an amenity and an entertainment experience to South Bend and Northwest Indiana that we didn't have before," said Richards. "It means not only prosperity for [tribal]citizens, but just that opportunity for the local area to experience restaurants, entertainment, meeting space, convention space, and the amenities of a spa and hotel, as well as gaming."
LISTEN: Richards says when the expanded resort project is complete, it will offer amenities currently not found in St. Joseph County.
Richards says the casino expansion allows for the addition of 11 gaming tables, like craps and blackjack. It also has 850 additional slot machines.
"When we have built and planned any of our facilities, we do that in which we look for expansion. We build those facilities to have the opportunity to expand at a later date if we so choose," said Richards.
Four Winds is Indiana's only tribal casino. The Michigan-based Pokagon Band sent a request for a Class III license in 2019, which would allow it to operate Las Vegas-style gaming tables. The Indiana General Assembly had to approve a compact with the Pokagon. Governor Holcomb ratified the deal in May 2021, but it still needed approval from the U.S. Department of Interior. The federal government approved the compact in early July 2021.
The Pokagon opened its first casino in August 2007 in New Buffalo, Michigan. It also operates two satellite casinos in southwest Michigan.
"During our 15-year-history we've continually strived to not only offer something distinctively unique, but also raise the bar for gaming in the Midwest by way of our amenities, dining options, entertainment and excellent service provided by our warm and welcoming staff," said Frank Freedman, Chief Operating Office of Four Winds Casinos. We are very excited for guests to experience our new slots and table games, and we look forward to showing more of what Four Winds South Bend has to offer in the coming months."
The hotel project is continuing. Richards says it is scheduled to open in early 2023. Once complete, it will be one of the tallest structures in St. Joseph County. With more than 300 guest rooms, it will be the largest hotel in St. Joseph County.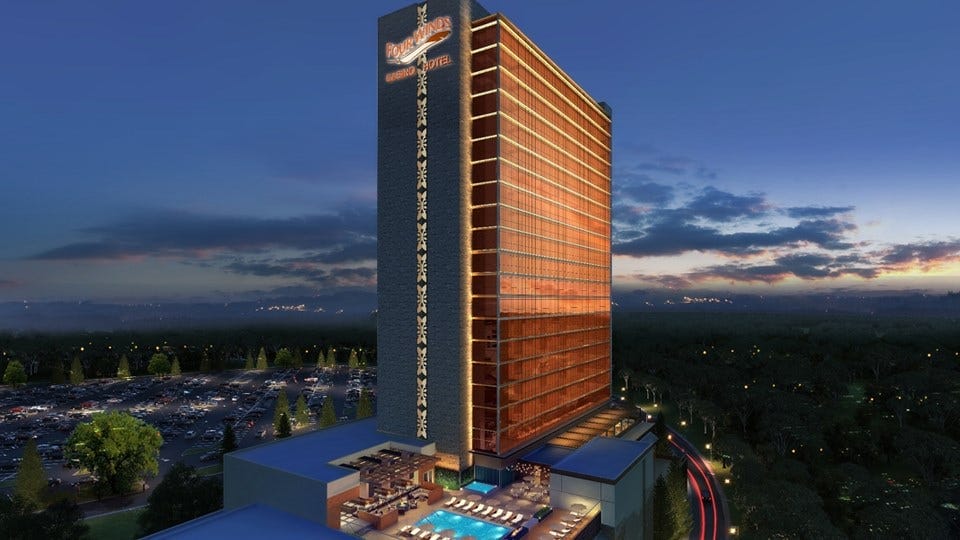 Richards says the project timeline had to be adjusted in response to construction delays caused by the pandemic. The two-year project extended into three, but Richards says it was worth it.
"It gave us time to analyze where we were with the project, making sure that we had any necessary changes that were needed and those supply issues," said Richards. "And it gave us time to just restructure, re-energize the project. Yes, it did help."
The Pokagon Band says the expansion of the South Bend venue has created 350 construction jobs with 10% being Native American preference. The project will create an additional 350 to 400 new jobs at the casino resort once construction is complete. The Potawatomi have opened a career center in South Bend to help fill those positions.
Story Continues Below