Cancer Center to be new training ground for translational PhDs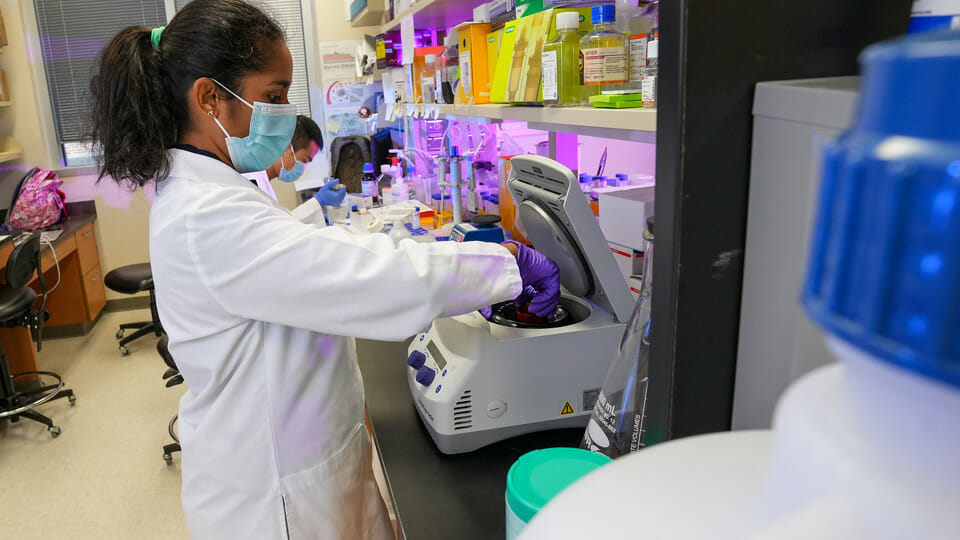 Cancer treatment is increasingly moving toward personalized medicine, also called precision medicine, which recognizes that every tumor is unique and must be attacked in a unique way. The approach is powered by genomics, in which scientists sequence the tumor's DNA. However, IU Simon Comprehensive Cancer Center Associate Director of Education Dr. Hari Nakshatri says the results can be information overload—mostly due to a lack of experts to cut through the "noise" and uncover the small bits of data that reveal how a tumor can best be attacked. Training more of these experts to pinpoint the best treatment for each patient is a major motivation for a new PhD program at the cancer center.
Set to launch next fall, the PhD program in Translational Cancer Biology centers on training scientists to translate lab discoveries for the clinic. For personalized medicine to "become a complete reality," Nakshatri says the next generation of researchers must be able to "dig deep into this data"—a key focus of the new PhD.
"Every tumor gets sequenced, and you get a lot of data—what we call 'noise.' How do we distill those large amounts of data and figure out what is the important chain…in this tumor that we can target?" says Nakshatri. "Genomic medicine is a major area; I'm not sure if in my lifetime we'll have enough people to go through what we call the bioinformatics and analyze that data, so we are happy with the outcome of it. It needs a lot of workforce."
Nakshatri says, traditionally, PhDs are trained to work in academia, but this is shifting to "all different areas they can work in." He believes these graduates will be valuable for Hoosier companies working in the genomic space, including Eli Lilly and Co., which is investing heavily in genetic medicine, or firms like Indianapolis-based LifeOmic, which relies on genomic data.
The training also marks a shift in strategy; Nakshatri says many PhD programs are moving away from being "department-based," and more "thematic-based," such as IU's focus on translational cancer biology. While PhD programs are already in place at IU cancer research labs, the scientists are being trained in "silos."
"[The new program] starts from the basic science and moves all the way to the clinical enterprise. It's time for us to break the silos from basic science research and clinical research and make it all one," says Nakshatri. "There's currently no centralized system to bring all the trainees into one program where they can exchange ideas and help each other in the overall goal of transferring ideas from the lab to the clinic."
Cutting across departments also aims to give the trainees direct and frequent interaction with clinicians who see patients on a daily basis.
"As a basic scientist, I may have an idea, and the clinician thinks, 'Your idea sounds good, but it's not practical in the clinic,'" says Nakshatri. "The patient advocates will also work with the trainees, so they know the pressing issues. Trainees can take that back to lab and say, 'I want to research this because it's something patients are suffering from at the moment; we need to come up with a solution'—rather than doing research completely on their own based on what they read in literature."
Cancer survivors are also expected to benefit from the new training. With 15 million survivors in the U.S., Nakshatri says "quality of life really matters." Lung cancer is just one example; previously, only 5% of patients survived up to five years, but that number has now climbed to 21%.
"Some of the drugs they take can have side effects like hearing loss, impacting quality of life. [Other cancer survivors] have neurological defects because of treatment," says Nakshatri. "Research is going on, but it's still lagging a bit. We want to have next generation researchers who will consider, 'How do we improve the quality of life for all cancer survivors?' That's another aspect we are heavily emphasizing."
The ultimate goal of the program, says Nakshatri, is to bring better, more personalized cancer treatments to Hoosiers.
"We want to train the next generation of researchers to take personalized medicine to the next step," says Nakshatri. "By bringing clinicians and researchers under one tent, we can have a free exchange of ideas—good and bad ideas—so there's a lot more tweaking and a lot more thinking. I've been working with clinicians for a long time, and it's now time to pass the baton to the next generation of trainees."
Nakshatri says the trainees will work first-hand with the cancer center's 12-step drug discovery pipeline to understand the complex process of moving drugs to the clinic.
Story Continues Below