$1.3M boosts spray system that maps trees within millimeters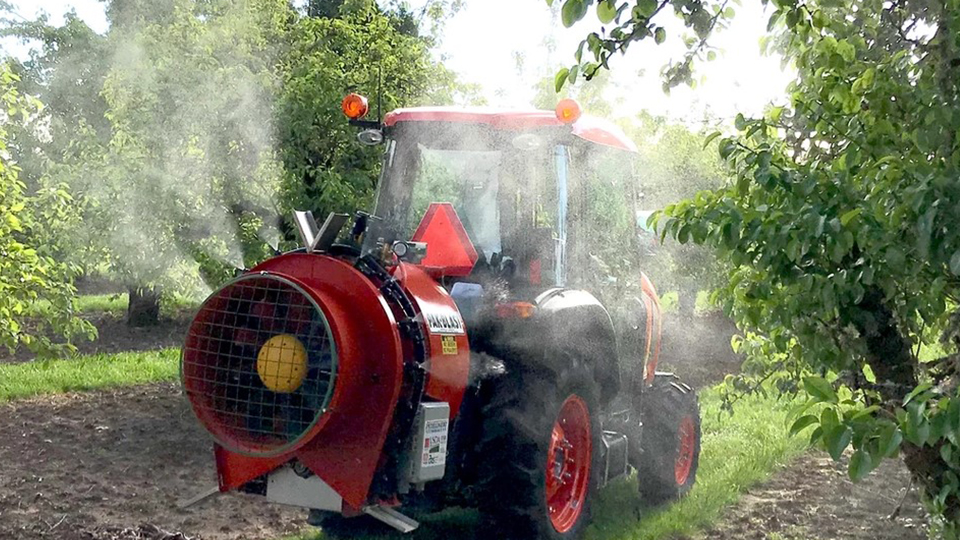 After doubling sales in 2021, an Indianapolis-based agtech startup is also outpacing its projections to double sales again this year. While corn and soybeans are most familiar to Hoosiers, Smart Apply Inc. focuses on high-value specialty crops, grown mostly in California. The Smart-Apply Intelligent Spray Control System is an add-on kit for conventional sprayers that President and Chief Executive Officer Jerry Johnson says cuts farmers' chemical costs in half. Boosted by a recent $1.3 million seed round of funding, Johnson says Smart Apply—launched just three years ago—is quickly taking root in the market.
Farmers use air blast sprayers to apply pesticides or chemicals to permanent crops, which are crops produced from plants that last for many seasons, such as trees in an orchard or vines in a vineyard. Using conventional methods, a tractor pulls a sprayer through a field and sprays the chemical in "a continual large plume, or fog," says Johnson.
Rather than a nonstop blanket of chemicals, Smart Apply says it delivers accuracy within millimeters while spraying. Named a "Top 10 New Product Winner" at the 2021 World Ag Expo, the system uses LiDAR (Light Detection and Ranging), in which a laser light is reflected from objects. Combined with a GPS system, the system's sprayers create crop maps in real-time with targeted spray and no-spray zones.
"LiDAR reads the presence of a tree, the height and width of a tree, and the density of a tree. Where there are gaps between trees, our controller turns the spray off," says Johnson. "It also controls the individual nozzles on the sprayer; typically 12 per side. Each nozzle is controlled independently and…the amount of spray for each of the nozzles is based on the LiDAR reading of that section of the tree."
The adjustments are made in real-time as the tractor drives through an orchard, for example. The LiDAR is housed at the front of the sprayer with the spray nozzles at the rear, "so you have a gap for the system to know, 'Hey, I read this, and in 2.3 seconds, this is how I need to spray.'"
A study published in The Journal of ASTM International showed the precision spray technology reduced pesticide use by up to 60%. The startup says the system also cuts water use in half, which is an important consideration for California farmers who must contend with water shortages without sacrificing crop yields.
Johnson says the precision spray system is "a huge environmental and sustainability improvement," because there's up to 87% less pesticide drift beyond tree canopies and up to 93% less spray loss on the ground, meaning a reduction in chemicals that may contaminate ground water.
"By being an add-on kit for existing air blast sprayers, we can cover the entire market, as opposed to being designed for just a particular sprayer," says Johnson. "There are many, many different sprayer manufacturers and…a lot of variety in spraying equipment."
Johnson says the startup licensed the technology from the U.S. Department of Agriculture, which developed the system about 10 years ago. Smart Apply founder Steve Booher is a Columbus, Indiana native who's launched several ventures. While most of the startup's clients are large growers in California's San Joaquin Valley, Smart Apply says central Indiana orchards have played an important role in testing and development.
The recent seed round included two Hoosier investors; Indy-based VisionTech Angels led the round, with participation from Elevate Ventures. Johnson says the funds will support growth that's even outpacing the startup's projections. Smart Apply is planning a $5 million round next, which will help tap more growth potential in the U.S., as well as expansion to Brazil and Europe. The company is already doing business in Canada, Australia and New Zealand.
A native Midwesterner, Johnson says it's refreshing to work in crops other than corn and soybeans, while keeping the company's roots in the Hoosier state.
"It's exceptionally rewarding to be able to have such an impact on a farmer's profitability, and at the same time, on sustainability and improvement to the environment," says Johnson. "It's just super cool, and we're excited about the future."
Johnson says Smart Apply is selling the system through ag dealers, including a distribution agreement with John Deere Tractors.
Johnson describes the startup's client base and what crops growers are using the system on.
Story Continues Below