West Fork Whiskey set to open agritourism facility in Westfield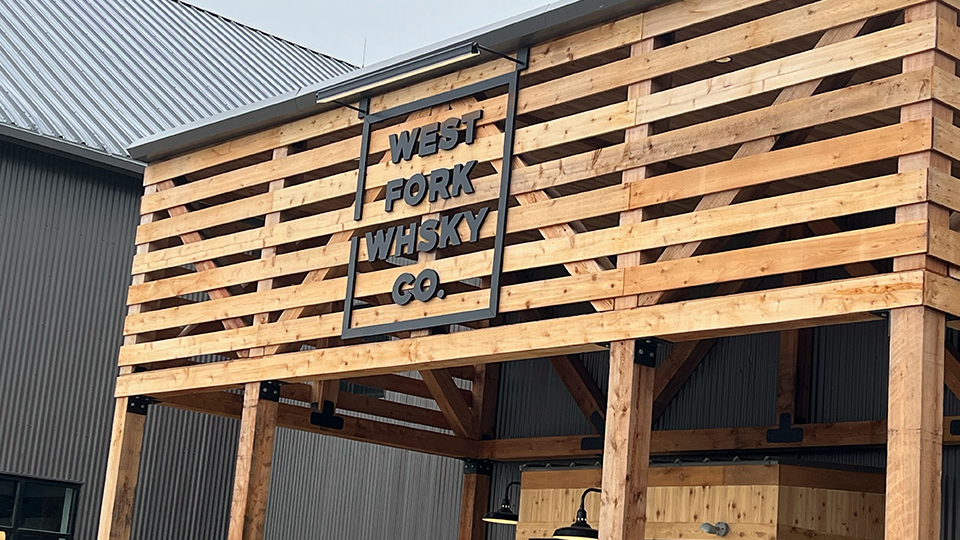 Indianapolis-based West Fork Whiskey Co. will next week mark the grand opening of its $10 million agritourism facility in Westfield. The 30,000-square-foot facility includes expanded distillery operations for the seven-year-old company, as well as a restaurant, cocktail lounge, event center and retail space. Co-founder Blake Jones says the facility, located across the street from Grand Park Sports Campus, could create up to 60 full-time and part-time jobs.
In an interview with Inside INdiana Business, Jones said they needed more land to stay in central Indiana.
"Ideally, we wanted to be either close to the highway or close to another tourism attraction so it wasn't just us bringing in people," said Jones. "And it seemed to us that Westfield provided the best of everything. Grand Park sees almost 2 million people a year. We're a couple minutes off the highway. They've got great infrastructure. They still have the great water here – great limestone water for whiskey production, which is extremely important to us and land to grow on."
Jones co-founded West Fork in 2015 with his brother, Julian, and their childhood friend, David McIntyre.
The expanded distillery operations will allow the company to produce up to 5,000 53-gallon barrels annually. While the other parts of the facility will open next week, Jones says whiskey production will not begin until the first quarter of 2023.
The 5,000-square-foot event center will be used for weddings, corporate gatherings and other events.
The facility also includes Mash House, a 300-seat family-friendly restaurant that focuses on "elevated Hoosier classics," as well as Stave, a 21-and-older cocktail lounge.
"The Mash House menu places a heavy emphasis on local ingredients to pay homage to Indiana's deep agriculture heritage and offer foodies their favorite Midwestern fare with a twist," Executive Chef Carlos Salazar and Beverage Director Todd Tapp said in written remarks. "Visitors' culinary experiences will be rounded out with a cocktail at Stave, where expert mixologists will craft West Fork seasonal signature drinks and classics alike.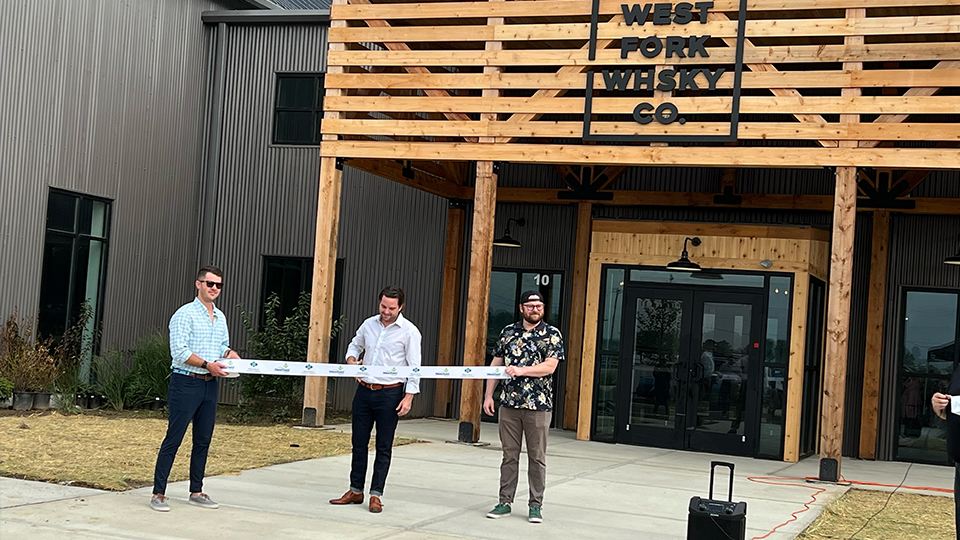 West Fork currently employs about 60 full-time and part-time employees. The distillery is actively hiring and Jones says the number could grow to between 80 and 120.
The new facility sits on more than 12 acres of land, but Jones says there is room for future growth.
"Ultimately, we control about 25.5 acres here, so we want an overnight experience. We want additional alcohol experiences. We want family-friendly experiences like playgrounds, potentially concert venues, and additional rack houses, production space, offices. We want to build a complex here and be here for a longtime."
Westfield Mayor Andy Cook says the project is precisely what he hoped to attract alongside Grand Park.
"The primary reason for Grand Park was to entice private sector development in the city of Westfield in a very unique way," said Cook. "And what more could epitomize that than this agritourism of West Fork Whiskey. It capitalizes not only on Grand Park and the tourism, but the industry of Indiana."
The new facility will officially open to the public on August 20.
Story Continues Below