U.S. Steel CEO Celebrates Investment in Gary Works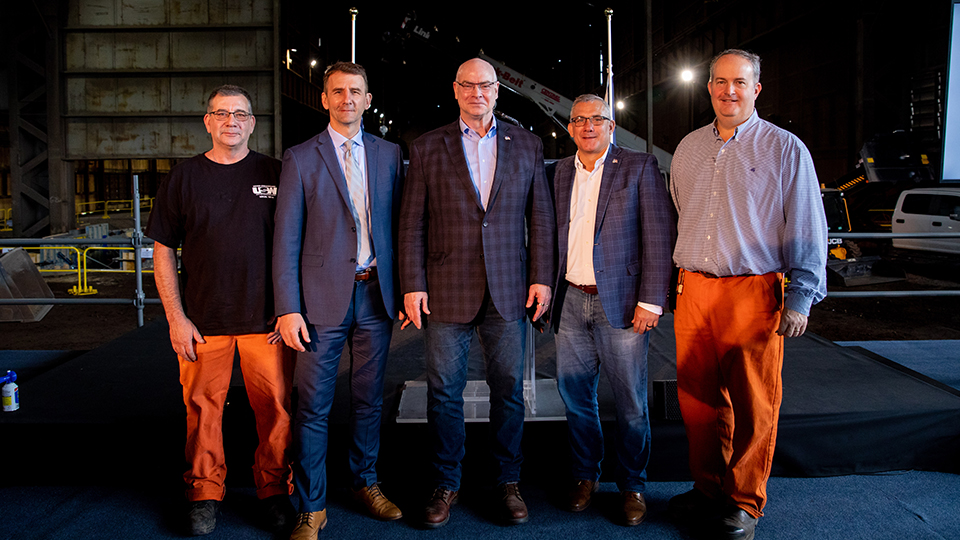 The chief executive officer of Pittsburgh-based U.S. Steel Corp. (NYSE: X) visited the Gary Works facility Thursday as the steelmaker begins construction on a $60 million pig iron caster. David Burritt says the project, expected to create 25 jobs, will improve the company's self-sufficiency.
U.S. Steel first announced plans for the pig iron caster in February.
Pig iron is a raw material needed for electric arc furnaces, which the company says it plans to utilize for steel production as part of its advanced metallics strategy in addition to more traditional blast furnaces.
"This investment at Gary Works, to create the necessary material for our lower-emissions electric arc furnaces, is the perfect example of combining the best of integrated and mini mill technologies," Barritt said in written remarks.
The caster will be fed with iron ore from U.S. Steel's ore operations in Minnesota. The pig iron produced in Gary is expected to supply up to 50% of the ore-based metallics needed for the company's Big River Steel Works in Arkansas.
"Gary Works is U. S. Steel's largest manufacturing plant and its role in the Company and in this community is significant," said Gary Works Vice President Daniel Killeen. "Knowing that the nearly 4,000 employees at Gary Works are not just contributing here, but we now get to utilize our blast furnace efficiency to contribute to the company's new, most environmentally friendly operations at Big River Steel Works, is something we're excited about."
Pre-construction of the caster began in the first quarter with production expected to begin in early 2023.
Pictured above, left to right: Gus Atsas, President, USW Local 1014 Gary Primary Operations; Congressman Frank Mrvan; David B. Burritt, President & CEO, U.S. Steel; Scott Buckiso, SVP & Chief Manufacturing Officer North American Flat-Rolled Segment, U.S. Steel; and Dan Killeen, Vice President, U.S. Steel Gary Works.
Story Continues Below