TIF district could spur more development near emerging hospital campus
The city of Indianapolis is trying to capitalize on construction of a $4.3 billion hospital complex and other projects on the north side of downtown with a new tax-increment-financing district that could spur additional investment.
The North Meridian TIF district, approved last month by city officials, encompasses a large portion of the near-north side although it excludes the land where Indiana University Health is developing a campus that will include a new Methodist Hospital.
The TIF allows the city to capture some taxes paid within the district to spend on improving the area. It is generally bounded by Meridian Street to the east, Interstate 65 to the south, the IU Health campus to the west and Fall Creek to the north. It also includes a handful of properties on the east side of Meridian Street, but not most of the single-family homes between Capitol Avenue and Illinois Street, and some land south of the interstate.
In addition, the district juts north along Meridian to 34th Street to encompass the Drake apartment building and a few other nearby properties.
Already, at least six projects are under construction or soon will be within the North Meridian TIF district, with one more just outside it.
Indianapolis-based Arrow Street Development is working on two apartment projects on 18th Street—Wesley Place and Hall Place—that are in the district and will eventually contribute to the TIF's proceeds.
Another locally based developer, TWG Development, is building a $45 million apartment project just outside the district on the east side of Meridian Street. And its sister company, Innovcare, is building a new office building just a block to the west—inside the district—for Adult & Child Health, a local not-for-profit that provides care for mental and physical health and addictions, plus other services.
Also in the district, Near North Development Corp., the neighborhood's community development organization since 1977, is building two apartment projects in the 2100 block of Capitol and Illinois, and New York City-based SomeraRoad Inc. is planning multi-use Stutz South across 10th Street from The Stutz office development just south of I-65.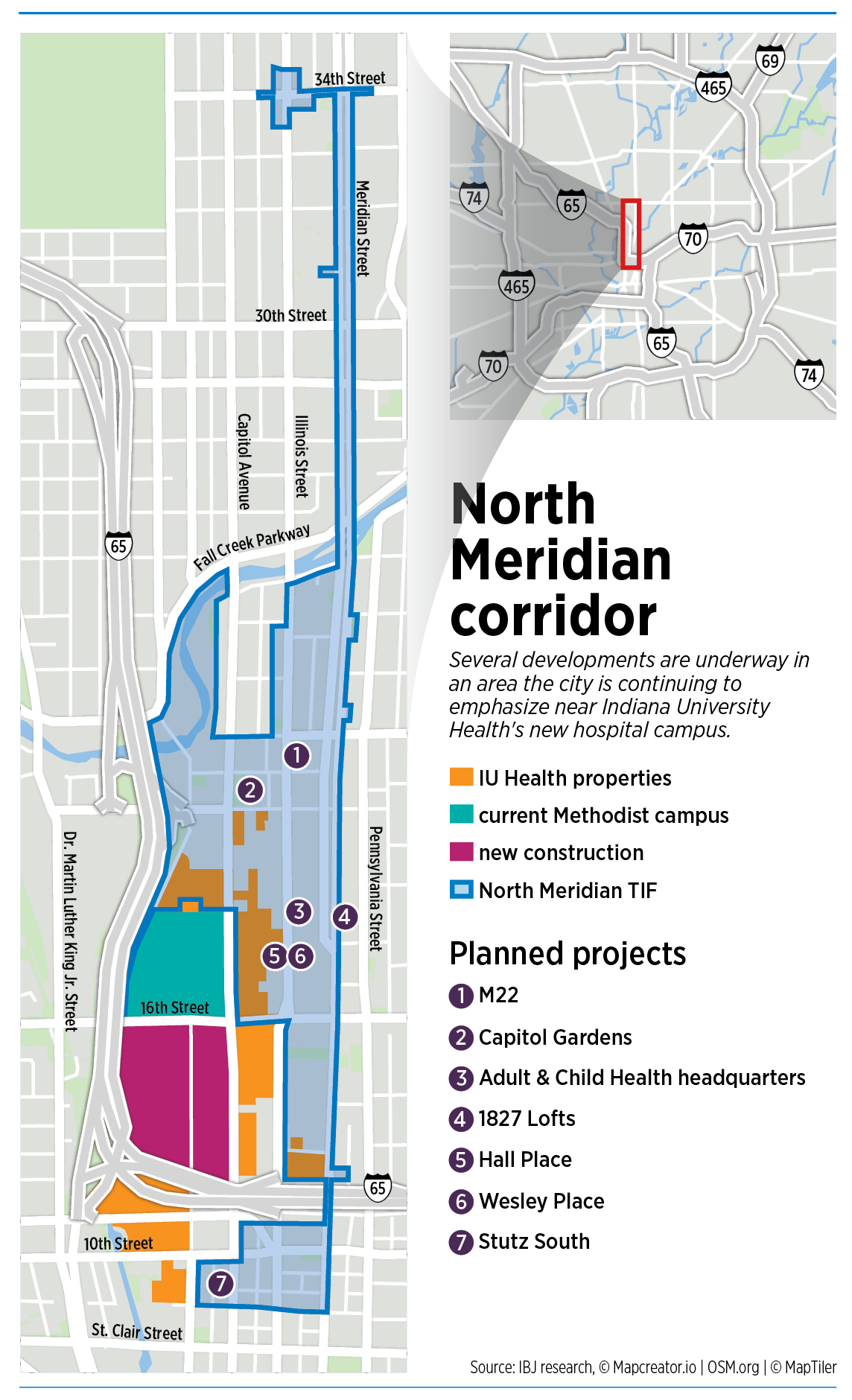 A unique opportunity
Rodney Byrnes, president of Arrow Street Development, said he has a lot of plans for investing in the TIF district over the coming decade.
"Our projects will contribute a lot to this TIF, and we're excited about that," he said, referring to the Wesley Place and Hall Place apartment projects, which received 10-year city tax abatements that are unrelated to the district.
Wesley Place is set to open this year, with construction expected to start on Hall Place in the coming months.
"There's a lot that can be done with those dollars," Byrnes said of the future TIF revenue. "And there are so many benefits, like long-term infrastructure improvements and other future investment. We want to add to that tax base."
TIF districts operate by collecting incremental property taxes paid within a designated economic development area and allowing those dollars to be applied to any number of projects, like infrastructure and publicly backed developments focused on housing affordability. Incremental revenue is essentially the future growth in property taxes that's in addition to the amount collected today.
State law also allows TIF dollars to be used to tackle environmental cleanup, land costs, and the acquisition, demolition or rehabilitation of certain structures (such as the Drake apartments).
Scarlett Andrews, the city's deputy mayor of development, said the TIF was created as part of a years-long effort to grow the near-north side. In 2020, Mayor Joe Hogsett named the area the first Lift Indy neighborhood, a designation that came with a $3.5 million investment split among several neighborhood initiatives and a pair of apartment projects.
"We're really interested in how tax-increment financing will support overall district development, public infrastructure and connectivity," Andrews said. The new TIF "really leads us to think about how [IU Health and the near-north side] are connected from a district perspective, with walkability and multimodal transportation built into that, as well."
That could be particularly important in the coming years as IU Health evaluates what to do with dozens of acres at the current Methodist campus once its new hospital opens in 2027. That includes whether to sell the land for redevelopment, possibly putting it back on the city's tax rolls. As a not-for-profit, IU Health pays no property taxes.
The Methodist property sits outside the TIF district, but some of the adjacent property—also owned by IU Health—is within it.
In all, IU Health owns 68.8 acres of land in the near-north area in addition to the old and new hospital properties. Much of it is vacant or considered underused (parking lots, for example), and the city sees it as an opportunity for redevelopment.
Multiparcel districts like the North Meridian TIF give the city more flexibility to address neighborhood needs, officials said. And while certain developments that occur within the district may be awarded TIF dollars as an incentive, there's no guarantee any project in the boundaries will get a share of the revenue.
In fact, the city seems to have few specific plans for how it will use the district to woo new investment. Instead, officials seem content to let the market—driven by IU Health's project—dictate what comes to the neighborhood. The city could then use the taxes generated by those ventures to help fund more neighborhood improvements, like affordable-housing projects.
The city in April broke ground on a pedestrian and bicycle path through the near-north side, an indicator of the kinds of projects that could benefit from TIF dollars. The path is meant to connect 21st Street, Capitol Avenue and Boulevard Place to the Fall Creek Greenway and the IU Health campus. The path was designed through a partnership between the Indianapolis Department of Public Works and neighborhood and community groups.
A lot on the horizon
The current non-IU-Health projects already planned or underway in or near the TIF district add up to nearly $200 million in private investment. But Byrnes said the hospital project could drive as much as "a couple billion dollars" of investment over the next several years.
Chase Smith, vice president of market rate development at TWG, agreed.
TWG's 166-unit 1827 Lofts along Meridian Street will largely serve employees and clients of the new Adult & Child Health headquarters, offering a mix of workforce, affordable and market-rate options. The project will also include a 44-space parking garage and 1,500 square feet of first-floor retail space.
The property comprises four properties—1815, 1819, 1827 and 1835 N. Meridian St.—with construction set to begin later this year and wrap up by spring 2025. The project received $4.9 million in developer-backed bonds through a single-site TIF designation from the city earlier this year.
Smith said that while the company's project won't contribute directly to the TIF district, the city's designation of the near-north side as an economic development area serves as yet another sign to developers that the neighborhood has untapped value.
"There's going to be a whole bunch of new development and investment there," he said. "Even without knowing obviously exactly what's going to happen [at the hospital] over the next decade, we all feel very good that it's going to be very exciting. So simply being in that nearby area—we do projects across the country, and we'd love it if we could have every project just half a mile away from a $4 billion investment like this one is."
He said TWG has more multifamily projects in the near-north side on the horizon.
"We are taking a long-term view, [starting with] this project," Smith said. "We're excited to kind of get in on the ground floor of an area that's going to look a whole lot different here soon."
IU Health told IBJ it has set aside $200 million to support developments surrounding its new hospital and $300 million for organizations and other community assets in those areas. That money is expected to span numerous areas, including affordable housing, workforce initiatives, health and wellness, and food supply.
But Jamal Smith, director of IU Health's office of government affairs, said the organization doesn't want to control land beyond its campus "or even what happens in the district" in the long term.
Rather, the hospital network's goal would be to keep some skin in the game while working with the city, community partners and area leaders to ensure that the developers coming in (and potentially buying up hospital-owned property) do so with an understanding of the residents' vision for the neighborhood.
"The window of opportunity to capitalize on this investment is finite, and the opportunity to do so in a way that makes the neighborhoods north of the medical campus healthier is imperative," Smith said. "We really want to see that get done, which is why we have supported the idea of establishing a TIF, so as developers are coming into play and they're looking to acquire land … we're all collaboratively working to achieve the mission of the district."
For his part, Arrow Street's Byrnes said he hopes to build several more projects in the TIF district.
"We were the first ones wanting to take a leap in the neighborhood, but there will be plenty more to follow over the next two, three, four years, so I'm very excited about it," he said.
Community-minded
Byrnes said whether it's his firm or others putting money up for projects, the near-north neighborhood would benefit from a better blend of affordable and market-rate housing—and the TIF can help make that happen.
Near North Development Corp. has at least two projects in the works focused on housing and other amenities.
The not-for-profit partnered with IU Health and the Indianapolis Neighborhood Housing Partnership on one project, called Capitol Gardens, that will bring 108 mixed-income apartments, 30 town houses and three-quarters of an acre of green space to the northeast corner of 21st Street and Capitol Avenue.
The group has also partnered with locally based Crestline Development on a two-phase project at 2200 N. Meridian St. Called M22, it will feature commercial space and 127 apartment units available for those making 50% to 120% of the area's median income. A second phase of that project, planned for the southeast corner of the intersection, calls for 80 apartments and a neighborhood services center.
Near North Development Corp. President Brian Carman said the organization regularly works with the city in hopes of securing funds for projects. In an email to IBJ, he said Near North's role in the development process "starts as a listener to our communities and ends with the delivery of community assets in the form of urban revitalization and economic opportunity."
He said that, in addition to its multifamily investments, Near North is working on two single-family-home projects and piloting the city's first rental repair program, which awards money to income-qualified landlords and tenants in one- to four-unit buildings that need essential fixes.
Carman said that, while he couldn't speak to the role the new TIF district might play in building up the neighborhood, he sees the opportunities presented by IU Health's ongoing investment as a major win. Even without adding to the tax base itself, the project will draw more tax-paying homebuyers, renters and workers to the area than ever before, he said.
"When you have an anchor institution like IU Health so vested in the betterment of our communities, the amount of value added to NNDC's efforts as a community development corporation and the neighborhood as a whole cannot be overstated," he said.
Story Continues Below