Terre Haute, Vigo County Hope to Land F-35 Training Project
A coalition of community, government, higher education, and business leaders from west-central Indiana is pushing full throttle in an attempt to land the U.S. Air Force's F-35 Foreign Military Sales Training Center, which could bring hundreds of jobs to Terre Haute and Vigo County.
The group says Terre Haute Regional Airport's Hulman Field would be an ideal site for the project. Last month, the airport was named one of five sites being considered for the training mission of the stealth fighter jet.
"The Terre Haute Regional Airport is fully equipped for this project," said airport director Jeff Hauser. "We have two long runways, lots of available airspace and a supportive community."
The center would be used to train international pilots from countries that purchased the F-35 fighters from the U.S, including Switzerland and Singapore.
In an event held Tuesday at the airport, Terre Haute Mayor Duke Bennett presented the Indiana Adjutant General, Brigadier General R. Dale Lyles, with an official packet of support from the West Central Indiana Defense Network.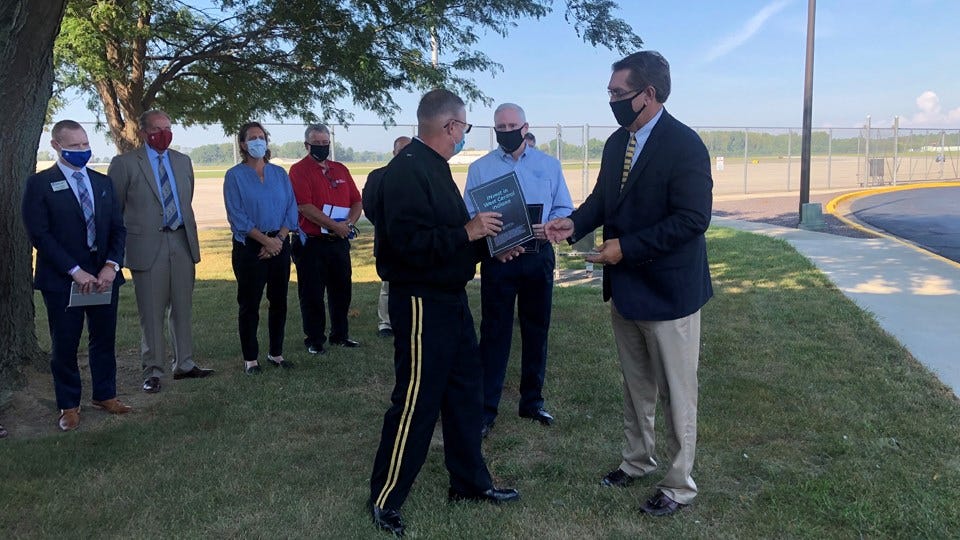 It included marketing materials outlining Terre Haute and West Central Indiana's defense-related assets, and letters of support.
"This is an incredible opportunity for our community, and I am beyond excited to show the Adjutant General exactly how excited we are about this opportunity," said Bennett. "The associated growth with this project could be a game-changer for Terre Haute and we stand ready to support this project and the Indiana National Guard in whatever way we can."
The Training Center could potentially include associated economic development, especially in the defense-specific manufacturing industry.
According to other published reports, about 345 U.S. military personnel would be part of the new site. The site will also be home to an estimated 180 members of the Singapore unit and around 300 dependents.
In addition to the aircraft purchases, the foreign countries would include paying for housing, hangars, ramp space and other infrastructure needed for a new training site.
Other finalists include:
Ebbing Air National Guard Base in Fort Smith, AR.
Buckley Air Force Base in Aurora, CO.
Selfridge Air National Guard Base, Mount Clemens, MI.
Joint Base San Antonio-Lackland, TX.