Superfood company lands IU Ventures investment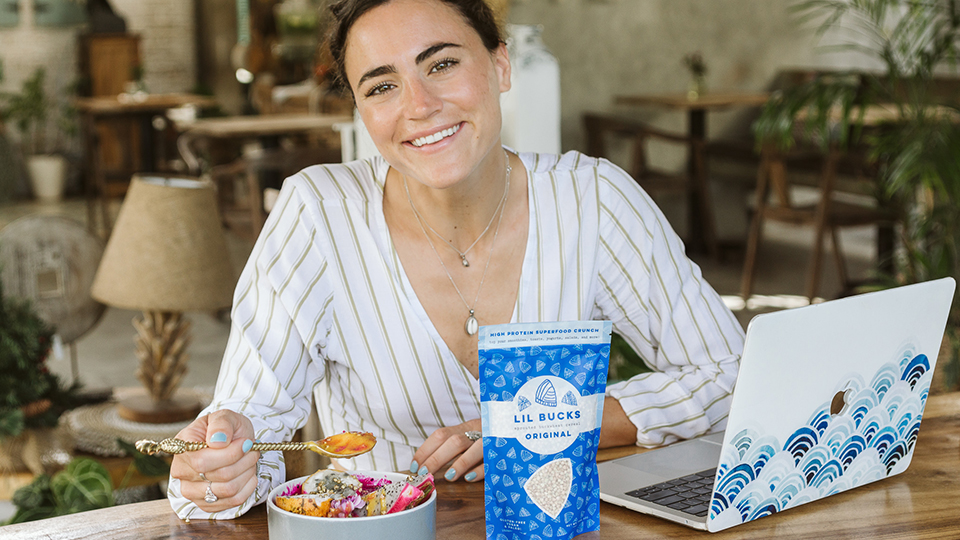 IU Ventures has awarded a $170,000 grant to Lil Bucks, a Chicago-based superfood company founded by an Indiana University alumna. The company, which makes a variety of sprouted buckwheat products, has grown from a side project for Emily Griffith to having its products sold at major retailers such as Kroger and Whole Foods.
Griffith is a graduate of the Kelley School of Business and came up with the idea for Lil Bucks after a trip to Australia where she first tried sprouted buckwheat seeds during a meal and learning of their benefits.
"I was blown away by the texture and crunch of the seeds," she said. "It was a unique, addictive texture experience. On top of this, I felt amazing after I ate them. As it turned out, buckwheat is gluten-free, high in fiber and antioxidants … adding it to my diet was a no-brainer."
Griffith founded the company in 2018, four years after graduating from IU. She says the investment from IU Ventures, which was awarded through the IU Angel Network, will be used to get her products in more stores across the country.
The IU Angel Network connects startup companies and prospective investors among IU's community of alumni, faculty, staff and students.
"To have Indiana University come in at this crucial turning point for our business — and to be so excited about Lil Bucks — it's really energizing," Griffith said. "It's a really hard time to be an entrepreneur, and it's an especially hard time to raise money right now, but IU's energy, its networks and its support give me great confidence that we're going to continue to keep our momentum going."
The IU Ventures investment is part of an overall $300,000 funding round for Lil Bucks.
Lil Bucks won the $100,000 top prize at last year's Naturally Chicago Pitch Slam event. The company has also formed a partnership with Minnesota-based A-Frame Farm to source its organic certified buckwheat.
Story Continues Below