State tourism agency adds workforce needs to goals
A partnership between a state agency known best for tourism and a not-for-profit veterans organization brought more than 400 veterans to Indiana to work in civilian jobs last year.
Kyle Marsh was one of them.
The Pendleton native left Indiana in 1995 to enter the U.S. Military Academy at West Point, where he played baseball and thrived in the disciplined, regimented lifestyle of the armed forces. His military career took him around the world, but by the end of his tenure, he found himself back at West Point without a clear career path.
"The only life I ever knew was the Army," Marsh said.
The program—the Indiana Veterans Initiative, known as INVets—helped Marsh find work at Hamilton County-based seedmaker Beck's Hybrids, where he applied skills he learned in the Army to his new job as a logistics operations specialist in charge of the company's trucking division.
Marsh, 53, now lives with his family in Lawrence, and he credits INVets with helping him transition out of the military and into civilian life.
The state's partnership with the veteran recruiting agency is one of many new programs designed to boost the Hoosier workforce supply by painting Indiana as an attractive quality-of-life destination amid a worker shortage.
The agency tasked with this growing responsibility is the Indiana Destination Development Corp., a quasi-government entity formed in 2019—in the mold of the Indiana Economic Development Corp.—to replace the Office of Tourism Development.
Elaine Bedel is the agency's CEO, a role Gov. Eric Holcomb appointed her to after she spent five years as president of the Indiana Economic Development Corp.
Bedel said the larger Indiana Destination Development Corp.'s goal is to give people "an experience that will set … in their mind that they can live here, take a job here and start their family here."
Since the IDDC formed less than four years ago, Holcomb and Lt. Gov. Suzanne Crouch have expanded its mission from primarily tourism to include attracting and retaining students and temporary workers who may not be fitting Indiana into their long-term plans.
As a dual-focused entity, the IDDC is unlike other states' tourism agencies that work primarily to attract casual visitors, Bedel said. It spends just as much time and effort attracting people willing to put down roots and therefore grow the state's workforce.
There were more than 130,000 nonfarm job openings in Indiana as of March 1, which is down from nearly 154,000 open positions the same time last year. But the number is still well above pre-pandemic levels, according to the Bureau of Labor Statistics.
The labor shortage is attributed to a confluence of factors, including a surge in retirements in the last two years, a lack of skilled workers to fill open positions and a dearth of affordable child care options, according to labor economists.
An October report produced by the not-for-profit Ascend Indiana, the talent and workforce development initiative of the Central Indiana Corporate Partnership, and EmployIndy, the Workforce Investment Board for Marion County, found that the pandemic widened the gap between the number of high-skilled jobs and available, trained workers to fill those positions.
Economic development leaders see that gap as a huge impediment in attracting more high-wage jobs to the state.
Another troubling sign for economists is the declining rate of Hoosiers pursuing higher education. Only 53% of Hoosier students from the class of 2020 went on to pursue postsecondary education upon graduation, down from 65% in 2015, according to a June report from the Indiana Commission for Higher Education.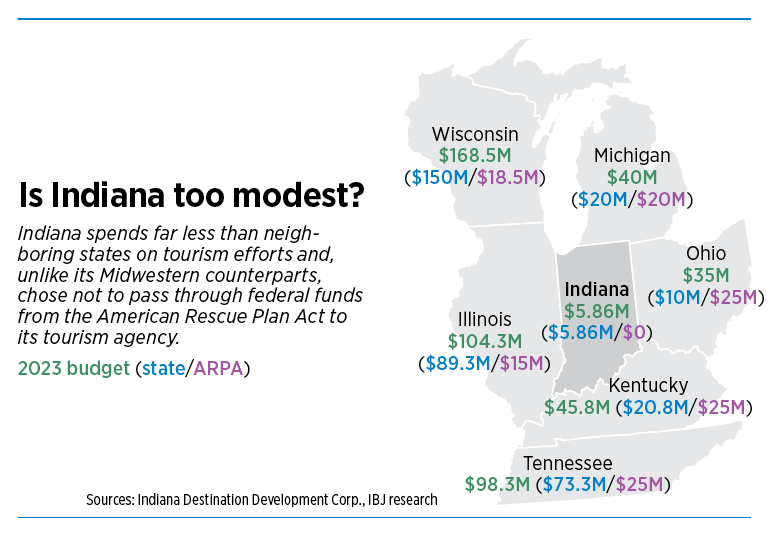 Help wanted
The IDDC is pursuing several partnerships and programs to invest in talent recruitment, graduate retention and visitor conversion pilot projects.
One such effort, launched in 2019 in partnership with Ball State University, provides students with an experience passport and encourages them to visit attractions, museums and other amenities around the state by rewarding them with swag and merchandise with the state's IN Indiana logo.
The entity is also working with the city of Fort Wayne and the Fort Wayne Chamber of Commerce to gather interns once a week to expose them to what's going on in their community.
"We want these interns to recognize they now have their own social network, so when their employer does offer them a job, they'll have a good feel of what it would be like to work in the Fort Wayne area," Bedel said.
The IDDC recently partnered with the IEDC on a pilot program in South Bend that encourages more Indiana businesses to have a larger presence on the state's colleges and universities.
Brand awareness
In June, the agency came up with its IN Indiana slogan and used a $1.9 million grant from the Economic Development Administration to launch a targeted ad campaign in the Chicago, Louisville and St. Louis markets.
That campaign has generated $102 million in visitor spending, resulting in $11.22 million in tax revenue, according to Longwoods International, a Toronto-based marketing firm that specializes in the travel and tourism industry. For every $1 that was invested in the campaign, $6 was generated in new taxes, according to the firm.
Bedel wants to build off that funding and is asking for a $10 million annual increase in the agency's budget, which would still place it well below the tourism budgets of neighboring states, Bedel said. The agency's current budget is $4.7 million.
The additional funds would be used to place media buys in Chicago, Cincinnati, Detroit, Louisville and St. Louis.
Similar to the IEDC, the IDDC also has a foundation—which has raised more than $1 million since its inception—to support its activities.
A bill working its way through the Legislature will codify the foundation into state law after an advisory opinion from the Inspector General's Office found that the not-for-profit was not subject to routine state audits due to a legislative oversight.
A perception problem
Like its spending on tourism, Indiana's travel stats pale in comparison with its neighbors. Indiana ranked 45th among U.S. states for leisure travel, while Michigan ranked 19th—the best in the Midwest, according to a 2021 survey conducted by Indianapolis-based Strategic Marketing and Research Inc.
Bedel said she believes that putting more money toward tourism can help Indiana climb the rankings and draw new workers, too.
"We know we're a better state than that, but if we don't tell our story, nobody else knows," she said.
Some Democratic lawmakers wonder if there are other factors that contribute to Indiana's perception problem.
Rep. Ed DeLaney, D-Indianapolis, said policies pushed by Republican lawmakers targeting abortion providers, transgender children and other divisive issues contribute to the perception of Indiana as an unwelcoming place.
"Hoosier hospitality has to mean something," DeLaney said. "And it doesn't just mean nice restaurants. It means we're open to each other."
Bedel says the state's advertising campaign is working. She points to Longwoods International's return-on-investment analysis of the agency's summer campaign. The company surveyed people from other states who saw the ads and visited Indiana and compared the results with people who hadn't seen the campaign and had never visited the state.
People who saw the ad and visited Indiana had a higher opinion of Indiana as a good place to live, start a career, attend college or retire, Bedel said
Story Continues Below