State to Focus on Housing Shortage in 2021
The state is jumpstarting a comprehensive plan to analyze housing needs as the Hoosier state tries to attract and retain its workforce. Governor Eric Holcomb says having enough housing for an increasing number of workers in the state is a challenge.
Holcomb says the state created approximately 28,000 more jobs in 2020 than the previous year, which is why housing is included as one of the five pillars of his 2021 legislative agenda.
"This is just as important to us water access, internet, broadband internet access, road access. Housing is critically important no matter where you find yourself," said Governor Holcomb.
In response to that growing need, the Indiana Housing and Community Development Authority created in March the Housing Working Group to create a comprehensive overview of the state's housing supply.
The working group includes about a dozen organizations and associations, including builders, bankers, realtor groups and affordable housing advocates.
"To actually look and create a study to look at housing, not just for sale homes, but rental homes throughout the state of Indiana so that we can determine our supply and what our needs are. And then, of course, be able to address a strategy to be able to solve those needs," said Lieutenant Governor Suzanne Crouch, whose office oversees the IHCDA.
The group paused its work in April as the pandemic struck. Before the healthcare crisis, the group had gone through a request for proposal process and was ready to recommend a firm to begin the initiative.
The IHCDA says it is ready to reconvene the working group in early 2021.
As part of the initiative, the organization wants to create a web-based housing data platform that would have a county-by-county breakdown of the housing market.
"This online interactive tool will be used by developers and builders, employers, local and state government officials and service providers who serve specific populations to help them determine where the needs and gaps exist and how we can address them," said Crouch.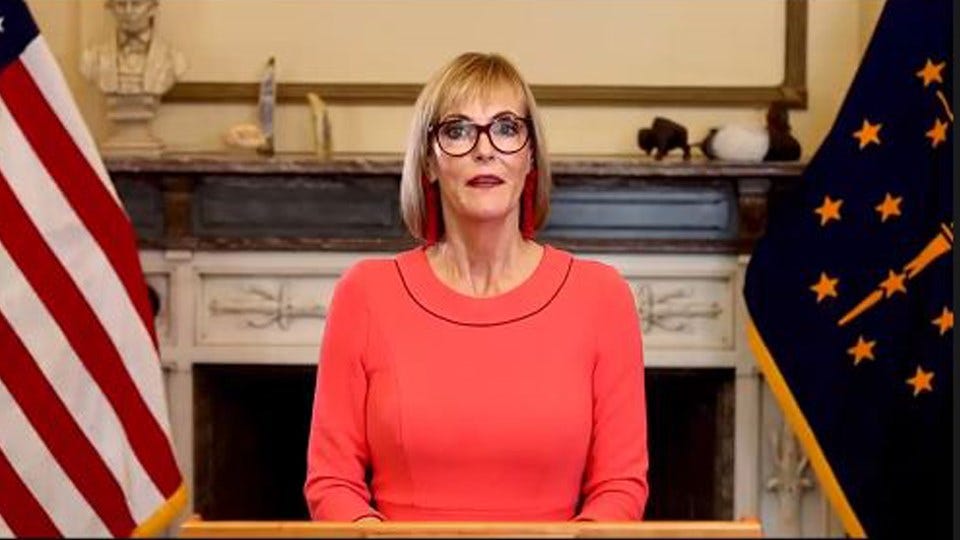 Crouch's office says the data analysis will identify average rents and list prices, median sales prices, vacancy rates, absorption, among other metrics. The information will help evaluate the housing market of different counties. IHCDA says with that data, it can then determine how to allocate state and federal resources.
"Every small, medium or large-sized community, it's all about community development. You can't grow unless you've got the housing," said Holcomb. "The local communities, are saying we need to have the data, the information we need to know exactly the numbers measured, what is the need, and then that helps the marketplace fill those needs."
Crouch says building permits are up 11% over last year, driven in part by the tight market for existing homes.
In a report issued last month by the Indiana Business Research Center, it showed the state has 1.5 months supply of inventory. This means it would take just six weeks to exhaust the existing stock of homes on the market at the current sales rate.
By comparison, the U.S. has approximately 2.7 months' supply. The IBRC says six months of supply is the traditional benchmark for a balanced market.
"With the inventory of homes on the market likely to remain low in 2021, we expect that total housing starts will continue to improve next year. Buyer demand should also remain strong, but with such tight supply, it is difficult to imagine the 2021 sales total topping what should be a record tally this year," said Matt Kinghorn, senior demographic analyst for the Indiana Business Research Center.
The tight housing market is a challenge not only in suburbia but also in rural counties of the state. Crouch says the IHCDA is taking part in a pilot program with the U.S. Department of Housing and Urban Development to rehabilitate rural properties throughout Indiana.
"Yes, rural Indiana is an area that also is growing and having economic opportunities, but has the housing shortage needs also," said Crouch, who says organizations like Habitat for Humanity could help fill that void.
The governor says as individuals and families fled larger cities during the pandemic, many found comfort and solace in smaller, rural communities. Holcomb says it is an opportunity.
"This is another area that plays right to our strength as folks are currently redefining the quality of place, what it means to them around the country," said Holcomb. "We hear this all the time when people are moving to the state of Indiana, not just businesses, but people move to the state of Indiana. They love that they can live in urban, rural or suburban and get to either of the other two relatively quickly."
Holcomb explained why the state is developing a comprehensive plan to address housing issues.