State of the Judiciary address highlights role of state courts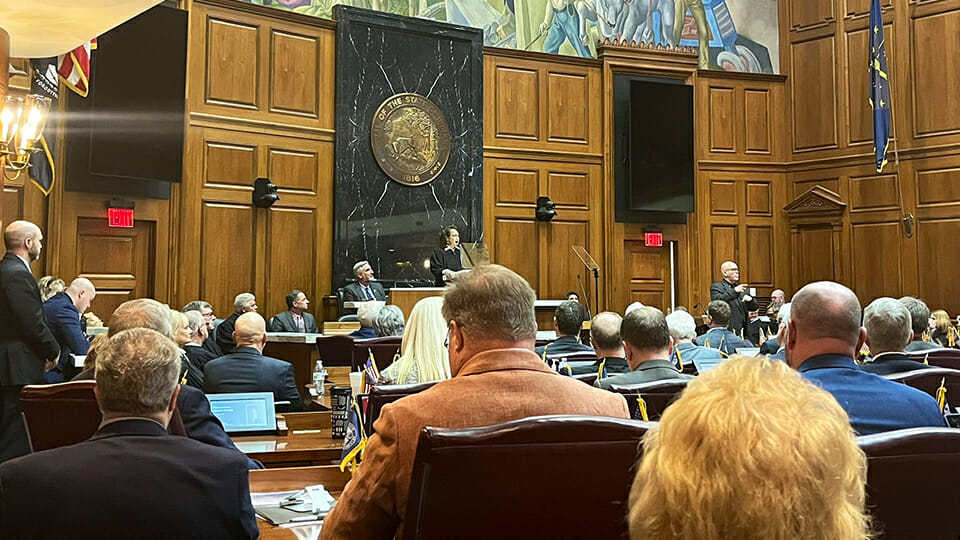 Growing up, Indiana Chief Justice Loretta Rush's family moved around the country, often due to her father's work in the railroad industry.
Fifty years ago, the line ended in Indiana for Rush — and she has called the Hoosier State her home since.
Giving her ninth State of the Judiciary Address on Wednesday at the Indiana Statehouse, during a joint session of the Indiana General Assembly, Rush compared Indiana's courts to a locomotive's engine.
"Like those trains, Indiana's courts are working as engines of economic development," Rush said. "It may seem unusual to think of the judicial branch as a vital economic driver or as a crucial protector of public safety, but let me explain."
The theme of this year's SOJ address was, "Indiana Courts as Engines of Economic Development, Fairness, and Public Safety." Rush's speech mainly focused on the work by the courts that "makes Indiana an attractive state for economic development and how it can protect public safety in Indiana."
Rush said there are currently 2.5 million cases currently pending in the courts, and those cases "touch on every facet of Hoosier life." She then provided statistics including the number of criminal expungements, mental health cases, small claims disputes and protection orders the court, among others.
"The sooner a person can get before a judge and resolve differences with a creditor, settle disputes with a landlord, obtain child support, expunge a conviction, or be made whole in a lawsuit, the sooner they can get back to their family and back to work," Rush said. "The same is true for businesses in a legal dispute. Court efficiency and fairness are paramount in fostering a safe community and a strong economy."
The chief justice then highlighted the work done by the state's commercial and problem-solving courts.
Currently, there are 10 commercial courts statewide that are focused on resolving complicated business disputes. Since a pilot project was introduced in 2016, more than 1,600 cases have been filed in the commercial courts, Rush said, adding that she thinks Indiana can be a model of the forum like the Delaware Courts of Chancery.
Regarding problem-solving courts, Rush said there are currently 143 statewide, including 30 veterans courts.
Rush specifically recognized Floyd Superior Judge Maria Granger during those remarks, noting the judge is the architect of the veterans courts in Indiana. Granger's veterans court, which turned 10 last year, includes residents of Clark, Floyd and Scott counties.
Right now, there are 30 counties without problem-solving courts, Rush said, but added "there are more to come" in the future.
On to technology, Rush commended the judiciary for continuing to modernize the courts.
Among the notable statistics, Rush said that 8 million documents were filed electronically last year, 1 million protection orders were filed in the statewide registry, 1,500 parties settled their cases through online dispute resolution, and the courts supported the Indiana Bar Foundation in providing 120 self-help kiosks throughout the state.
Last year, more than 50 million pages were viewed online for free via myCase.in.gov, Rush said.
Rush also highlighted the work being done on a project called "INJail," which is being done in partnership with the Indiana Sheriff's Association.
The system will be implemented in Martin, Grant and Elkhart counties this year. It will allow judges to view real-time incarceration status, alert community agencies when a supervised individual is arrested and create a new ability to share offender information between jails, law enforcement, community corrections and probation.
"INJail is our most complicated court technology project to date," Rush said. "And it reflects our resolve to do everything we can to support the men and women in law enforcement."
The judiciary recently requested a net $12.58 million operating budget increase for the fiscal years ending 2023 and 2024, which had a heavy emphasis on technology initiatives. The Supreme Court has not received an increase in any type of monetary budget since 2016.
During her speech, the chief justice also took an extra moment to thank Court of Appeals Judge Margret Robb – the first woman COA chief judge in the lower appellate court's history – who is retiring after 25 years in 2023.
"A nationally recognized judicial leader and legal scholar, (Robb) has authored almost 4,000 opinions, led her court across the state for traveling oral arguments, and generously given her time and talent to educate the next generation of the bench and bar," Rush said.
Additional comments from Rush were made on the number of new judges on the appellate courts, including the additions of Justice Derek Molter and Court of Appeals Judges Dana Kenworthy and Peter Foley, as well as on the Commission on Improving the Status of Children in Indiana and on the recent mental health summit that saw representatives from all 92 counties converge on Indianapolis.
Rush concluded by recapping a recent visit she made as the president of the Conference of Chief Justices to Helsinki, Finland, where she met with chief justices from Ukraine, Kazakhstan, Kosovo and other countries.
"These stories gave me the utmost appreciation for the strength and efficacy of our legal system in America, and, more specifically, here in Indiana," Rush said. "We all pledge and take the same oath to serve and uphold our constitution. And as much as I am uplifted and proud to represent our state and country, I am always glad to be back home again in Indiana — with all of you — as we work to ensure our courts continue to be engines of economic prosperity, fairness, and public safety."
Read an expanded story on the 2023 State of the Judiciary in the Jan. 18 issue of Indiana Lawyer.
Story Continues Below