State lawmakers weigh cutting agency rulemaking powers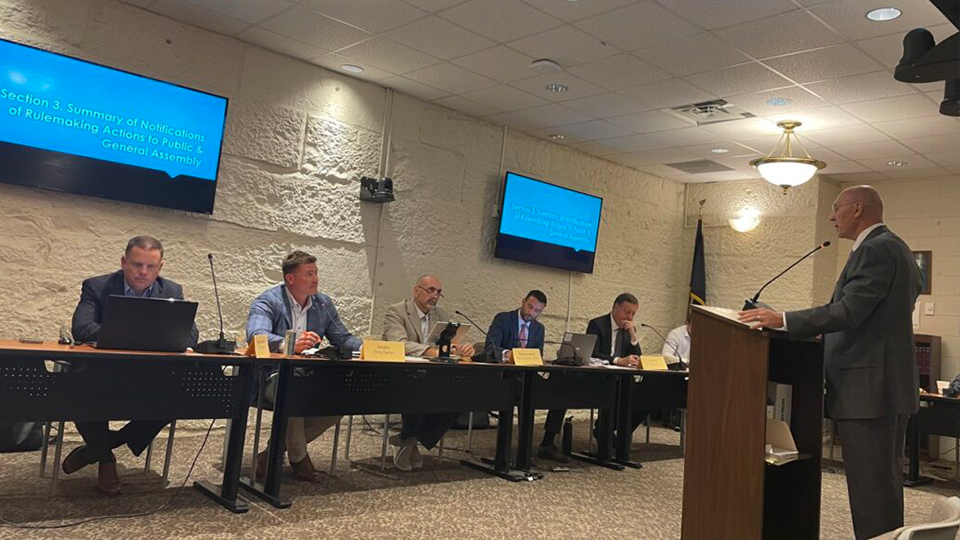 A Republican-led summer study committee this week laid the groundwork for legislative recommendations proponents say will further oversight — though opponents believe the push will strip power from Indiana's executive branch.
"We're using [House Bill 1100] as the basis to start a conversation," said Administrative Rules Review Task Force Chair Rep. Steve Bartels, opening the group's first meeting. He hails from Eckerty.
The task force grew out of a failed effort in the 2022 regular session, which sought to require state agencies to submit emergency regulations to the Indiana Attorney General's office for approval, and to limit those rules to 180 days of effectiveness.
The unsuccessful bill also impacted non-emergency administrative rules: agencies would've had to submit economic impact statements and explain any penalties or fines in their proposals, and the rules would've expired after four years instead of seven.
Rulemaking is the administrative process used by all state agencies to implement state policy. There are both emergency and regular procedures. Earlier this year — on the last day of session — lawmakers inserted rulemaking limitations into another bill and Gov. Eric Holcomb vetoed it.
He said the language had very little discussion in the House and opponents were not given a chance to testify in the Senate before it was shelved.
Bartels, a Republican, emphasized transparency as behind his push for more oversight.
During the introductory meeting, he said he'd have the 10-member group vote on whether to recommend that state lawmakers should be notified when agencies adopt new rules or readopt expired ones. Bartels also said he'd hold a vote on whether to recommend that the rule texts themselves be published prior to public hearings.
Legislative Services Agency Executive Director George Angelone confirmed to Bartels that emergency rules don't require any pre- or post-adoption checks or approvals.
The Attorney General's Office currently has 45 days — and Gov. Eric Holcomb a total of 30 — to review the administrative rules post-adoption, Angelone said. But Sen. Chris Garten, also a Republican, asked why the attorney general would conduct a legal review after rules had already been adopted.
Garten also focused on fees and fines, which some agencies update through those emergency rules.
"Many of my constituents view fees and fines as taxes. If we have agencies that are circumventing public input by raising fees and fines through the emergency rulemaking process, that concerns me," Garten said. "… Even through the regular rulemaking process, I do have some pause and some concern that we have government agencies who, frankly, are financially incentivized to raise fees and fines" because they can keep some of the funds.
Some pushed back.
"I'm not sure whether we're just addressing a common perception that regulators are out of control, or whether we're fixing a real problem," said Rep. Ed DeLaney, D-Indianapolis.
Others called for broader changes to streamline the rulemaking process.
The task force next meets Sept. 7 at 12:30 p.m. in Statehouse Rm. 230.
Katherine Feley, leader of the Indiana State Nurses Association, said a "lack of timely updates" to administrative rules for the nursing industry had impacted the state's nursing workforce pipeline.
Feley said agencies weren't updating nursing-related administrative rules enough, referencing a U.S. Department of Justice announcement that the Indiana State Board of Nursing violated the Americans with Disabilities Act.
"Unless prompted by outside entities, administrative code sections regulating the nursing profession failed to adapt to the evolving workforce circumstances," Feley said. "This forces stakeholders to come to the Legislature seeking mandates for administrative rule changes."
Feley's organization wanted to make it easier for foreign nurses to relocate to Indiana, but she said it took years to get a rule change. Instead, the organization and a partner turned to state lawmakers. They got the change in a bill last session, she said.
But, she said, lawmakers can only prioritize so many bills, and "valuable legislative time is being consumed to address policy changes that could be made administratively."
Tim Maloney, senior policy director at the Hoosier Environmental Council, reinforced that state agencies have the expertise to handle administrative changes.
"You have to consider the role of the General Assembly in going beyond setting policy and, you know, writing regulations that the state employs professionals to do," he said.
The Indiana Capital Chronicle is an independent, not-for-profit news organization that covers state government, policy and elections.
Story Continues Below