Speedway Details 25-Acre 'Gateway' Project
Officials in Speedway have announced plans for a major mixed-use project that will serve as a gateway to the town. Founders Square would be a 25-acre development featuring a new hotel and conference center, retailers and restaurants.
The Founders Square project was unveiled this week in a video shown during the State of the Town address in Speedway. Officials did not reveal an estimated cost for the effort.
The project is being developed by Fishers-based Rebar Development. President Shelby Bowen says the vision planning for the property near I-465 began about two years ago and Founders Square will give a new first impression for people coming into Speedway.
One of the main pieces of the development is a new Hampton Inn & Suites hotel, which will include a 9,000-square-foot conference center. The hotel will be operated by Indianapolis-based MHG Hotels, which also operates the nearby Courtyard by Marriott.
MHG Chief Operating Officer Hunter Carmichael says the new hotel is expected to open in 2021.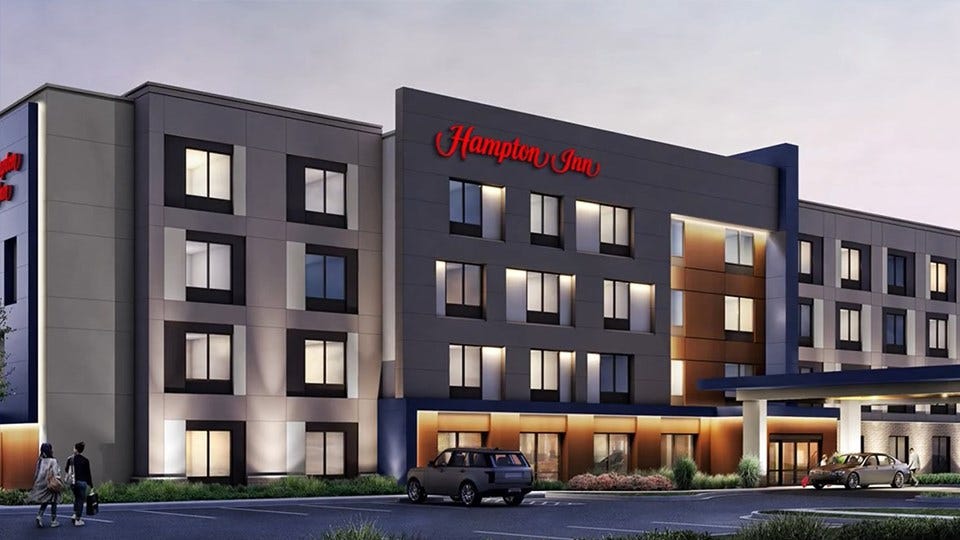 A Crew Carwash location will also be built on the site. Bowen adds officials are in negotiations with a national grocery chain to open a new location at Founders Square as well.
Speedway Economic Development Director Tim Gropp said one of the most important steps in the planning of the project was community input. He says the developers listened to what types of businesses and services residents wanted to see and he thinks they'll be pleased with the developments that will be a part of the project.
"This development is really important to the town," said Speedway Economic Development Director Tim Gropp. "Being the gateway of the community right off the interstate, being a town that's only about five square miles, to have 20-plus acres of land to develop is a really unique opportunity for us so we want to make sure that we get this right and that we take the time to make the best development that will leave a lasting impression not only to the visitors to the (Indianapolis Motor Speedway), but to the visitors and guests that come through here every day, that live in the suburbs, that come to our industries, that come visit Main Street and all our businesses."
Bowen says more announcements are expected within the next six months.
You can view the video announcing the project below: