South Shore Double Track Plan Receives Key Approval
The South Shore Line's plan to install a second set of railroad tracks between Gary and Michigan City has received approval from the Federal Transit Administration to take the project to the next engineering phase.
The Northern Indiana Commuter Transportation District, the operator of the South Shore, said the project was published in the FTA's "Annual Report on Funding Recommendations."
The federal recommendation allows NICTD to begin the final engineering phase of the Double Track Northwest Indiana project and position it to begin negotiations for federal grants.
While advancing to this stage does not guarantee funding, NICTD President Michael Noland told our partners at The Times of Northwest Indiana it is "the FTA's way of saying you've got a great project that we want to fund."
Estimates for the project are around $450 million.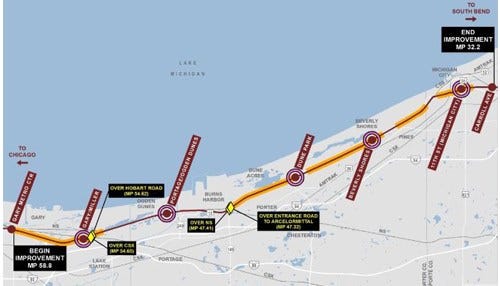 NICTD says the Double Track project is critical to reducing commuting time to Chicago and could be a major economic driver for northeast Indiana.
"Distance is measured in time, and the faster and more convenient we make it to commute from here, the greater the return on investment for the state and the taxpayers of northwest Indiana," said Bill Hanna, president and chief executive officer of Northwest Indiana Regional Development Authority.
NICTD expects by doubling the 25 mile stretch of track, it will reduce travel times for all riders traveling east of Gary and it would more than double existing South Shore Line ridership.
The project would also remove the South Shore line from running at street level in Michigan City.