Senate Republicans tout inflation relief proposal over Governor's refund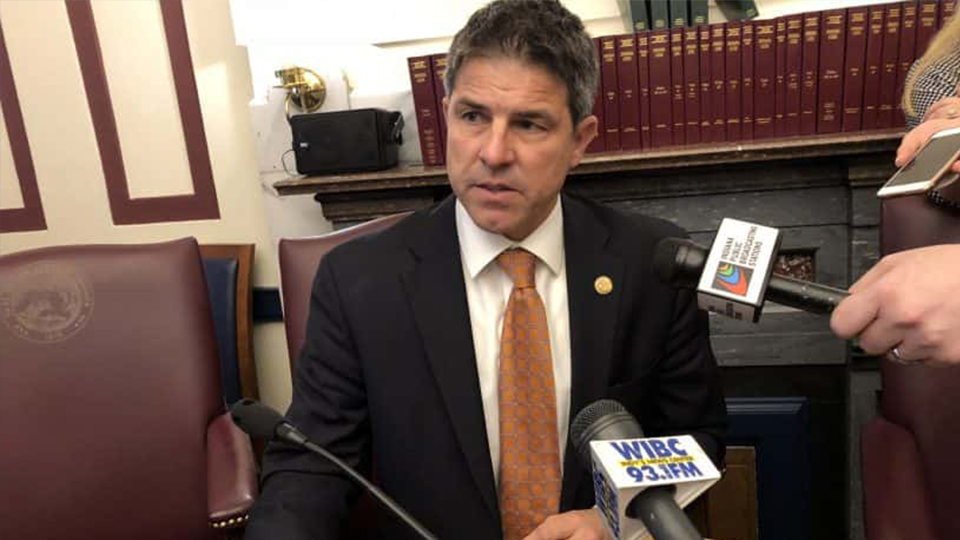 Senate Republicans on Wednesday proposed an alternative form of inflation relief for Hoosiers, bucking Gov. Eric Holcomb's request to send $1 billion back to Hoosiers in the form of $225 checks.
"We believe this is the best way to provide relief for all Hoosiers and keep the money in the state of Indiana," said Senate President Pro Tempore Rod Bray, R-Martinsville.
Bray noted the nation's 9.1% inflation rate reported in June hit Hoosier budgets hardest in food and gas. His chamber's proposal caps the sales tax on gas, which automatically increases monthly based on the price of gas, at 29.5 cents per gallon until June 30, 2023 or the end of the fiscal year.
The sales tax on gasoline may decrease over that time if fuel prices drop.
Erin Murphy, the press secretary for Gov. Eric Holcomb, sent a brief statement Wednesday following the press conference announcing the bill.
"When the General Assembly convenes next week, the more formal and public process begins. Governor Eric Holcomb will continue with his discussions with legislative leadership and members about the multiple issues before Hoosiers today, including the best way to return hard-earned tax dollars to Hoosiers in a timely, meaningful way," Murphy said in the release.
House Republicans are embracing Holcomb's proposal in House Bill 1001, which has not yet been made public.
The Senate measure – Senate Bill 3 – also repeals the 1 cent fuel tax increase that went into effect on July 1, bringing the fuel tax back to 32 cents until the end of the next fiscal year. It is unclear how much money the gas tax changes would save Hoosiers.
In addition, the Senate proposal would suspend the sales tax on residential utilities for six months, including the 7% sales tax on electricity, water, gas, internet and phone bills.
"By suspending the 7% sales tax on residential utilities, we can provide relief for nearly every Hoosier, with an estimated statewide savings of $260 million," bill sponsor Sen. Travis Holdman, R-Markle, said in a release. "This concept would benefit more people than the proposed taxpayer refund, and all of the savings would go to Indiana households."
Bray said he didn't have an estimate on how much the average Hoosier household could expect to save.
Funds dedicated to other areas
Bray said the Senate proposal will also pay $400 million to the Teacher's Retirement Fund, on top of the $2.5 billion already going to pension relief this month.
For capital projects budgeted in 2021 that exceeded their budgets because of inflation, another $215 million will cover their increased costs.
A second proposed spending bill will address the needs of post-Roe parents denied an abortion, while strongly encouraging adoption.
Indiana has one of the nation's worst maternal mortality rates and social services haven't adequately addressed poverty for young families. Parents denied an abortion are more likely to be impoverished, research shows.
Under Senate Bill 2, a $50 million "initial" investment will go to four agencies, who may award the monies to programs that support health pregnancies and families. The Department of Health, Family and Social Services Agency, Department of Child Services and Department of Homeland Security may distribute funds to programs that:
Support the health of pregnant mothers
Address pregnancy planning, including long-acting reversible contraception
Address the needs of low-income families with children under four years old
Increase access to child care
Support foster or adoptive care
Prevent children from entering DCS
Fund Safe Haven baby boxes
A recent article from the Washington Post reported that women denied abortions rarely choose adoption, estimating that curtailing abortion access might make an additional 10,000 infants available annually. With an estimated 1 million-plus parents on adoption waiting lists, that number won't make much of a difference.
The bill would increase Indiana's adoption tax credit from $1,000 to $10,000, which alone would account for a $5 million fiscal impact.
Senate disagreement with Democrats, House Republicans
Senate Minority Leader Greg Taylor, D-Indianapolis, mocked Republicans for recycling ideas previously introduced by his caucus, including funding for doulas, suspending the gas tax and addressing infant/maternal mortality.
"I say hoorah to my colleagues for actually bringing forth legislation that we've already proposed in the past and they voted no," Taylor said. "We applaud our colleagues for coming up with some ideas to help Hoosiers in the state of Indiana; it's about time. We should have done it months ago."
Taylor criticized the Republican supermajority for voting to take away surplus funding for families receiving food assistance months ago and now pivoting to utility bills.
"It's inconsistent," he said. "Whatever economic package they have to give relief to Hoosiers, I'm supportive. But, however, if you've got to do it – do it the right way and don't play games with the money."
House Speaker Todd Huston, in a statement, said his caucus would prioritize sending checks to Hoosiers, as suggested by Holcomb.
"Hoosiers need help now and Indiana is in a position to give them back their money," Huston said. "Our state's fiscal year closeout shows an incredibly strong economy and it underscores why provided this refund is not only fiscally prudent, it's the right thing to do by Hoosiers."
The Indiana Capital Chronicle is an independent, not-for-profit news organization that covers state government, policy and elections
Story Continues Below