HI-FI: SBA Shuttered Venue Grants Will be 'Significant'
The U.S. Small Business Administration has opened the Shuttered Venue Operators Grant application portal for operators of venues, live performing arts organizations, museums and movie theatres. The SBA says $16.2 billion will be available for venues as they try to stay afloat. The venues, including many throughout Indiana, are some of the first that were forced to shutter their doors last year in response to the COVID-19 pandemic.
In an interview with Inside INdiana Business, HI-FI Indy Chief Financial Officer Joe Hamgeri said the past year was a wild one for live venues, filled with uncertainty.
"Before all of the relief programs had been rolled out, it was a question mark for everyone but particularly for venues because we couldn't operate in any way shape or form," said Hamgeri. "[The grant], for those that get awarded the full amont, will probably be the most significant grant that they will have gotten from all of grants that have been available."
As part of HI-FI's response to the pandemic, Hamgeri says it helped form the Indiana Independent Venue Alliance. The organization includes members from venues around the state and serves as a centralized place to get information and to help one another regarding state and local mandates, available grants and to share ideas.
"Specifically for the HI-FI, we built an outdoor venue called the HI-FI Annex," said Hamgeri. "We were able to do some shows towards the end of the year last year and we will be kicking off again next week."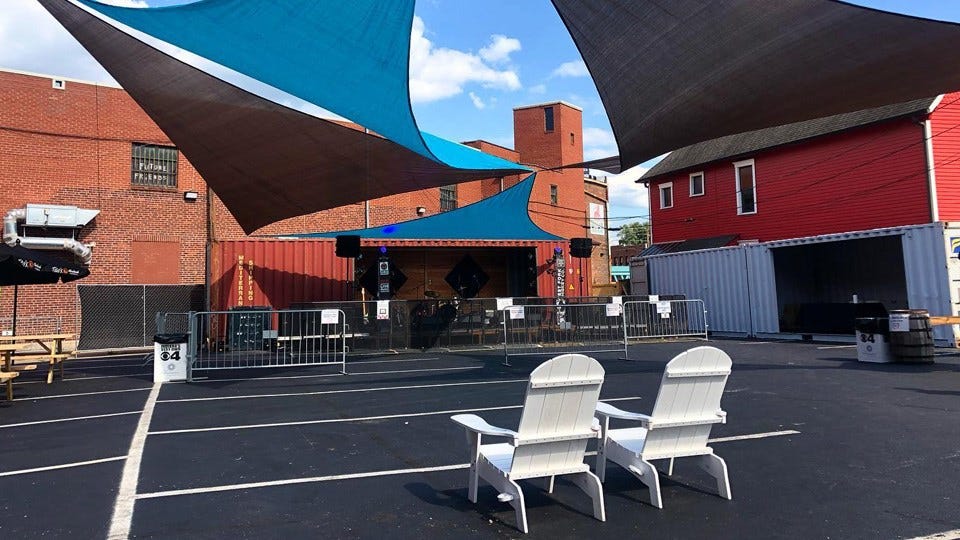 Through the SBA program, at least $2 billion is reserved for eligible SVOG applications with up to 50 full-time employees. Venues may qualify for grants equal to 45% of their gross earned revenue up to a maximum amount of $10 million for a single grant.
For HI-FI, Hamgeri says the funding is expected to offset some of the costs associated with building the outdoor venue as well as help offset costs from last year.
"Although we were closed for the majority of the year, we tried to keep the core team on to work on some different things and we worked on some community-focused things," said Hamgeri. "We still had costs associated with the venue. We have a lease agreement and so there are definitely costs associated with trying to stay alive."
The first 14 days of SVOG awards, which are expected to begin in late April, will be dedicated to entities that suffered a 90% or greater revenue loss between April and December 2020 due to the COVID-19 pandemic. The second 14 days will include entities that suffered a 70% or greater revenue loss during the same time period. Following those periods, SVOG awards will include entities that suffered a 25% or greater revenue loss.
"The grant is going to be significant," said Hamgeri. "In some ways, it will reimburse venues for costs that they had in 2020 and then it will also act as a an offset to spending in 2021. I think for some venues it will mean that they will be able to stay in business. Owners won't lose what they've created and built. For several venues its going to mean that they're going to be able to stick around and that's really exciting."
As the SBA built the SVOG program, it says it worked closely with its federal partners, including those dedicated to the affected industries such as the National Endowment for the Arts and Institute of Museum and Library Services, and Congressional authors in analyzing the legislation and Congress' intent.
"Concerts, plays, dance performances, movie premieres, museum exhibits – these are the lifeblood of culture and community, and often the anchor for travel, tourism and neighborhood food and retail stores. We know that for the stage and venue operators across the nation that help make this culture happen, the pandemic has been devastating. Too many have been forced to lower the final curtain on their businesses. Today, with more than $16.2 billion available through the Shuttered Venue Operators Grants, help is here," said SBA Administrator Isabella Casillas Guzman. "The SBA is committed to moving as quickly as possible to deliver this vital funding effectively and equitably – ensuring relief goes to those venue operators whose revenues have been most impacted by the pandemic."
You can connect to more information and apply for funding by clicking here.
Story Continues Below
HI-FI Indy CFO Joe Hamgeri discusses the impact of the SBA's Shuttered Venue Operators Grant and what it will mean for the live event venue.