RV Industry Cruising with Record Shipments
The recreational vehicle industry is enjoying a robust year and could be on pace for a record number of RV shipments. The Virginia-based RV Industry Association says shipments for June reached 50,706 units, a 25% increase compared to the same month last year.
The trade organization says that number also represents a seven percent increase over the previous record for June which was set in 2017. For the first six months, the industry has shipped just over 271,000 towable campers and trailers, and just over 29,000 motorhomes, a 70% increase over last year for both categories.
The RVIA says Indiana produces about 80% of all RVs in the U.S. The industry struggled last year during the pandemic, as it shutdown production plants throughout northern Indiana.
"It has been remarkable what the industry has accomplished over the past year. From shutdowns to soaring demand in the manufacturing, retail, and campground segments, the RV industry has met these challenges to deliver record shipments, sales, and campground stays," said RV Industry Association President and Chief Executive Officer Craig Kirby.
The RVIA says the approximately 300,000 RVs that were shipped from factories in the first half of the year breaks the previous first half record set in 2018 and is on pace to shatter records for the full year.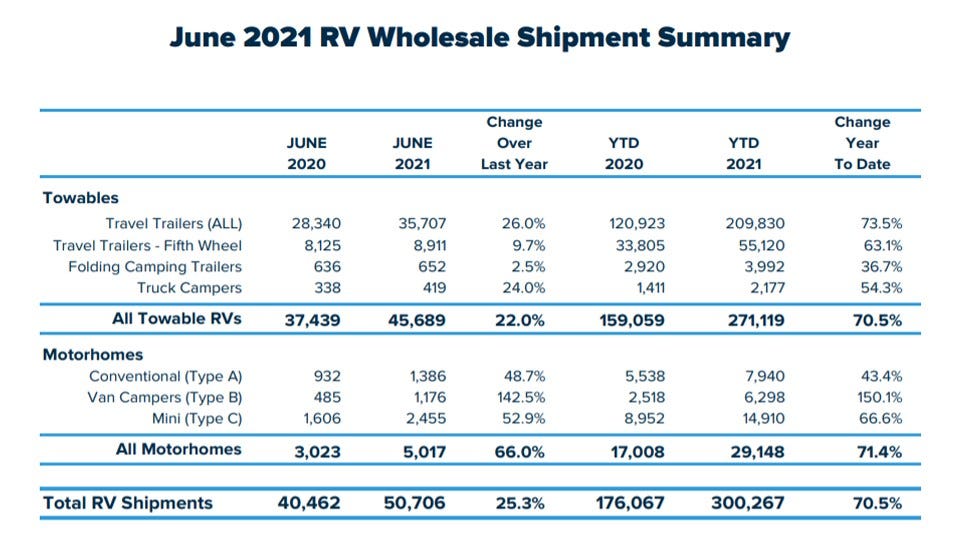 Story Continues Below