Rural Hospital's High Tech Response to COVID-19
Decatur County Memorial Hospital in Greensburg has gone high-tech in the way it monitors COVID-19 patients. The hospital is using a device that clips to a patient's finger to collect their vitals, while at the patient's home or in a hospital room, and sends the data to a central monitoring system at the hospital.
The technology was acquired, in part, through a nearly $700,000 telehealth grant from the Federal Communications Commission.
On Inside INdiana Business with Gerry Dick, Decatur County Memorial Hospital President and Chief Executive Officer Rex McKinney said the health system was exploring patient monitoring technology even before the outbreak of COVID-19.
"We really wanted a platform to accommodate our inpatient environment, but also with an eye on the future with regards to the needs from an ambulatory standpoint where those patients did not, do not need to be treated in the hospital, but need to be monitored remotely in some fashion," said McKinney.
McKinney says the technology helps monitor patients who may have other risk factors, but do not necessarily need to be seen in-person at the hospital. Thereby, it also helps prevent their exposure to COVID-19.
"Little did we know, just a couple months later, after implementation of the initial platform that the demand would be great from an ambulatory monitoring standpoint," said McKinney.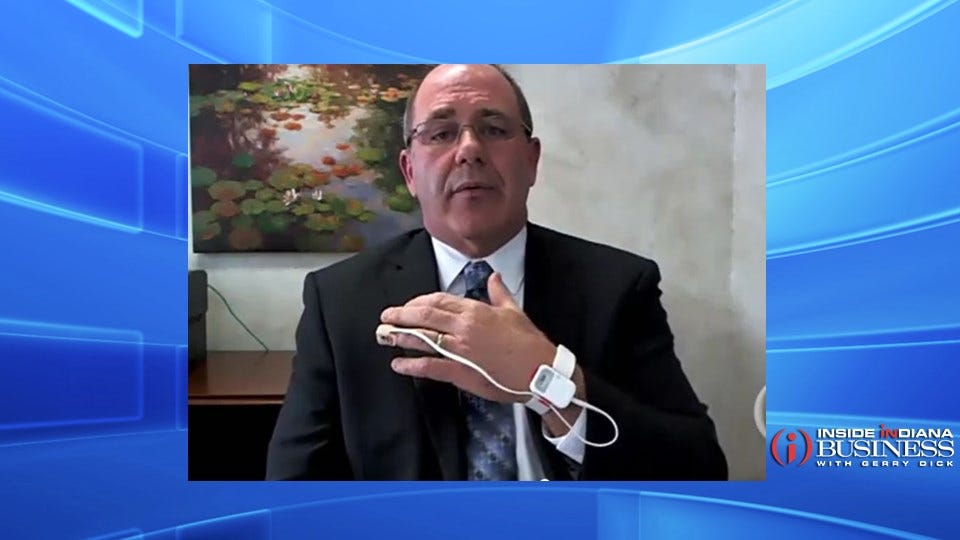 The vital signs are transmitted from a mobile device the patient is wearing to a central monitoring station where clinical staff can assess the information. But the technology requires in-home patients to have broadband internet service, which in rural counties like Decatur, can be a challenge.
"So, we have reached out to our local broadband provider, and we are actually working with them very closely to invest in some technology that will enhance the broadband capabilities in certain remote areas of our county," said McKinney. "We're very pleased, we were able to invest in that type of technology to enhance the broadband capabilities of our region."
McKinney says the bedside system also helps with the clinical staff's workload. It records the data and is placed in the patient's electronic health records.
"Once a nurse sees the vital signs, takes the vital signs, she can simply push a button, download that data into our electronic health record, which frees up the nurse to spend more time at the bedside," explained McKinney.