Rose-Hulman to unveil new football scoreboard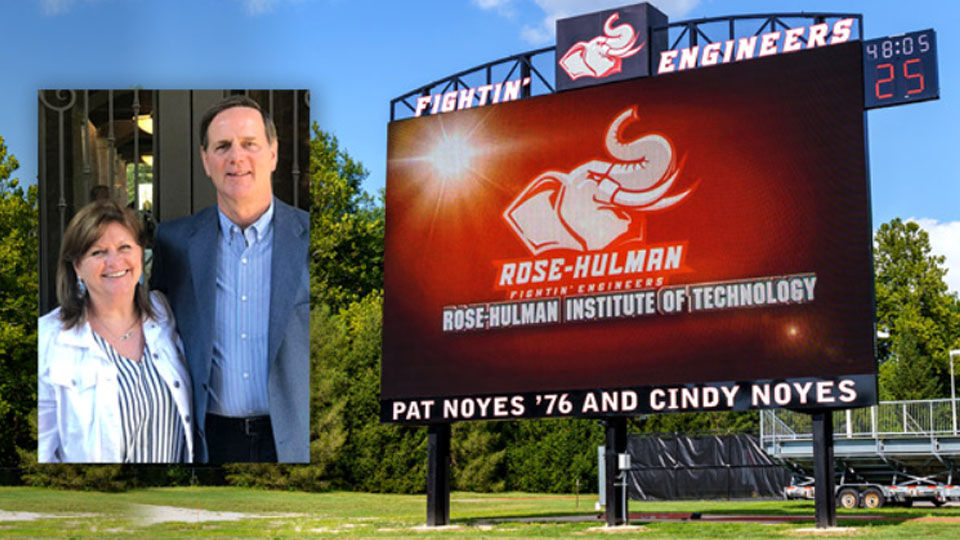 Rose-Hulman Institute of Technology has received a $1 million gift from alumnus Pat Noyes and his wife, Cindy, to help complete additions to its athletic facilities. The gift is funding the addition of a large, state-of-the-art electronic scoreboard at the east end of Phil Brown Football Field and Bill Welch Outdoor Track.
Rose-Hulman says the scoreboard, which will be unveiled this weekend during the first home football game, will be the largest electronic scoreboard at a NCAA Division III stadium east of the Mississippi River and third largest among all Division III institutions.
The 40-foot-long, 22-foot-high scoreboard was produced by South Dakota-based Daktronics (Nasdaq: DAKT), which specializes in large-format video displays. The scoreboard will showcase live in-game action and game information and graphics, as well as highlight sponsors.
"Pat and Cindy's loyalty and support have been transformative to Rose-Hulman and our students," says Rose-Hulman President Robert Coons. "We continue to be grateful for their generosity in helping to support our facilities and our students' personal growth; through leadership opportunities and their involvement in campus activities."
Noyes is chief executive officer of Texas-based Grenadier Energy Partners, an upstream exploration and production company in the energy sector. He is a 1976 Rose-Hulman mechanical engineering graduate.
The couple has supported other projects, such as the Patrick J. Noyes Scholarship Endowment Fund, the Bill Sisson Sigma Nu Scholarship Endowment Fund, and additions to the athletic department through the Athletic Endowment Fund.
"We've been blessed in many ways in our lives and have always believed in giving back to support people and organizations that helped shape our character and provided opportunity to help others succeed," said Pat Noyes. "We appreciate Rose-Hulman and want it to continue providing worthwhile opportunities to students that accentuate their strong academic backgrounds."
The institute says the gift will also help its athletic department to meet current and long-term needs of student-athletes, coaches and staff members.
Story Continues Below