Rose-Hulman to Host Robotics State Finals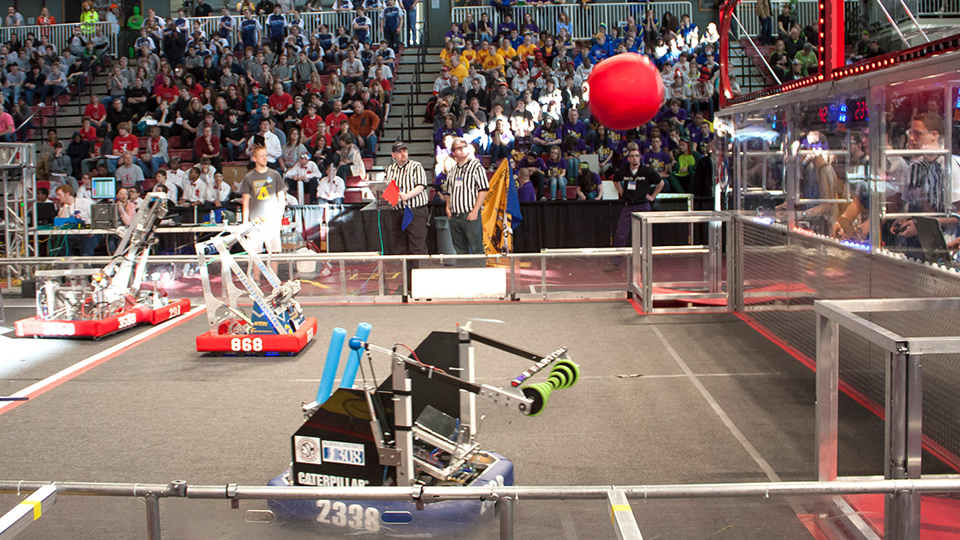 Rose-Hulman Institute of Technology will this weekend host 32 of Indiana's top high school and community robotics teams at the FIRST Indiana Robotics state championships. The competition, which are open to the public, will be held on a basketball court-sized field at Rose-Hulman's Sports and Recreation Center.
Teams have been designing, building and programming the four-foot-tall, 125-pound robots since January. The robots competed in district competitions last month in Columbus, Kokomo and Lafayette.
Rose-Hulman says the finalists hail from 23 communities throughout Indiana. Top-ranked teams from the regional competitions include suPURDUEper Robotics from Purdue Polytechnic High School in Indianapolis, CyberTooth from Kokomo's Northwestern High School, and Career Academy South Bend, among others.
Seven teams from the Indiana competition will qualify for the FIRST Robotics World Championship to be held in Texas April 20-23.
"This competition is filled with real-world applications," said Rose-Hulman robotics educator Dr. Carlotta Berry, endowed faculty chair and professor of electrical and computer engineering. "It is exciting seeing all the different solutions that each team has developed to achieve a multitude of complex tasks. All the students are winners by getting to the state finals."
This year's competition game, called RAPID REACT, involves two competing alliances invited to process cargo for transportation. Each alliance is assigned a cargo color to retrieve and deliver to the center of the playing field.
Rose-Hulman says the event is expected to bring nearly 3,000 visitors to its Terre Haute campus, as well as 600 high school students, teachers, advisors, and judges.
Opening ceremonies begin on Friday in the Hulbert Arena. Qualifying matches are scheduled to be held Friday from 11 a.m. to 1 p.m. and 2 p.m. to 6:30 p.m. and Saturday from 9:30 a.m. to 11:30 a.m. followed by playoff matches and the award ceremonies.
You can connect to additional event information by clicking here.
Story Continues Below