Roaming robots delivering meals and snacks at Ball State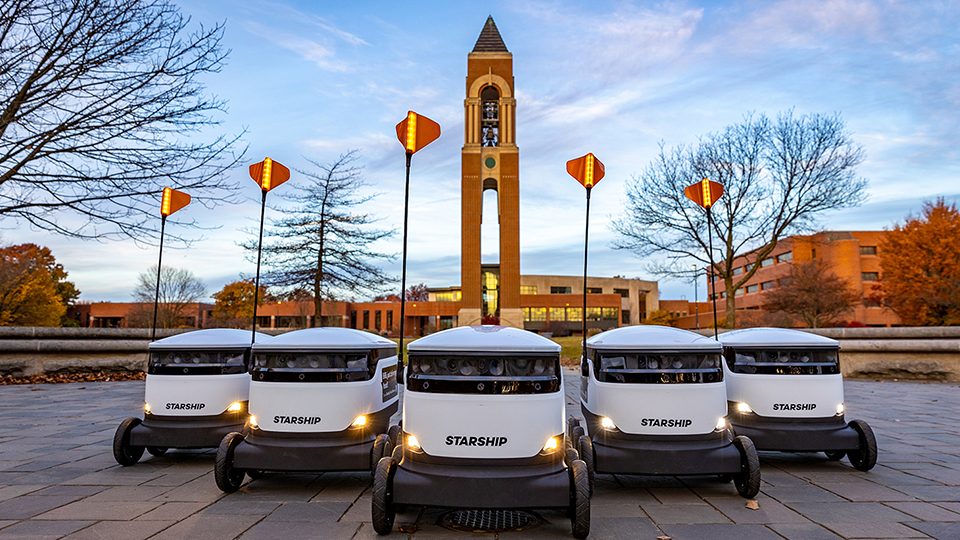 In her role as senior director of auxiliary services for dining, catering and events at Ball State University, Karen Adkins needs to focus on food trends for the campus dining halls. But now, she also needs to be plugged-in to the university's latest food-delivery system – autonomous robots. The school has launched a fleet of 24 robots to deliver food, snacks and drinks from 10 on-campus dining locations.
"I've been at Ball State for 36 years, and I've been in university dining that entire time. And never in my day did I think we would see robots delivering food," said Adkins in an interview with Inside INdiana Business.
LISTEN: In an interview with Inside INdiana Business, Adkins explains what value Ball State sees in this technology.
The university has partnered with California-based Starship Technologies to put the cooler-sized delivery units in motion. Each autonomous robot has 12 cameras, sensors and 3D radar to help the unit navigate the streets and sidewalks of the Muncie campus.
"The Starship robots provide our students, faculty and staff, and campus visitors a safe and effective way to have food delivered to their location," said Adkins. "This will make for a more enjoyable campus experience while saving time for those who use the service."
To use the delivery system, customers must download a Starship app, which is available in both iOS and Android formats. In the app, customers can make their order from a campus dining location, select a delivery location, and then wait for it to arrive.
Once on site, the customer receives an alert that the robot has arrived and allows the customer to unlock the box through their smartphone.
There is a $2.49 delivery fee per use.
Launched on Wednesday, Starship says the app had already been downloaded more than 800 times by the next day.
"And that was prior to our press release, all the marketing that the university and dining program has been pushing out since then. So, we're on a very solid trajectory here as well," said Dylan Barrett, university account manager at Starship.
When Starship enters into a partnership with a university, the tech company hires local people, mostly students, "that assist with bringing the robots in at night, pushing them out, detailing and sanitizing the robots on a daily basis as well," explained Barrett.
Barrett says the robots typically start operating at 7:00 a.m. They run until the last food location closes on campus at night. According to the company, the robots travel about four miles an hour, depending on conditions and obstacles. Barrett says deliveries average about 30 minutes.
"Once the order has been placed, it'll confirm that the order is placed. It'll also give them a delivery time. And then it's giving them updates throughout that delivery. When it gets to its location, it will notify the customer that it's there," Adkins said.
LISTEN: What about winter? Barrett says the robots are ready for the rough season.
Ball State is the second university in Indiana to launch the service. In 2019, Purdue University began operating a fleet of 30 Starship robots, and the partnership continues today. Ball State officials visited the West Lafayette campus to see the robots in action, which helped BSU decide to partner with Starship.
"We went to Purdue and visited and actually saw the Starship robots in action," said Adkins. "When we left Purdue, we all said we want robots at Ball State."
Starship says service at Purdue has grown significantly with robots completing thousands of deliveries a week from 22 restaurant offerings.
Adkins says BSU President Geoffrey Mearns was the first Starship customer. He ordered freshly made donuts. No word on if he enjoyed the treat…and the technology.
Story Continues Below