Report: Indy Top 5 City to Launch a Career
While the COVID-19 pandemic has wreaked havoc on employment, Indianapolis still appears to be an attractive place to launch a career.
LinkedIn says Indiana's capital city is number five in the country in its latest workforce report.
The ranking is based on a combination of factors including housing rental costs, starting salaries and available job opportunities.
While the reported looked at data across the country, the outcomes show the Midwest had the top five spots: St. Louis, Milwaukee, Cleveland, Cincinnati, Indianapolis.
According to LinkedIn, the median housing rent in Indianapolis is $1,081/month with the median starting salary at $59,200.
"A lot of young people starting a career want access to job opportunities and professional connections in a setting where they can save instead of being "house poor". Indy delivers that combination, and this study highlights that reality," said Mike Langellier, president and chief executive officer of Techpoint, a nonprofit, growth accelerator for Indiana's tech ecosystem.
In St. Louis, the median annual gross pay is just over $60,000. Typical rent averages $11,900 a year, or slightly less than $1,000 a month, meaning rent accounts for 19.7% of gross income, according to LinkedIn.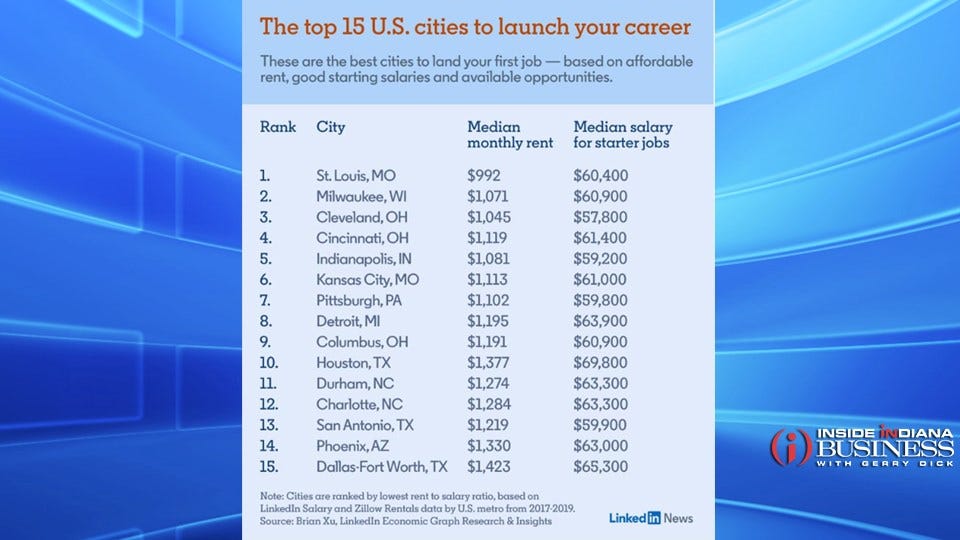 Missing from the list? Large coastal cities, such as New York, Washington DC, and San Francisco.
While those cities may offer some of the highest starting salaries, their mean income does not stretch nearly as far. For instance, rent in San Francisco accounts for more than 39% of income.
LinkedIn used data from its own economics team who analyzed 3 million positions, as well as real estate information from Zillow, to develop the list.