Purdue: Slight Improvement to Farmer Economic Outlook
A monthly measurement of farmer's outlook about the economy shows a slight improvement from April when there was a sharp drop stemming from the pandemic. Still, the current results seem to indicate concerns of COVID-19 still weigh heavily on America's producers.
The Purdue University/CME Group Ag Economy Barometer climbed seven points in May to a reading of 103.
But it remains well below the all-time high of 168 set in February.
In the May survey, more than 70% of the 400 farmers and ranchers surveyed, said they were "very worried" (34%) or "fairly worried" (37%) about the impact of coronavirus on their farm's profitability, up from 67% in April.
Purdue's Center for Commercial Agriculture, which conducts the survey, said farmer's two biggest concerns are market access and financial impact. There is less concern about health and safety.
When asked about farm equity over the next year, Purdue said there was a dramatic reversal of farmer optimism.
"We saw a big deterioration relative to February when we last asked this question," explained Jim Mintert, director of Purdue's Center for Commercial Agriculture. "61% of the farmers in this month's survey said they expect farm equity to decline this year, compared to just 28% who felt that way back in February."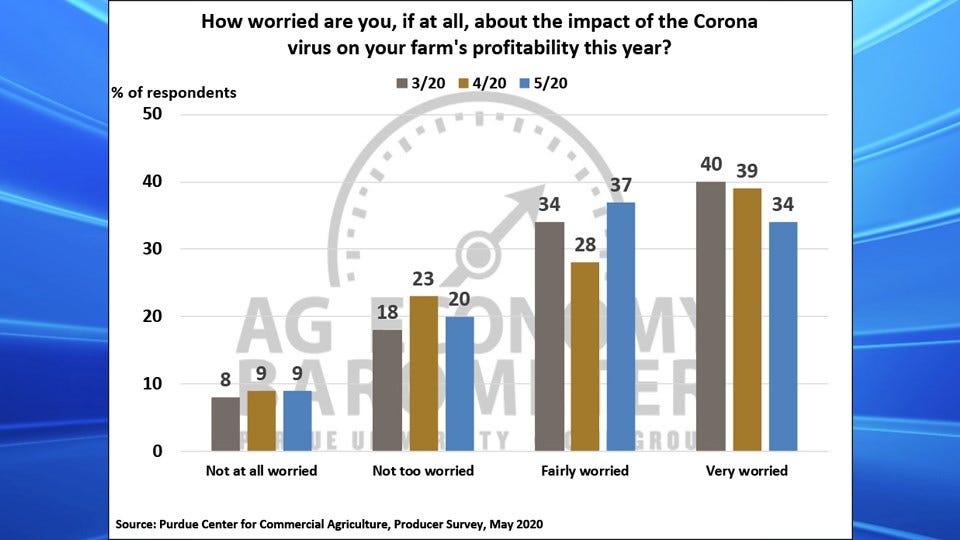 The survey for the Ag Economy Barometer was conducted between May 18-22. Mintert said that it was the same week that the U.S. Department of Agriculture announced the details of the Coronavirus Food Assistance Program.
He says awareness of that program's details could be one of the key reasons for this month's barometer improvement.
View Mintert's commentary in the video below.