Purdue: Mixed Views on Farm Economy
The Purdue University/CME Group Ag Economy Barometer was virtually unchanged in April, up one point from March. The monthly, nationwide survey shows farmers are becoming more optimistic about the future, however they are still concerned about the current state of the farm economy.
The Index of Future Expectations was up five points in April, continuing an upward trend. But the Index of Current Conditions dropped seven points in April, to a reading of 195.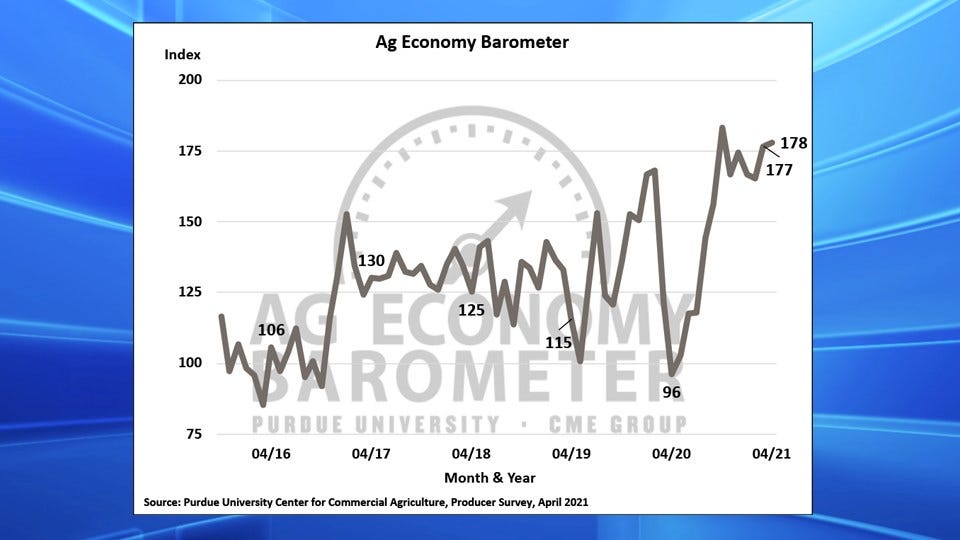 The Purdue Center for Commercial Agriculture, which conducts the survey, says 50% of the respondents expect better financial performance in 2021, compared to 2020. Only 39% felt that way in March.
"Strength in commodity prices continues to drive improving expectations for strong financial performance, even as many producers face rising input costs," said Jim Mintert, director of the Purdue Center for Commercial Agriculture.
Mintert says possible changes in U.S. tax policy weigh heavily on farmer's minds. Ninety-five percent of survey respondents are either somewhat or very concerned that changes in tax policy being considered will make it more difficult to pass their farms on to the next generation.
Mintert provides an analysis of the ag barometer in the video below.