Purdue Hospitality School Renamed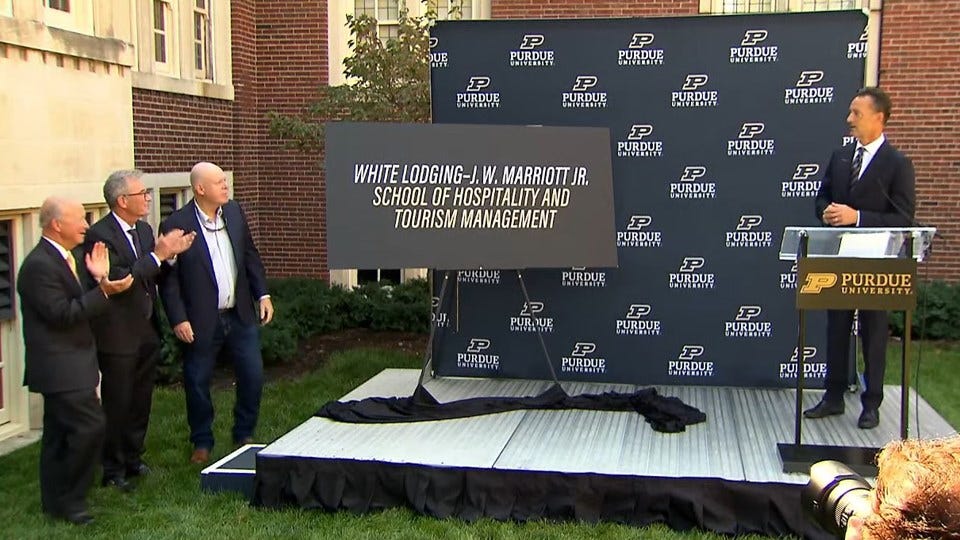 Merrillville-based White Lodging Inc. is continuing its support of the hospitality program at Purdue University. Bruce and Beth White, along with the Dean and Barbara White Family Foundation, have pledged $5 million towards an honors program and an endowed scholarship in hospitality.
In recognition of the White family commitment, the Purdue Board of Trustees today voted to rename the university's hospitality and tourism program, which will now be known as the White Lodging-J.W. Marriott, Jr. School of Hospitality and Tourism Management.
White Lodging founder and Chief Executive Officer Bruce White requested the Marriott name be added to the program. He says the branding honors the career and contributions of J.W. "Bill" Marriott Jr, who is executive chairman of Marriott International Inc. (Nasdaq: MAR).
"This goal stands as a foundation that Bill and the Marriott team built for the hospitality industry and continue to support at all levels. I'm very appreciative of Bill's support throughout our time together and proud that we can play a role in creating the next generation of hospitalitarians at Purdue – at a time when it's needed more than ever," said White.
Purdue says the Marriott family has a longstanding relationship with the university. The J. Willard and Alice S. Marriott Foundation provided the lead $5 million donation in 2012 to create Marriott Hall on Purdue's campus.
"The relationship with Purdue is also a longstanding one, and I am grateful to be part of this initiative preparing future hospitality leaders," said Marriott Jr.
The White Family Foundation has also played an integral role in the renovation of the 182-room Union Club Hotel. In 2018, the foundation pledged $30 million in the aggregate for the project, which was completed in August 2020.
White Lodging, which operates the Union Club Hotel, says it is working with Marriott International to designate the hotel as an Autograph Collection Hotel. Purdue says 200 independent hotels have been selected to the program due to craftsmanship, design and hospitality services.
You can view the unveiling of the program's new name in the video below. The event begins at the 35-minute mark.
Story Continues Below