Purdue Board Approves Daniels' Salary, PMU Project
The Purdue University Board of Trustees has approved President Mitch Daniels' annual performance evaluation and awarded his at-risk pay at 108%. The board has also approved naming the ground floor of the Purdue Memorial Union for the family of alumni Bob and Judy Atlas after a multi-million-dollar gift.
A portion of Daniels' salary is based on performance goals, set by trustees, in four areas: student affordability, student success, fundraising, and operations. Purdue says Daniels has a guaranteed pay of $430,500. Having reached or exceeded 13 of 15 metrics, Daniels will receive $232,470 in at-risk funds for 2021.
"In light of the challenges of the pandemic, we are very impressed and pleased with the way that President Daniels has met and even exceeded the metrics set out for him," said Malcolm DeKryger, chair of the board's Compensation Committee
Purdue says Daniels' income ranks him in the middle of the Big Ten presidents.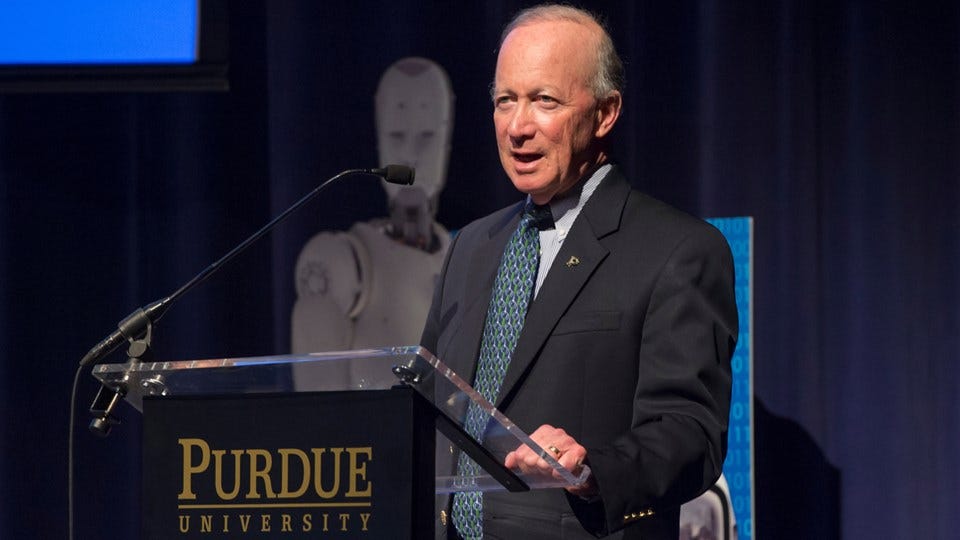 The naming of the ground floor of the Purdue Memorial Union after Bob and Judy Atlas follows a $2.5 million donation from the family's foundation. The lower level of the PMU is undergoing a complete remodeling. It has been closed since August 2020.
The 67,000-square-foot ground floor will be known as the Atlas Family Marketplace at the Purdue Memorial Union.
Bob Atlas was a 1957 graduate of Purdue with a degree in pharmacy. His son Howard followed in his footsteps and graduated with a pharmacy degree in 1984. Both were executives with Walgreens Inc.
The project includes 11 new dining options, improved technology and increased seating capacity. It also includes improved accessibility by the addition of two outdoor terraces.
The lower level is scheduled to open in January.
The board on Friday also approved the renaming of Purdue's hospitality and tourism program. It will now be known as White Lodging-J.W. Marriott, Jr. School of Hospitality and Tourism Management. Click here to learn more.
Story Continues Below