PPHS to Compete at World VEX Championship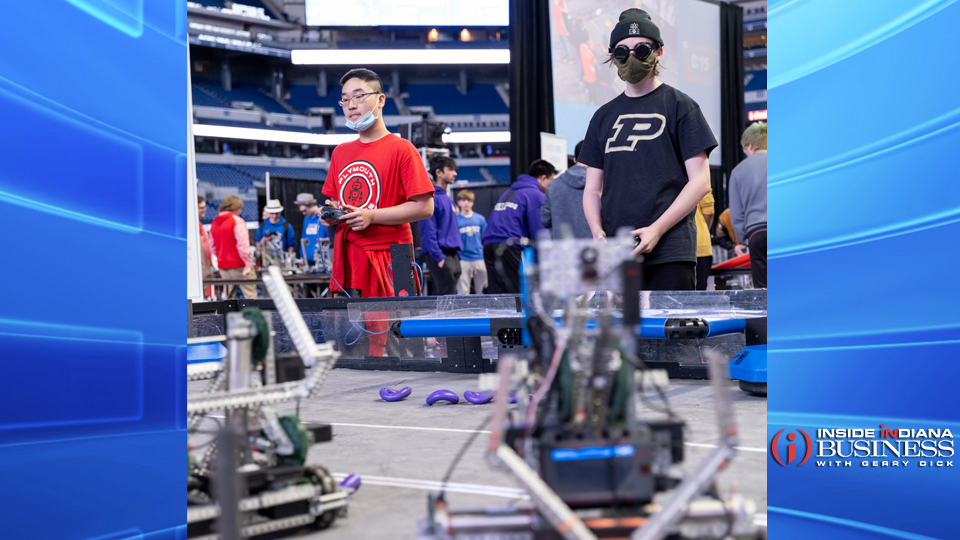 Students from Purdue Polytechnic High School North in Indianapolis have qualified to compete in the 2022 VEX World Championships in Dallas this spring, following a successful run at the state championship recently held in Indy. PPHS says it is quite the accomplishment considering the school's robotics program is only three years old.
"We had a lot of challenges this year, especially because we were a younger team and we didn't have a lot of supplies, experience or equipment built up and this year's challenge was really complex," said Fischer Oesterle, the only senior on the PPHS North squad.
The competition requires a team to build a robot, write computer code, and compete a variety of challenges. Oesterle writes and debugs the program that allows the robot to execute the tasks.
"I use a lot of what I've learned in school, but robotics has definitely pushed me to learn even more than I would as a student. I'm using calculus and a lot of trigonometry," said Oesterle who says he plans to study computer science once he graduates.
Thousands of Hoosier students, including elementary, middle and high schools, competed at the Indiana VEX Robotics State Championship the weekend of March 11 at Lucas Oil Stadium. It was hosted by Techpoint Foundation for Youth. PPHS is one of numerous Indiana teams that will compete at the next level. Click here to view the Indiana winners
The VEX World Championships will be held in May in Texas with more than 600 teams from around the world competing. The team qualified for the 2020 competition, but it was cancelled due to COVID.
"Of course, we're really excited to compete in Worlds because it's an incredible opportunity, but we're also really motivated to do well. COVID ended up canceling a lot of the events we were excited about so this one means a lot to us, and to all the competing teams," said Zane Wheatley, who operates the robot.
Wheatley also plans to attend college and study robotics or aviation.
Story Continues Below