PODCAST: Vet Student With Engineering Prize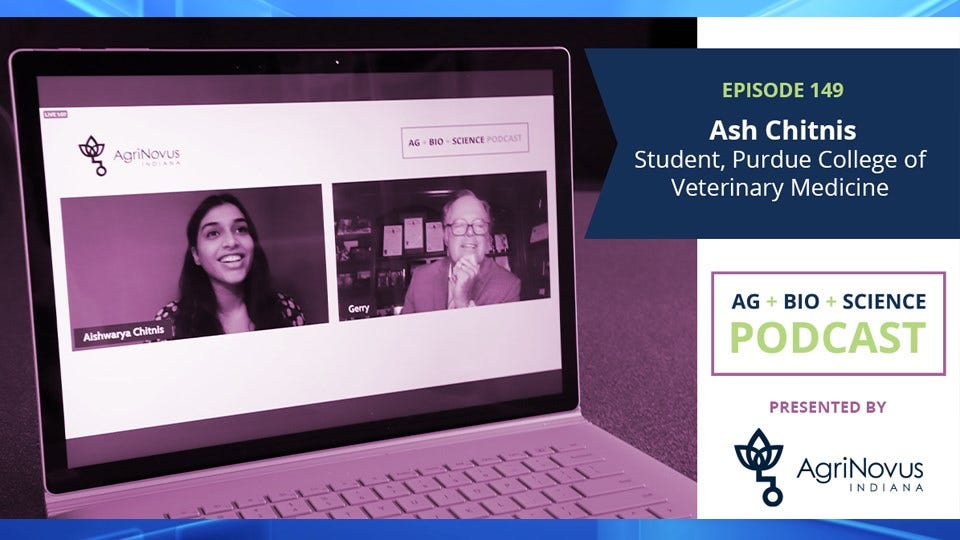 Ash Chitnis is a third-year student in the College of Veterinary Science at Purdue University, but she is also making her mark in the College of Engineering. She recently won a competition by developing a disposable mask made from an eco-friendly soybean-based fabric. The entrepreneur is the guest on this week's Ag+Bio+Science podcast presented by AgriNovus Indiana.
"A few months ago, while I was walking on campus, I noticed that a lot of people, including myself, were using the disposable nylon masks. I started using over two masks a day, which helped me realize that I as a student was creating so much waste every single day," Chitnis said to podcast and Inside INdiana Business host Gerry Dick.
She thought with Purdue's enrollment of 50,000 students, the institution was generating a lot of waste. Then she heard about the competition to create a sustainable product intended to solve a problem on campus.
Her research led her to the innovative research of automaker Henry Ford. She says he explored the use of soybeans for his products in the early 20th century.
"He was really impressed by soybean material, and how he tried to incorporate it in his daily life," said Chitnis. "And so, I looked into the soybean cloth and how that can be incorporated."
Soy fabric is derived from the food production waste of soybeans.
"I realized that every part of the facemask could be substituted to something that's more ecofriendly. And that's when I went on to make the soybean-based face masks I made it completely ecofriendly and could be composted in seven days that eliminates so much plastic waste."
Since Chitnis does not have an engineering background, designing and assembling the mask was a bit of a challenge.
"To be very honest, I was very surprised that as a medical student, I won this engineering competition. It was very intimidating to do something outside my comfort zone," said Chitnis. "The experience really showed me that if you put in hard work and you believe in your capabilities, you can achieve a lot of things."
Listen to the full Ag+Bio+Science podcast when it comes out Monday morning. Gerry's conversation with Ash includes her educational path through veterinary school and what she hopes to do with her degree.
And for a full lineup of Inside INdiana Business podcasts with Gerry Dick, click here.
Story Continues Below