PODCAST: Hydrogen v. diesel on the farm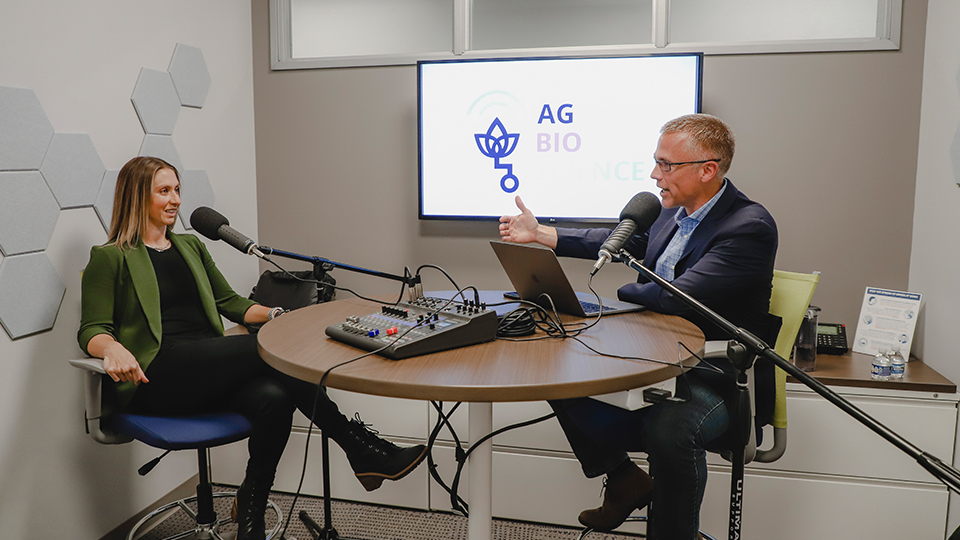 The general manager of the global agriculture business for Columbus-based Cummins Inc. (NYSE: CMI) says battery electric motive technology for farm machinery may eventually play a bigger role in agriculture. But Ann Schmelzer says the power and torque requirements for tractors and combines are difficult to overcome with battery-powered engines. Schmelzer is the guest of this week's Agbioscience podcast presented by AgriNovus Indiana.
"There are some technical constraints there that are really difficult to overcome," said Schmelzer to podcast host and AgriNovus Indiana Chief Executive Officer. "[But] when we talk about hydrogen, the power and performance that we get, is on par with diesel."
In August, Cummins announced it was partnering with Canada-based Buhler Industries Inc. to integrate 15-liter hydrogen engines in the tractor manufacturer's Versatile brand.
"We have two units that are in test right now. We have a 6.7 liter and our 15 liter that are well into development," said Schmelzer. "And we are seeing complete parity in terms of performance."
Generations of Cummins engines have powered on-highway equipment, namely semi-trucks. Schmelzer says she was brought on to grow the company's agriculture powertrain business. At the same time, Cummins has been investing heavily beyond diesel power and embracing zero-carbon goals.
Cummins says hydrogen combustion engines will offer a cost effective zero-carbon fueled solution for high load factor and high utilization applications, which are essential in crop production. Schmelzer, who earned an undergraduate and master's degree in agricultural economics at Purdue University, says the technology also provides time-saving benefits to reducing carbon emissions that doesn't cut down on productivity.
"Making sure that the products that we deliver aren't just optimized from a performance standpoint but do what they need to do in cold environments, in dirty environments for long hours. Fuel economy, particularly in agriculture, that's a really big deal. How we optimize across all of those things, while also meeting the latest and greatest in terms of emissions requirements and supporting what we're doing in terms of global sustainability and climate change. All of those variables have to come together," said Schmelzer.
Sustainability is one thing. But engine performance is another. How does the hydrogen engine compare to diesel? Schmelzer and Frazier explore the issue in the upcoming podcast. Click here to access AgriNovus' lineup of Agbioscience.
Story Continues Below