Plastics manufacturer opens expanded Evansville location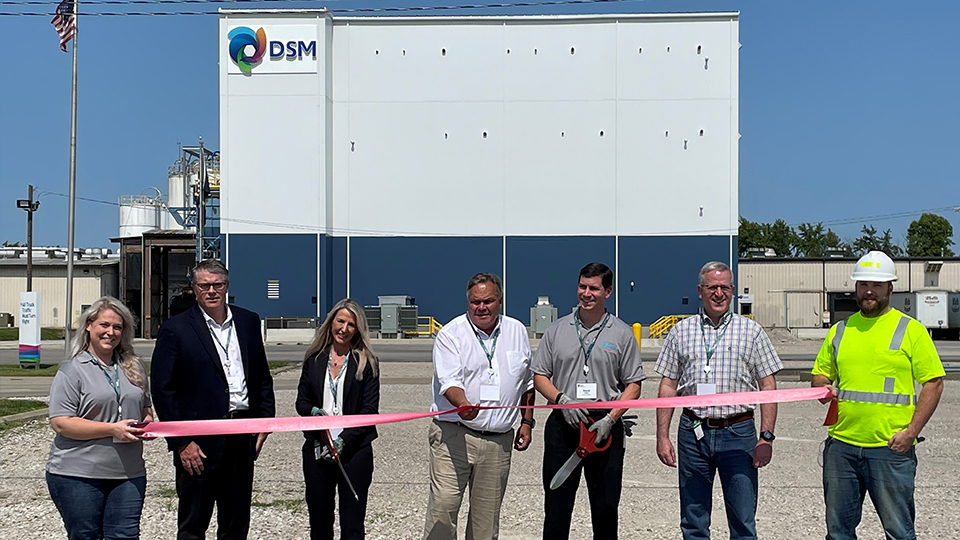 DSM Engineering Materials, a manufacturer of plastic materials for a variety of industries based in the Netherlands, is marking the opening of its expanded facility in Evansville. While financial details of its investment were not disclosed, DSM says the expansion will help meeting a growing demand for next-generation high-performance polymers.
DSM says the 40,000-square-foot facility has been outfitted with state-of-the-art production technologies and runs on 100% purchased renewable electricity, helping to meet the company's sustainability goals.
"Our investment in the latest production equipment has reduced energy consumption in Evansville and lowered our environmental impact. Through this project, we also aim to strengthen our business partnerships by continuing to invest in key areas of sustainable growth," President Roeland Polet said in written remarks. "Additionally, this investment reinforces our focus on North America as a key growth market for our business."
The company says it is seeing increasing customer demand for advanced materials for the electric vehicle space, as well as lightweighting technologies for multiple industries.
Additionally, DSM says enhancements made to the facility will support the health of employees through improved ventilation and area residents with reduced emissions.
"Investing in state-of-the-art technology provides both short- and long-term value. Enabling optimal health and comfort for all our colleagues – and increasing capacity – has positive effects we can see today, but this investment also underlines our commitment to sustainability and reducing our environmental impact in the long term," said Evansville Site Director Dave Miller. "And by producing more bio- and recycled-based materials, we'll be able to help more of our customers do the same."
DSM did not specify if any jobs were created as a result of the expansion. The company did not respond to a request for more information from Inside INdiana Business.
Story Continues Below