'Orange Corn' Showcased in GoDaddy Campaign
Evan Rocheford is CEO of NutraMaize. (video still from GoDaddy commercial)

(video still from GoDaddy commercial)
A Purdue University-affiliated startup that is trying to make a nutritional difference in the world is growing its reputation and visibility through a series of television commercials for GoDaddy.com.
NutraMaize LLC, which produces the company brand Professor Torbert's Orange Corn, is one of four companies currently being featured in a national advertising campaign for the website called "Make a Different Future."
As Inside INdiana Business has previously reported, NutraMaize grows and distributes bright-orange colored corn that is marketed for its higher health and nutritional benefits.
"We are on a mission to improve the nutritional quality of common foods people eat every day, so to have a platform like this to tell our story is just incredible," said Co-founder and Chief Executive Officer Evan Rocheford.
Rocheford, who has run the company since he was 24 years old, says his placement on Forbes magazine's "30 Under 30" list in 2019 caught the attention of the GoDaddy marketing team.
"They scoured the list, and they were looking for young, innovative entrepreneurs who are trying to make some sort of positive impact on the world," explained Rocheford. "That was one of the great benefits of making that list that continues to pay dividends."
The commercials were filmed last fall and first started airing in late December on YouTube, social media channels and multiple cable and network TV channels.
"My business is modern agriculture. My goal is more nutritious food for everyone. And I am Professor Torbert's.com. Make a different future. Start different at GoDaddy.com," said Rocheford, who narrated his own commercial.
Evan's father, Professor Torbert Rocheford, is a plant breeder at Purdue University. The geneticist developed the orange corn more than 20 years to help address the problem of malnutrition in sub-Saharan Africa as part of an international humanitarian effort called HarvestPlus.
"It's also been adopted in other places like India and China as well. Torbert's like the 'grandfather of orange corn.' And now, his legacy is being carried on globally by many people that are continuing this work," said Evan.
That international calling is still very much a part of Rocheford's mission. But the company is also trying to have a role in improving American's diet through a better grain that is milled into grits, cornmeal and corn flour.
"Most Americans are at an increased risk of losing their vision as they age because they don't eat enough carotenoids, so Orange Corn doesn't just have the power to save lives in Africa — it also has the potential to improve the well-being of Americans," Rocheford said in a news release.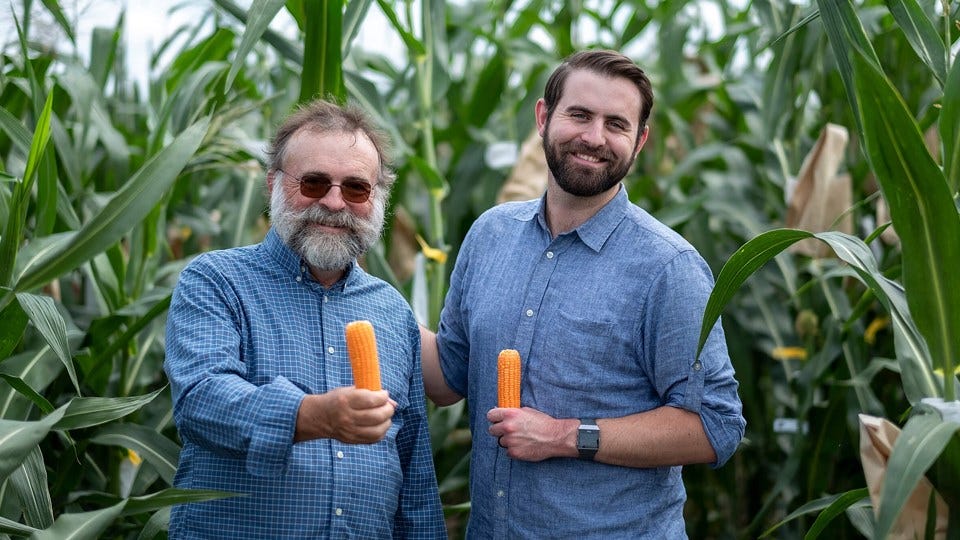 In addition to the advertising campaign, GoDaddy, which is a registrar of domain names, also helped NutraMaize launch its website, ProfessorTorberts.com, where consumers can purchase the milled grain. The products are also sold via Amazon.
The Orange Corn variety is licensed through the Purdue Research Foundation Office of Technology Commercialization. The Rochefords also received help from the Purdue Foundry, an entrepreneurship and commercialization hub.
Click here to view the TV commercial.
In an interview with Inside INdiana Business reporter Wes Mills, NutraMaize CEO Evan Rocheford explained the path to GoDaddy.

Rocheford explained how the company is positioned for growth.