Opportunities, drawbacks for rural Indiana attorneys
Blaine Timonera's day often begins by checking emails at his small Batesville law office, located off State Road 46, not too far from his home.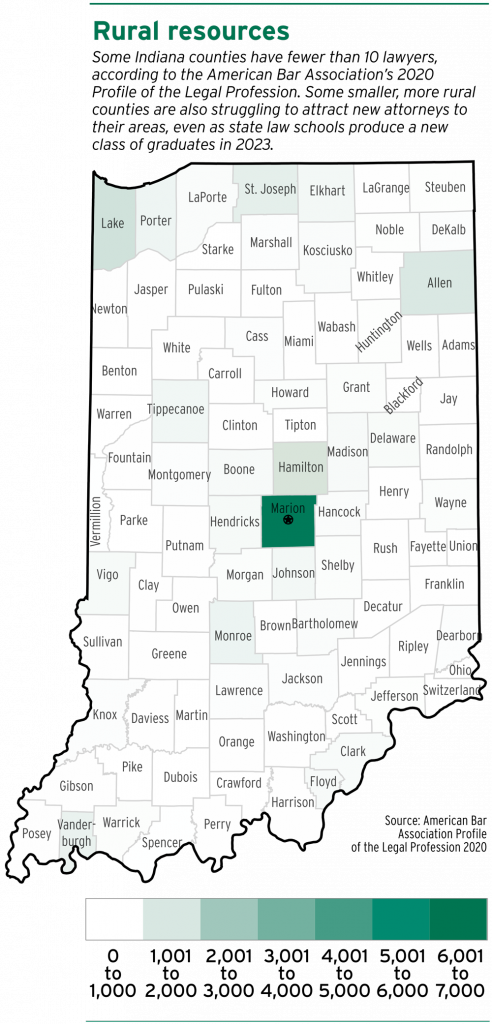 Timonera passed the Indiana bar in August 2020 and opened his solo practice in February 2021. Prior to opening Timonera Law Office LLC in Indiana, he also practiced in Oklahoma for two years before moving back to his hometown.
Timonera is part of an increasingly shrinking group of new lawyers who choose to practice in smaller cities and rural communities across Indiana.
On May 16, Timonera's day included looking at about 15 emails, listening to a couple voicemails, attending a court hearing, and taking four or five phone calls dealing with real property and divorce-related cases. A couple folks also brought by documents during the day, and Timonera had a short phone call with Franklin County's prosecutor. He works alone and doesn't currently have any staff.
"I have been saying I need to hire somebody for nine months now," Timonera, 30, said, as he sat at his desk.
The American Bar Association's 2020 Profile of the Legal Profession listed 17 attorneys in Franklin County and 35 in Ripley County, the two counties where Batesville resides.
There were eight Indiana counties with 10 or less attorneys that year, according to the ABA.
Timonera grew up in Batesville and attended Indiana State University as an undergraduate student before attending the University of Oklahoma College of Law. He practiced law in a small Oklahoma city before he and his wife decided to return home.
"When I came back and looked at the market, I knew it was right," he said.
For Timonera, practicing law in a smaller area gives him the flexibility to do other things in his life. In small communities, he said, an attorney can see the impact of their work beyond the courtroom and the written document.
Dana Smith, an attorney with Emerick Diggins & Zabona in Kendallville, said she has lived in neighboring LaGrange County her entire life. She was a paralegal at the Kendallville firm for 18 years, then decided to attend law school as a nontraditional student.
"I enrolled in law school when I was 40," Smith said.
Smith passed the bar in 2021.
A lot of people in Noble County already knew her, which made it easier for Smith when she started practicing.
"So that was a really big advantage for me," she said. "As soon as I started practicing, I got a lot of word-of-mouth referrals."
When working in a smaller community, Smith said it's important to be really versed in a lot of areas of law. Her firm does family law, criminal defense and estate planning, with those areas constituting about 80% of the practice.
Smith said EDZ — a three-attorney firm — has a good referral system for specialty legal areas and most often refers clients to larger firms in South Bend and Fort Wayne when necessary.
Right now, she's the newest practicing attorney in Noble County.
Opportunities
Michael Cunningham, an attorney with Mullin McMillin & McMillin in Brookville, has been practicing for five years.
He grew up in Lawrenceburg and worked at the Statehouse for former state representative Jud McMillin while attending law school at Indiana University Robert H. McKinney School of Law.
"When I got out of law school, I knew I wanted to practice criminal defense," Cunningham said.
Among his fellow IU McKinney Law graduates, Cunningham acknowledged he is one of the rare exceptions in terms of practicing law in a rural area.
"Not many people I know go back to small towns unless they're going to be prosecutors or judges," Cunningham said, adding, "There's really a pretty sore need for attorneys."
Like Timonera, Cunnigham said that in a smaller community, an attorney has an immediate ability to make an impact.
There are also often more opportunities for young lawyers.
In his five years of practice, Cunningham said he has already argued cases before the Court of Appeals of Indiana and Indiana Supreme Court, and has tried jury trials solo.
"A lot of times when folks go to bigger law firms, you're going to be an associate for a long time," Cunningham said.
Joseph Bauer, an attorney with Namie Bauer & Associates, which has offices in Rochester and Highland, has been practicing since fall 2019. He graduated from Valparaiso University Law School and worked briefly in Lafayette in the prosecutor's office before moving to his current firm.
Bauer said he knows of eight current practicing attorneys in all of Fulton County, which had a population of 20,386 as of the 2020 census. He is 29 and the youngest attorney at his firm.
Bauer said there are a lot of high-profile cases in Fulton and smaller counties. He called his job a fulfilling one.
"The community's so small, you can see the impact you're having on the community," he said.
Drawbacks
There are also drawbacks to practicing law in a smaller community.
For example, Bauer said he travels a lot to supplement his pay, serving as a public defender in Kosciusko County.
"If you're in a rural county, you have to be prepared to do more travel," he said.
Also, Timonera said there is a ceiling from a financial perspective, with hourly rates much lower than what an attorney might find in the Indianapolis metropolitan area.
But the plus side, he said, is that there is as much work as an attorney could want in a small community like Batesville.
Cunningham said law schools could do a better job of promoting small town firms to their students.
"I cannot emphasize enough just how incredible the opportunity is for somebody new to the practice of law," he said.•
Story Continues Below