Notre Dame to Allow Students, Faculty at Football Games
The University of Notre Dame is preparing to allow a reduced number of spectators at its home football games this fall. The university says it has been working with the St. Joseph County Health Department on a plan that would safely accommodate students, as well as some faculty and staff, in the event it can play football next month.
Notre Dame says it will limit seating to 20% or less capacity at Notre Dame Stadium, which seats more than 80,000 people, in an effort to minimize the risk of transmission of the coronavirus.
"I want to thank county officials, especially Dr. Mark Fox of the St. Joseph County Health Department, for helping us achieve this partial use of Notre Dame Stadium in a way that safeguards our campus as well as the local community," said Rev. John Jenkins, president of the University of Notre Dame.
Under its plan, the university says all spectators will required to wear masks and be appropriately distanced throughout the game. Additionally, tailgating will not be allowed on campus and at other Notre Dame property.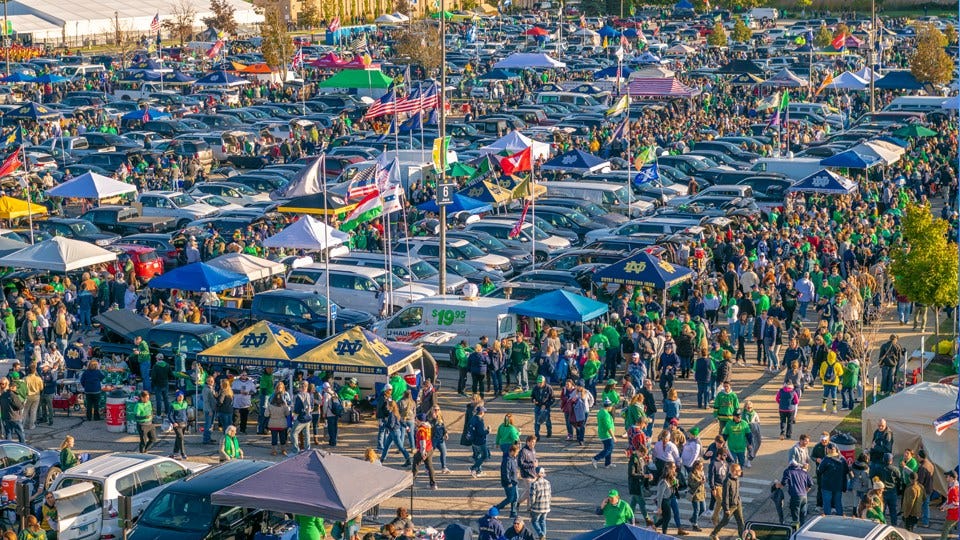 "We strive to deliver the best education possible to our students, while being a good citizen in our community," said Jenkins. "We regret that our inability to welcome the customary visitors for football weekends and other events on campus involves hardship for many local businesses, but our shared commitment to the health and safety of every member of this community must come first."
Notre Dame says its community contributes approximately $2.4 billion to the regional economy annually and $185 million of that is generated by football weekends alone. About 660,000 visitors stream into the South Bend area every football season.
In an interview with Inside INdiana Business earlier this month, Visit South Bend Mishawaka Executive Director Rob DeCleene discussed the economic impact and said if the football season is postponed, it would be "impactful."
Story Continues Below