Northern Indiana Fiber Project Gains Momentum
Installation of a 157-mile-long fiber optic system along the Indiana Toll Road has been completed and stakeholders say the $34 million investment will create economic opportunities for northern Indiana. The ITR Concession Company LLC, which manages the Indiana Toll Road, partnered with eX² Technology LLC on the infrastructure project.
With the hardwire in place, eX² parent, Virginia-based Vivacity Networks has announced a partnership with Digital Crossroad Data Center in Hammond.
In an interview with Inside INdiana Business, Digital Crossroad Managing Member Tom Dakich said the companies will extend and interconnect the Northern Indiana fiber network.
"The Digital Crossroad Fiber Network is an unprecedented stride in our state's march toward broadband access for every Hoosier," said Dakich in a news release. Dakich says the project will bring the fastest fiber networks to every community along the Indiana Toll Road corridor.
"With the addition of Vivacity interconnecting into my data center in Northwest Indiana, we made it a little easier for companies to come in and make an investment into northern Indiana and to bring broadband access to more communities," said Dakich.
The Digital Crossroads Fiber Network will serve as a wholesale, open-access facility that will enable local internet service providers (ISPs), utility providers, wireless network providers, municipalities, schools and others to access to fiber networks.
"The Toll Road corridor connects to more than 124 million people and provides a wealth of opportunity to foster, support and propel local communities across Northern Indiana," said Nic Barr, chief executive officer of ITR Concession Co.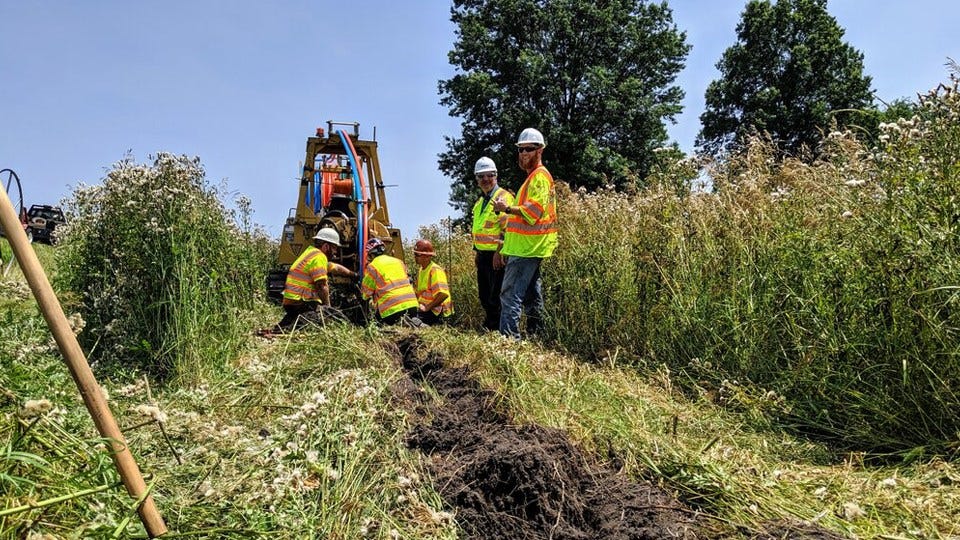 Barr says the infrastructure was built with additional conduit and fiber optic cable capacity to serve as a backbone for future community broadband expansion initiatives in Northern Indiana and beyond.
Dakich says Vivacity Networks will invest in the activation of the fiber which will eventually connect to Lakeside Technology Center, the world's largest data hub in downtown Chicago.
"We are thrilled to partner with Digital Crossroad to bring those pieces together to fuel Indiana's growth technology, economy and livability," said Scott Bergs, CEO of Vivacity Networks.
Story Continues Below
In an interview with Inside INdiana Business, Digital Crossroad Managing Member Tom Dakich said the project will strengthen broadband and encourage business growth.