Medical Mask Maker Growing Footprint
A respiratory mask maker on the west side of Indianapolis has broken ground on a 35,000-square-foot expansion of its facility as it continues to respond to market demand and as a hedge against supply chain disruptions. Pulmodyne Inc. manufactures airway and respiratory medical devices, such as masks, used in conjunction with ventilators. When Inside INdiana Business first talked to the company in April 2020, as it responded to the global healthcare crisis, it had just leased 7,000-square-feet in warehouse space near its factory.
"We basically outgrew it the second we got into it," said Pulmodyne President Andy Shurig in an interview with Inside INdiana Business. "We outgrew our factory, to be honest with you, probably 10 years ago. But now with this new space, we're going to have more than enough space to store not only our existing factory warehouse, but also all the stuff that was down the road."
Shurig says when the expansion is completed in December, the company will consolidate its warehousing and use open space in the plant to increase the production area.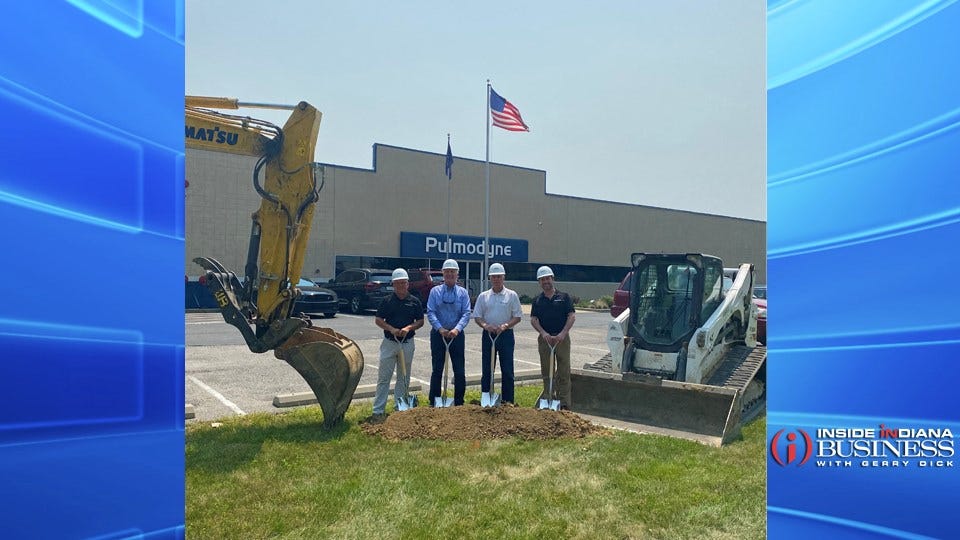 A big factor for Pulmodyne's decision to invest in the additional space is the supply chain. The medical device company depends on 50-70 vendors for a variety of parts to produce its masks. Shurig says sourcing all of the material is taking much longer than it did prior to the pandemic.
"Whenever we do have access to something, we're just buying that much more so that we can actually have it on the shelf," said Shurig. "We used to have a lead time of two weeks, all of a sudden we're having a lead time of three months. And that's not uncommon for a large amount of our components."
Shurig, who was named president in June 2020, says one of his biggest "stressors" is sourcing enough raw plastic. He says Pulmodyne could get 10,000 pounds of polycarbonate with a week lead time, but now it can take as long as two or three months.
"It's just a lot of calling every day, trying to be the squeaky wheel to get more product," said Shurig.
But the problem is not only finding enough materials but shipping it here. The Indiana based company owns a filter manufacturing facility in Malaysia. A global crunch on available shipping containers is creating additional timeline challenges to get materials from the Asia plant. Shurig says it used to take seven to eight weeks to get a standard, 20-foot container from its overseas facility, but now it is three to four months.
"Which is hard to plan for," said Shurig. "Sometimes we're having containers that are passing each other. One left earlier than the other."
He says demand for available containers has forced the cost to skyrocket, increasing from $4,000 earlier this year to about $23,000.
"We know across all industries, they're all dealing with the same thing," said Shurig, who shares the company has not passed along the added expensive to their customers. "We've just been absorbing it, but it's definitely something we're feeling."
The company ships products around the globe and saw the rapid spread of the coronavirus even before it hit the U.S. and Indiana. About a third of Pulmodyne's products are shipped overseas to 82 countries.
To keep up with demand, workers running the molding systems are working 12 hour, four-day shifts. The assembly team is working five days a week. Pulmodyne uses a staffing company to help with its employment gaps, but it is also hiring. Click here to learn more.
"Oh, yeah, I'm sure we could probably take another 20 on the production floor tomorrow, and our factory manager would be thrilled," said Shurig. "But there's just doesn't seem to be as many people available looking for a job as there were in the past."
But Shurig says the company is not dwelling on the past. He says it is focused on the future with the launch of additional products. Pulmodyne introduced two products to the market over the past year and has four more in the pipeline.
"If it weren't for COVID, we would have probably launched this year. But we're delaying them," said Shurig. "A lot of these physicians, especially ones that are in hospitals, are getting hit hard. The last thing want to do is go and mess around with something new right now."
President Andy Shurig said between production demand and tight storage capacity, the company has outgrown its space.