MaskCount App Shows Room for Improvement in Mask Wearing
It has been six months since the Indianapolis-based Regenstrief Institute launched a web-based application called MaskCount, which tracks how many people are wearing masks to protect against COVID-19.
Regenstrief built the app using crowdsourcing technology that allows anyone to submit anonymous data to develop evidence about the use and effectiveness of masks.
The researchers are encouraging users to become "citizen-scientists" by discreetly recording how many are wearing masks.
"If we average everything out and kind of look holistically, and even if we limited to the indoor spaces, we still aren't getting to the level of proper mask-wearing that we that we need," said Regenstrief Institute Chief Executive Officer Dr. Peter Embi.
While the preliminary data is far from conclusive, Regenstrief says 76% of those recorded by MaskCount are wearing a mask, while another 17% are not. Embi says the health industry is pushing for 95% mask usage.
"I think it has improved a bit which seems to correlate when things were getting worse, going into the fall in the winter," said Embi. "To the extent that that is a contributor to improving control, it's good to see but I still don't think that we had the level of mask-wearing that we needed."
When Regenstrief launched the app in September, it allowed users to swipe on their smartphone whether a person was wearing or not wearing a mask. Later in the fall, they added the ability for users to select partial, or improper mask usage.
To date, the app is reporting about 7% of people who are wearing a mask but it is not fully covering the nose and mouth.
"But the partial, which means, 'I probably should be wearing it and I'm not wearing it properly.' That's a concern," said Embi.
In February, the U.S. Centers for Disease Control and Prevention recommended the use of double masking to further prevent the spread of the disease.
Embi says the app does not account for double masking. He says other users have suggested revisions to the software, including the addition of gender and race.
"I'm really looking for is accuracy. And I don't want to get in the way of that," said Embi. "We made the decision, that it's better to have less kinds of information and more accurate information."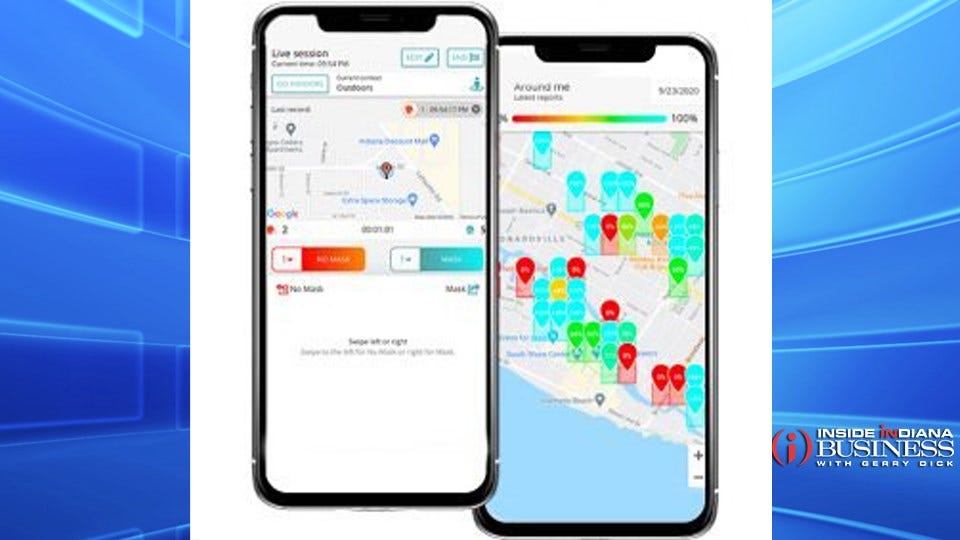 The technology helps track mask-usage not only in Indiana, but around the world. Embi says there are users in 11 countries, including the U.S. Embi says there are respondents/users in all 50 states.
"There are other counties and municipalities around the country that have shown interest in using this and I think they've started to use it in more of an informal way," said Embi. People who said, 'you know, we have a policy, we want to know how well it's working.'"
Embi says privacy was a key consideration in the development of the app. He says not only is the privacy of data protected, but also the privacy of individuals wearing or not wearing a mask.
The app does not allow for the identification of anyone's information, such as names and faces. Nor does it allow people to take pictures of people they are observing. It does however capture the location for each observation.
"It was really important to us that we did this in a way that was respectful of people's privacy," said Embi. "There's no way to sort of trace back to anyone who's being observed."
To learn more about MaskCount, or to become a citizen-scientist, click here.
In an interview with Inside INdiana Business reporter Wes Mills, Regenstrief CEO Dr. Peter Embi said mask usage is not where it needs to be.