IU Health to Begin Utility Work for New Hospital
Indiana University Health is preparing to begin utility work for its planned $1.6 billion hospital in downtown Indianapolis. The health system says lane restrictions near IU Health Methodist Hospital will begin Wednesday as crews get ready to start the work, which will include a temporary access road to the hospital's emergency department.
The temporary access road, which will be available to EMS vehicles and patients, will be in use from September 22 until early March. Additionally, crews will be working to relocate underground utilities to serve the new academic health center and campus, plans for which were announced a year ago.
"IU Health, along with our utility partners and the City of Indianapolis, are dedicated to minimizing any disruptions to our patients and our neighbors during the utility construction period and beyond," said Parveen Chand, vice president and chief operating officer of IU Health Methodist and University hospitals. "The new hospital and expanded campus required years of planning and will be one of the largest healthcare investments in the history of Indiana. We are excited to see this project move into active development, beginning with utility work."
IU Health says the utility work will cause several street and intermittent lane closings, including:
Lane restrictions on the westbound lane of 16th Street from Aug. 25–30, and on the eastbound lane of 16th Street from Aug. 30–Sept. 4.
Closing of portions of Missouri Street, Senate Avenue and 16th Street (phase one on map) from Sept. 22 to Jan. 25, 2022.
Closing of the intersection of Capitol Avenue and 16th Street to north-south or east-west traffic (phase two on map) from Dec. 22 to Jan. 25, 2022.
Closing of a portion of Capitol Avenue (phase three on map) from Dec. 22 to March 7, 2022.
Closing of sidewalks at times along 16th Street, Capitol Avenue and other nearby streets due to construction activity.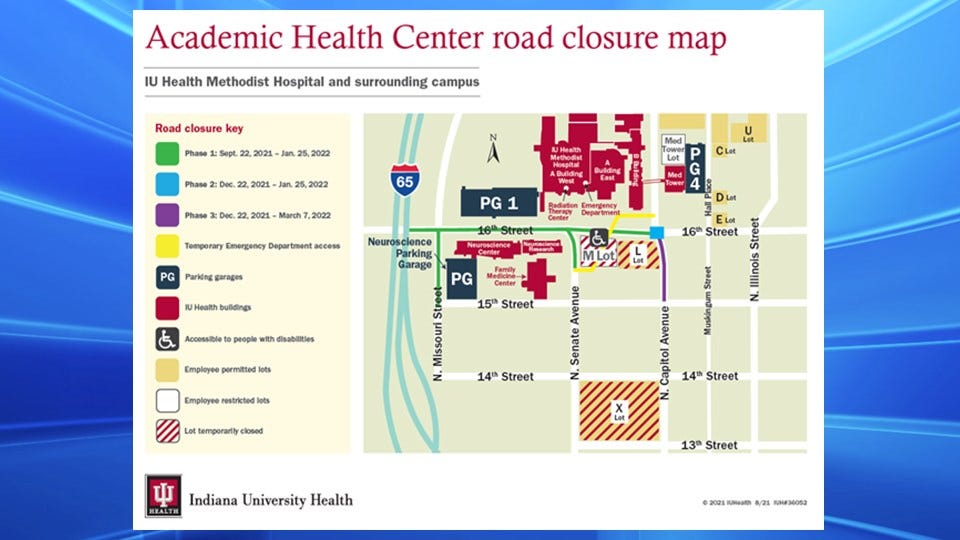 The health system says the work will not impact the main Senate Avenue entrance to Methodist Hospital or access to the hospital's main parking garages used by patients and visitors.
The new hospital project will combine Methodist and University hospitals into one as part of a 44-acre expanded campus, which will also include research and education facilities for the IU School of Medicine. The hospital is scheduled to open in 2026.
Story Continues Below