$1M Competition Bringing Autonomous Racing to IMS
As autonomous driving continues to gather attention worldwide, two Hoosier organizations are looking to bring it to the racetrack. The Indy Autonomous Challenge, a $1 million prize competition developed by Energy Systems Network and the Indianapolis Motor Speedway, will pit teams from universities worldwide in an effort to create software for self-driving Dallara race cars.
It's a two-year competition that will be capped off by a head-to-head, high-speed autonomous vehicle race at the 2.5-mile oval track at IMS in October 2021. In a recent interview on Inside INdiana Business with Gerry Dick, ESN Chief Executive Officer Paul Mitchell said the competition was nearly two years in the making.
"We're always looking for ways to move the state-of-the-art in terms of innovation and Indiana's got a long history in automotive technology innovation and we thought what better to do than partner with the world's most famous venue in the Indianapolis Motor Speedway to kind of figure out how could we showcase an opportunity around this autonomous vehicle technology that is where so much investment and focus is today within the industry," said Mitchell.
The competition was first announced in early November and Mitchell says five universities signed up on the first day. As of mid-January, 19 global institutions had registered, including:
Ariel University (Israel)
Embry-Riddle Aeronautical University
Indian Institute of Technology, Madras
Indiana University-Purdue University Indianapolis (IUPUI)
Kookmin University (South Korea)
Korea Advanced Institute of Science and Technology – KAIST (South Korea)
Massachusetts Institute of Technology
Purdue University
Rochester Institute of Technology
Technical University of Munich (Germany)
Texas A&M
United States Military Academy (West Point)
University of California Berkeley
University of California Los Angeles (UCLA)
University of Florida
University of Illinois at Urbana-Champaign
University of Michigan – Dearborn
University of Virginia
University of Waterloo (Canada)
The competition will consist of five rounds over the two-year period, going from round one with the teams submitting a short white paper to the final round, which is the final race at IMS. The race will award $1 million, $250,000, and $50,000 to the first, second and third place finishers respectively.
IMS President Doug Boles says a competition such as this is in the DNA of the famed oval track.
"You think back 110 years, in 1909, Carl Fisher develops the Indianapolis Motor Speedway to test the new technology of the day back then, which was the automobile," said Boles. "We've gotten the rearview mirror from that, paved racing surfaces from that relationship. In 2002, the SAFER wall came around, so this is just an opportunity for us to continue that. But (in) this one, I think we're going to see applications for years to come in automobiles that we see driving around communities and it's really going to have some roots in what we're doing together at the Indianapolis Motor Speedway."
The race cars that will used in the competition are being designed through a collaboration among ESN, Italian motor racing chassis manufacturer Dallara, which has a facility in Speedway, and the Clemson University International Center for Automotive Research. Conceptual renderings for the cars were released in December.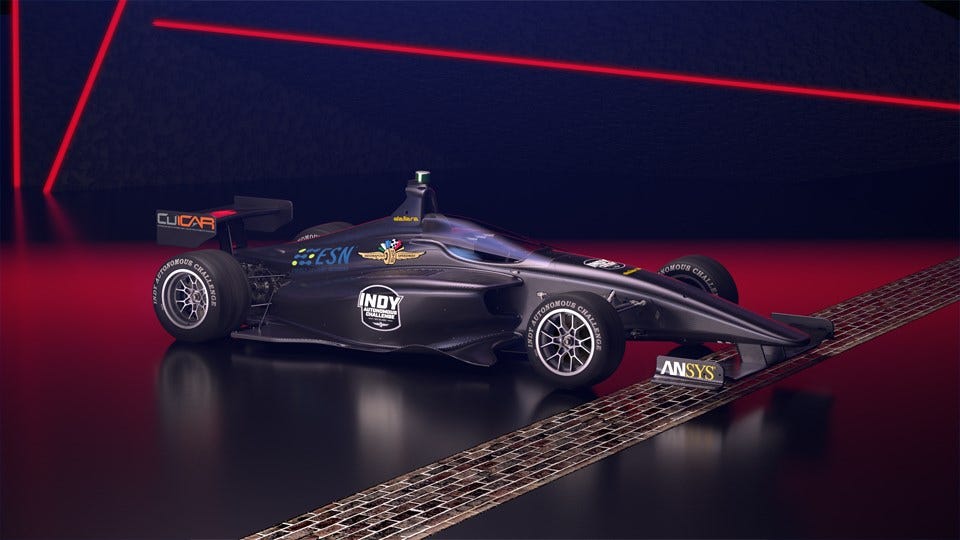 In addition to furthering research in autonomous vehicle technology, Mitchell says the competition will have a lasting economic development impact for Indiana.
"What we're doing is harnessing the power of prize competitions and the allure of the Speedway to bring the best and brightest minds from around the world that are working in artificial intelligence, machine learning, (and) advanced computing," Mitchell said. "They're coming to Indiana for two years. This is the future workforce of our innovation economy here in Indiana, helping them get jobs at current Indiana companies, helping them create companies in the state and then also just putting us on the map as a hub for innovation for years to come."
Mitchell says the competition has the ability to serve as a catalyst for autonomous technology development in Indiana. Registration for the competition will continue through February 28.