Inmates Helping Inmates, Families Stay in Touch
Nearly four dozen women who are incarcerated at the Rockville Correctional Facility in Parke County are now working in a call center to help inmates in other prisons and jails to communicate with their family members.
The women were hired by Arizona-based technology company Televerde to staff the phone lines in a contact center which is operated at the prison.
A third party, Securus Technologies, has contracted with Televerde to staff and manage inbound customer service calls. Securus is a subsidiary of Texas-based Aventiv Technologies, a diversified technology company specializing in communications services for the corrections and government services sectors.
In an interview with Inside INdiana Business, Aventiv Technologies President and Chief Executive Officer Dave Abel said his company is committed to helping people who are currently imprisoned.
"What this really, really boils down to is that as a nation, we need to reduce the recidivism rate, the rate with which people return to facilities," said Abel.
Securus provides phone service, email and video chat capabilities for inmates and their families. He said as the pandemic swept the nation, correctional facilities stopped in-person visits.
"It is the only method of communication, outside of visitation which has been necessarily restricted by facilities during COVID," said Abel. "It is a lifeline of connectivity between them and their loved one."
The Rockville inmates answer calls from people who are both inside and outside institutions and may be struggling with the Securus technology. It could be family members struggling with something as simple as adding money to a telephone account or having problems accessing the website. Or it could be an inmate whose tablet is malfunctioning.
"We're more empathetic to their needs. Because we understand them especially from both standpoints," said ShaShanna Brent, a two-year Televerde veteran and an inmate at Rockville. "Some of the prisons have shut down and they won't let you have face to face visits. And so, all you have is maybe emails, phone calls, and things like that."
Brent has been incarcerated since 2017. Brent joined the program after she noticed a change in other inmates who were part of the Televerde staff.
"They're recognized for how they carry themselves and their mindset. They think differently. They act differently. And I was like, 'I want to be part of that,'" said Brent.
She says the need for the technology has been heightened because of COVID-related restrictions.
"As far as the inmates go, they may have their tablets or their media. And if they have problems with that, then they're probably going to get depressed because this is all they have to keep their mind focused," explained Brent. "And so, I'm wanting to make sure that I help them out with their issues."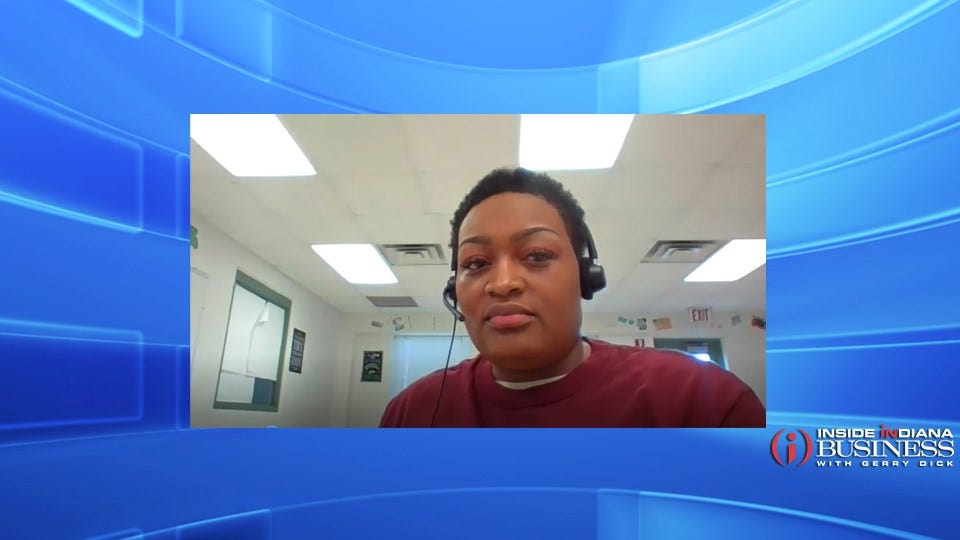 Securus says the workers hired by Televerde are paid the federal minimum wage, undergo job training, learn professional skills and are on track to be offered a job with the company after they are released.
"What studies have shown is that there are two significant contributing elements to reducing recidivism. One is the degree to which an individual is connected with friends and family and a support network. The more communication an individual has, the more likely that person is not to return to a facility," said Abel. "The second element that reduces recidivism is the ability for an individual to have job skills upon release."
Abel says his company has been accused of abusing the system by using incarcerated workers. He says since January Aventiv has transformed its business model to make it more accountable and affordable.
By partnering with Televerde, Abel says it shows the company's commitment to invest in re-entry services.
"A full wage, job skill training, post-incarceration opportunities, and measurable results that demonstrate a decrease in recidivism," said Abel.
Brent says the Televerde job has put her on the right track for success both inside and outside of prison.
"I know how to gauge situations before going into them. And I stay surrounded with positive, influential people," said Brent, who says she may pursue a business degree once she is released.
Abel says the national three-year average recidivism rate is 68%, but he says the return rate for Televerde-trained women is about 5%. Brent is committed to not repeat the mistakes that got her to Rockville.
"I'm more confident that I will be successful in my endeavors. Because they helped me here, but I know that they're still going to be there for me, upon my release, because they help with mentorship," said Brent.
Televerde also opened a call center at the Madison Correctional Facility in December 2019.
Abel explained how its business model is helping inmates from returning to prison.

Brent said she and her Televerde colleagues are uniquely qualified to help.