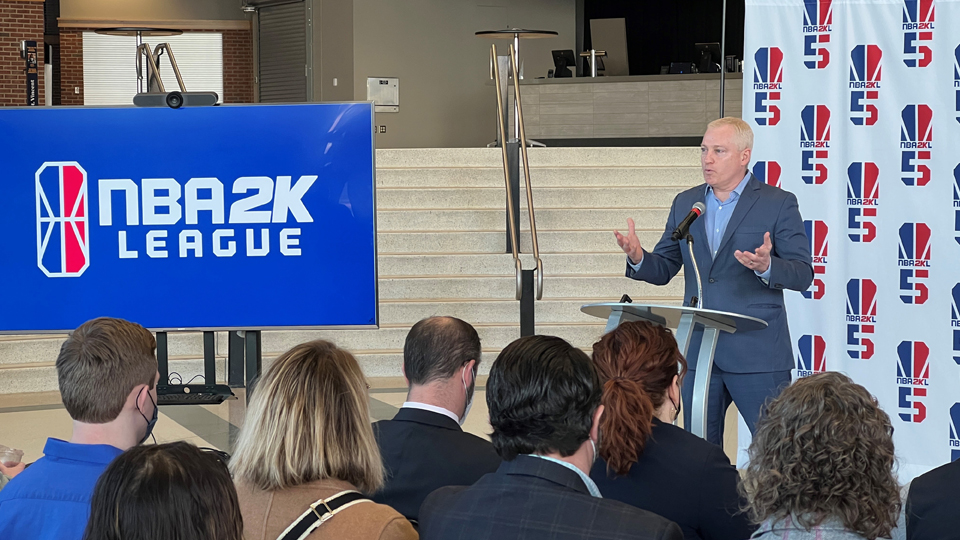 Indiana's reputation as a basketball state is now expanding from the hardwood to the digital world. The NBA 2K League has announced plans to move its in-person competition to Indianapolis this year for the league's fifth anniversary season. The competitions will be a combination of remote and in-person events hosted at the new NBA 2K League Studio at The Pavilion at Pan Am Plaza beginning April 20.
In an interview with Inside INdiana Business, Indiana Sports Corp. President Ryan Vaughn explained with the increasing popularity of esports, it is important for Indy to grab its share.
"Gaming is very competitive. And it's huge. And so, we have been, as an organization, for the past two years trying to figure out what is the right way for us to enter into this ecosystem. That is going to help us learn, we'll have a strong partner and could have a positive impact for the city," said Vaughn.
The league says it played nearly all of the 2020 and 2021 seasons remotely because of the pandemic.
"We are thrilled to get back to our live studio experience in the heart of downtown Indianapolis – a city overflowing with passionate basketball fans and known for putting on some of the biggest events in American sports," said NBA 2K League President Brendan Donohue. "The NBA 2K League is proud to call Indianapolis our home for the 2022 season."
For the past five years, much of the league's early action was hosted at the 115-seat venue in New York City, with occasional tournaments in other cities. Vaughn says leaving the NY studio for Indy sends a relevant signal.
"It says a very important message, especially in the world of Esports… is that Indianapolis is a place that can host your events, that provides sort of a premier opportunity to your athletes," said Vaughn. "And that we can compete against anyone else on these for these opportunities. The fact that we get to host the entire season, the playoffs, the championship is really just extraordinary."
The new venue will include two stages, allowing for simultaneous game plan. The league has not yet announced ticket sales for in-person games.
The season tips off March 23 with qualifying rounds. The championship games will be played in August in Indy.
"Indiana Sports Corp is excited to partner with the NBA 2K League on its upcoming season in Indy," said Vaughn. "Our team will provide assistance in several capacities over the course of their 2022 competitions, and we look forward to welcoming this first-ever full tournament season, playoff and championship event to our city."
There are 24 teams in the league, and most are affiliated with NBA teams. You can view the full 2022 schedule by clicking here.
The Associated Press contributed to this report.
Story Continues Below