Indy Allowing Bars, Nightclubs to Reopen After Labor Day
After the Labor Day weekend, Marion County bars and nightclubs will be allowed to reopen at limited capacity, following a six-week shutdown imposed July 23 due to a surge in COVID-19 cases.
At the same time, the city of Indianapolis will reopen several downtown streets, including Mass Ave, that were closed to give restaurants more space for outdoor seating.
Indianapolis Mayor Joe Hogsett on Thursday announced changes to the public health orders that go into effect September 8
"We've taken steps as a city to lower the transmission of the virus. And these steps have allowed us to see a measure of success in recent weeks," Hogsett said.
Bars will be allowed to reopen at 25% capacity. Outdoors can reopen at 50% capacity, but bar top seating remains closed. The city-county order requires the venues to close at midnight.
"But let me clear, this progress does not mean it's time to relax," said Dr. Virginia, director of the Marion County Public Health Department.
The order allows nightclubs to reopen at reduced capacity as well, but dancing is not allowed. Hogsett emphasized customers must be seated when visiting these establishments.
"When I say seating, I mean that it will be mandatory for customers to be seated at tables no larger than what we will accommodate six people," said Hogsett. The mayor
The administration said if bars violate the reopening rules three times, they will be closed down for a minimum of 30 days.
"And I promise you, Dr. (Virginia) Caine and her team will go full "footloose" on your business if you're operating as a dance club," said Hogsett.
At the same press briefing, Hogsett announced the city will reopen Mass Ave and Broad Ripple Avenue after Labor Day. They were temporarily closed to traffic in support of the Dine Out Indy program.
"We continue to encourage businesses and restaurants to arrange for outdoor seating and dining, while weather permits," said Hogsett.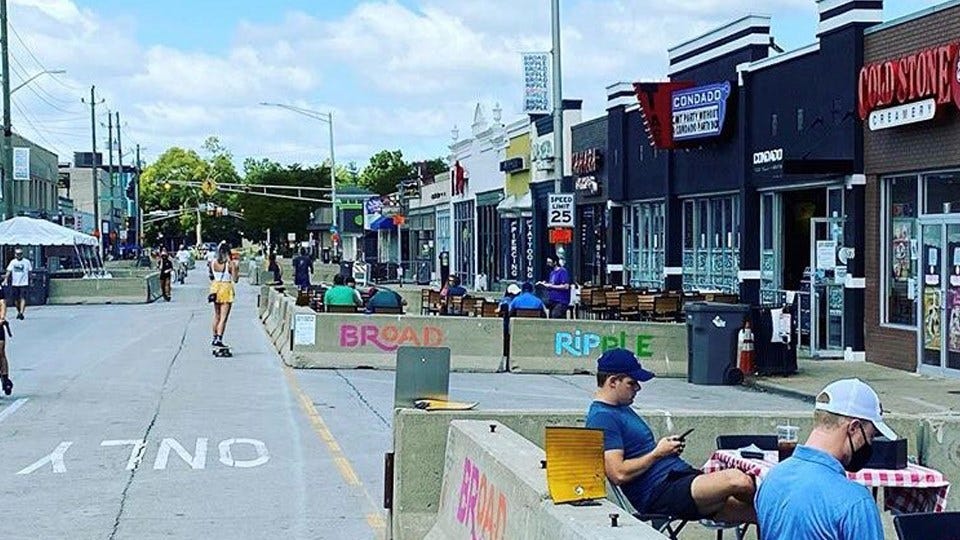 He said the Department of Public Works and Department of Business and Neighborhood Services are ready to help those establishments to "creatively expand their outdoor capacity," including the use of the public right of way where possible.
Hogsett said some businesses have asked for permanent closure to those streets, but he said that is not economically or contractually possible.
"But to be clear, despite the great partnership we have enjoyed with Park Indy, under the city's long-term parking meter contract, there is simply no financially feasible way to permanently close streets within downtown parking meter zones governed by the 2010 contract," said Hogsett. "The cost would be in the tens of millions of dollars before a single penny is spent on design or construction."
Marion County Public Health Department Director Dr. Virginia Caine said residents must remain vigilant.