Indiana planning first opioid settlement payout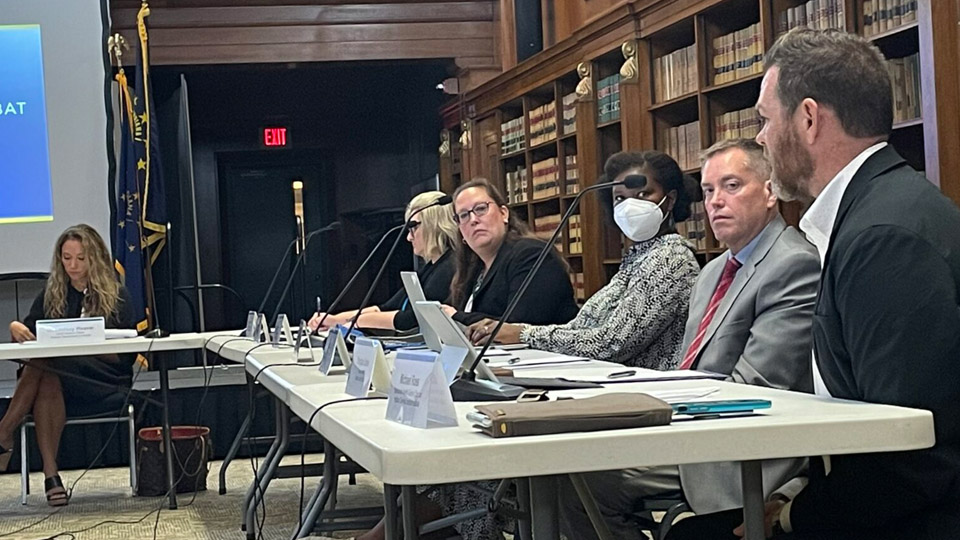 Indiana received the first payment from its share of a national, $26 billion settlement with opioid manufacturers and distributors in mid-July, and expects to receive two more this year. Local governments could see their first payments this year.
"The plan is to distribute all of that money at one time, rather than distribute payments piecemeal," said Betsy DeNardi, co-director of complex litigation for Attorney General Todd Rokita's office. She spoke at a meeting of the Indiana Commission to Combat Substance Use Disorder on Thursday.
That's expected to go out in the fall, according to Attorney General's Office spokeswoman Kelly Stevenson.
Indiana's share of the settlement with manufacturer Johnson & Johnson and distributors AmerisourceBergen, Cardinal Health and McKesson totals $507 million.
Several local governments initially opted out of the settlement to pursue their own litigation, but rejoined after a March law gave local leaders more control over the funds. By June, Rokita's office announced it had wrangled all 648 of its political subdivisions into the deal — entitling Indiana to its full share of the settlement.
DeNardi said the local buy-in also meant Indiana would get its payments on an accelerated timeline.
Indiana will get the first five years of payments from the 11-year Johnson & Johnson settlement this year, DeNardi said. The state will also get two years worth of payments this year from the 18-year settlement with the three distributors.
DeNardi said the state had sent letters to cities, counties and towns with their estimated payouts, which Rokita's office also keeps in a detailed year-by-year spreadsheet on its website. Fort Wayne, for instance, will receive about $1.3 million this year and Indianapolis will receive about $8.5 million.
Local governments must spend 70% of the money on a broad list of opioid abatement strategies, including prevention, treatment, recovery support services, help for pregnant and postpartum women and more. There are fewer restrictions on the other 30%.
"The portion of the settlement that's unrestricted is considered by those defendants, those companies, as money that is to repay the states and the communities for past expenses for opioid use disorder treatment and education," DeNardi said.
Indiana's also part of a lawsuit against major player Purdue Pharma, which filed for bankruptcy in 2019, in the face of thousands of opioid-related lawsuits.
DeNardi said she had no estimates on when the state might receive money from that case, but said she was "hopeful" the 2nd Circuit U.S. Court of Appeals in New York City would soon make a move. The case could be appealed to the U.S. Supreme Court or go back to bankruptcy court, she said.
DeNardi also said she was "encouraged" by tentative settlements between drugmakers Allergan and Teva Pharmaceuticals, and the states.
Story Continues Below