Indiana Farmland Values Grow, Attract Investors
Even though the COVID-19 pandemic is creating havoc in agricultural markets and the economy in general, Indiana farmland prices are continuing to show strength.
Columbia City-based Schrader Real Estate and Auction Co. said there is strong demand for farmland and strong competition to get it.
"Going into COVID-19, the number of bidders (at land auctions), the aggressiveness, it was positive evidence of farmland values hanging in there, at least for now," said R.D. Schrader, president of Schrader Real Estate.
For example, at one February auction in Franklin County, held before COVID restrictions, 43 bidders took part in the Schrader auction with the landing selling at $10,745 per acre.
Schrader said farmland auctions throughout the winter months were some of the most competitive he has seen in several years.
"Since back in 2012-13 when farmland values were very, very strong, and we were coming off $8.00 corn, $18.00 beans, and near-zero percent federal fund rates."
Schrader said farmers were enjoying very strong incomes at the time. With corn futures prices now closer to $3.00 per bushel, incomes are not as healthy, but interest rates are low which reduces the cost to borrow money.
"When money is cheaper, it's easier to justify those annual payments to pay the farmland down," said Schrader. "When interest rates are low, it's easier to cash flow that based on what's going on with incomes."
Lenders also see continuing strength in farmland, especially in the Corn Belt.
A new quarterly report from the Chicago Federal Reserve Bank District showed farmland values are 1% percent higher than a year ago. The report is based on a survey of 113 agricultural bankers.
In Indiana, farmland values increased 3% from the previous quarter and it is up 4% year over year.
The district includes the northern half of Indiana and Illinois, all of Iowa and parts of Michigan and Wisconsin. Of the five states in the district, Indiana registered the biggest gains.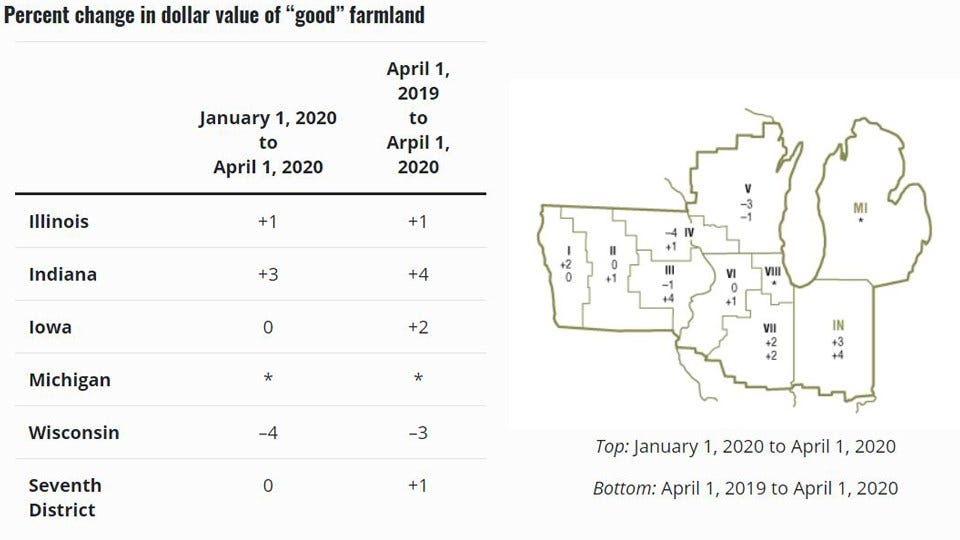 The FRB said survey participants also indicated the share of acres purchased by farmers shrank, while the share of acres purchased by investors expanded.
Schrader sees a similar trend.
"I think we're seeing a little extra influence from investors. When we went through the financial meltdown (in 2008-09), farmland got on the radar of many folks who had never thought of farmland as an investment," explained Schrader. "When the rest of the economy was tanking, farmland was just soaring. It got on the radar and stayed on the radar."
Schrader says farmland can have its up and downs, but it tends to have a lot more long-term stability. "People who invest in farmland tend to invest with long-term capitalization mentality."
Looking ahead, Schrader said land values may be affected by concerns over lower farm income due to low commodity prices if farm commodity prices do not rebound.
However, with continued strength in demand, coupled with extremely low interest rates and limited land supply, the land market will continue to draw investors.
Story Continues Below
Schrader Real Estate President R.D. Schrader says when borrowing money is cheap, farmland becomes an attractive investment.