Indiana abortion clinics could face rough future under proposed restrictions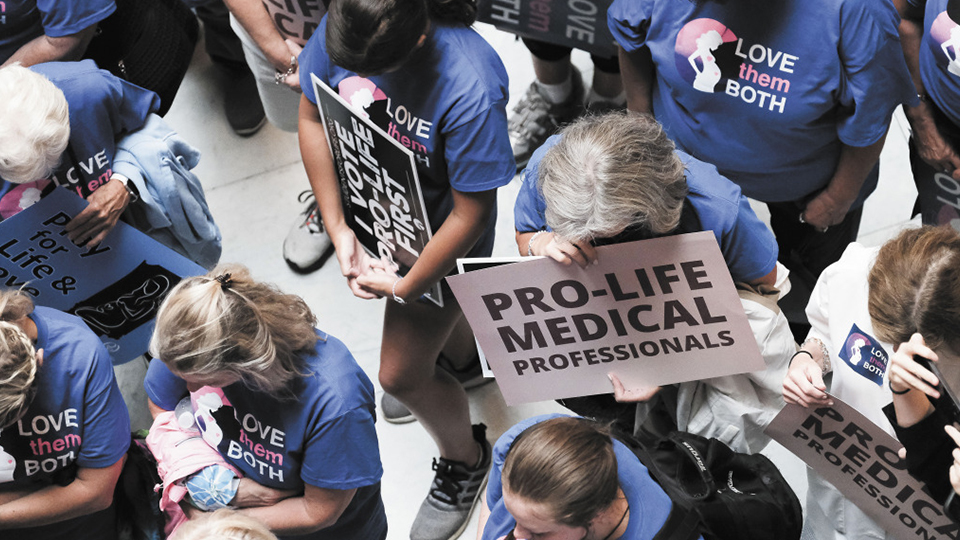 It's a small sector of the medical industry that could be on the brink of extinction.
Abortion clinics in Indiana are now in the crosshairs of the Indiana General Assembly and are likely to face a sharp drop-off in business if current legislation passes that would significantly restrict access to abortion.
Senate Bill 1 is advancing through the Legislature's special session and seeks a sweeping ban on abortion, with exceptions for rape, incest and the life (but not health) of the mother.
Last year, abortion clinics and hospitals in Indiana performed 8,414 abortions, up 8.5% from 2020. The vast majority, about 98%, were performed in seven free-standing abortion clinics in five Indiana cities. Only about 2% were performed in hospitals.
With the Legislature now set on banning most abortions, the future of at least some of those clinics and the services they offer is in question.
Some say small, independent clinics, which primarily offer abortions and contraception, are especially vulnerable. Under SB 1, only hospitals and licensed surgery centers will be able to perform abortions.
"When the clinic's only source of revenue is banned, then there's no ability for the clinic to stay open," said Dr. Katie McHugh, an obstetrician-gynecologist who works at Women's Medical Center on Indianapolis' east side. "It will spell the death of these independent clinics."
The Indianapolis clinic, which has been in operation about 25 years, will close if the proposed restrictions become law, said Valerie Haskell, a clinic spokeswoman. It has two physicians and about 10 employees.
"We will not remain open, as our entire practice is committed to providing pregnancy terminations," Haskell said in an email to IBJ. "We do not offer other medical services."
The two other independent abortion clinics in Indiana—Clinic for Women in Indianapolis and Whole Women's Health in South Bend—did not respond to IBJ.
From 2015 to 2020, more than one-third of all independent abortion clinics closed their doors, including two in Indiana, according to the Abortion Care Network, a national association for independent abortion care providers based in Washington, D.C.
The group says more than half of all abortions provided in the United States (58%) were performed in independent abortion clinics. In Indiana last year, that figure was 48%.
"In fact, independent clinics are sometimes the only available provider of abortion in a given state or region," says the group's 2020 report, called "Communities Need Clinics."
'Our patients still need us'
The other four abortion clinics in Indiana are owned by Planned Parenthood, one of the nation's oldest and largest providers of abortions and reproductive health services.
Planned Parenthood acknowledged that it will likely have to discontinue or sharply curtail abortion services if SB 1 passes with restrictions intact. But the group said it has no plans to close any of its Indiana clinics, located in Indianapolis, Bloomington, Lafayette and Merrillville.
"There's no way we're handing a win to the legislators in this building, or the anti-abortion activists, by shuttering any of our health centers," said Rebecca Gibron, CEO of Planned Parenthood Alliance Advocates, in an interview at the Indiana Statehouse following a rally Monday by abortion-rights supporters.
She added: "Our patients still need us for a full range of reproductive and gynecological health care. So, we still are going to be here to provide care to our patients in all of our clinics."
Planned Parenthood offers tests for sexually transmitted diseases, Pap tests, cancer screenings, condoms and oral contraceptives, in addition to abortion services. The group's annual report doesn't break down revenue by category, so it's unclear how significant abortion revenue is to the bottom line.
Gibron's district serves Indiana, Kentucky, Alaska, Hawaii, Idaho and Washington state. It was created through a merger in 2019 between Indianapolis-based Planned Parenthood of Indiana and Kentucky, which had suffered multiple years of budget deficits and clinic closures, and the Seattle-based Planned Parenthood of the Great Northwest and Hawaiian Islands.
The merger allowed the group's Indiana and Kentucky district to tap into the wealth from donors in Seattle, who were looking for a way to make a greater impact with their dollars. The western chapter had a budget more than four times the size of the Indiana and Kentucky chapter.
The combined chapters have about 600 employees, including about 150 in Indiana.
Thousands of demonstrators filled the Statehouse corridors this week to support or oppose abortion rights. More than 60 people testified about SB 1 over two days during Senate committee hearings, but no one spoke in favor of it. Abortion-rights advocates, including about a dozen physicians, said the bill would hurt women's access to important health care options, including some that could help improve their health.
Anti-abortion advocates, also including some physicians, said the bill did not go far enough to restrict abortion and did not provide sufficient enforcement.
Following the testimony, the Senate Committee on Rules and Legislative Procedure amended the bill to provide that doctors who perform an abortion—except in the cases of rape, incest, fatal fetal abnormalities or to protect the life of the mother—could face one to six years in prison and a fine of up to $10,000.
The amended bill also says victims of rape or incest will have narrow windows to get an abortion: 12 weeks after fertilization for girls 15 years and younger, and eight weeks after fertilization for girls and women 16 or over.
The committee voted 7-5 to advance the bill to the full Senate, which is debating the bill this week.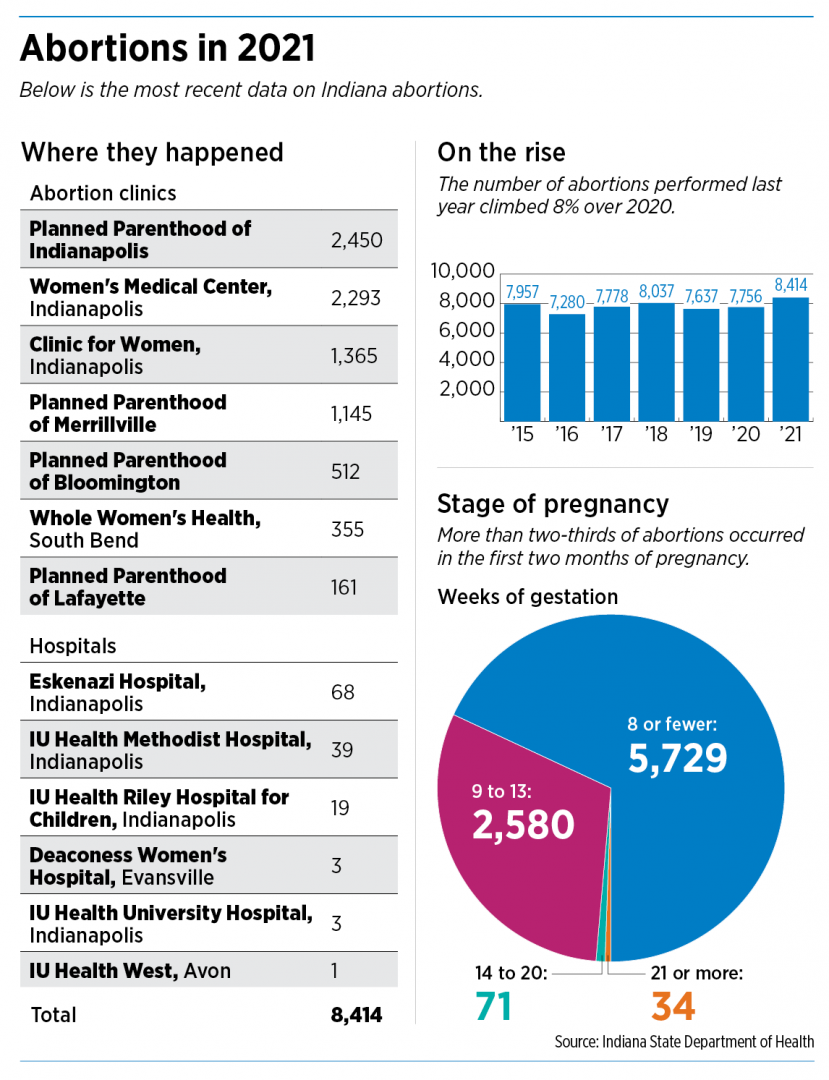 'Political posturing'
Indiana Right to Life, the state's most influential anti-abortion group, told IBJ Tuesday that the original bill would not affect abortion clinics' ability to stay in business.
"Any announced closures are pure political posturing," the group's president, Mike Fichter, told IBJ in an email. "Indiana's law remains unchanged and SB1 as it now stands would have minimal impact on abortion clinics."
And after the Senate struck down a proposed amendment on Thursday evening that would have eliminated rape and incest as exceptions from the abortion ban, Indiana Right to Life said it remained opposed to SB 1, saying it contains a "vague life-of-the-mother exception that will be easily exploited to cover most abortions."
The group also pointed to other provisions in the bill it objected to, such as any requirement that claims of rape be reported to police and language that it said allows abortion of fetuses with disabilities.
"We did not wait 50 years for the full reversal of Roe vs. Wade for this," Fichter said in the statement.
It's difficult to say how much money abortion clinics in Indiana pull in every year. The price of abortions at Planned Parenthood can cost "up to $750," according to the organization's website.
Using that as an upper price limit, Planned Parenthood could have brought in up to $3.2 million last year for the 4,268 abortions it performed in Indiana.
GoodRx, a company that tracks prescription and health care costs, reports that an abortion can cost anywhere from nothing out of pocket to more than $1,000, depending on the type of care and the stage of pregnancy, among other factors.
According to the Kaiser Family Foundation, the average national cost of an abortion at 10 weeks is $500 and increases to an average of $1,195 at 20 weeks.
Indiana law currently allows abortions up to 22 weeks after the last menstrual period.
The price of an abortion at Women's Medical Center in Indianapolis is $600 to $900, depending on the gestation stage and the method chosen by the patient, said McHugh, an OB-GYN there.
The clinic typically sees 20 to 30 patients a day, she said, but the number has risen in recent months to as many as 40 a day as some surrounding states, such as Ohio, have already placed sharp restrictions on abortion.
"Just yesterday, I saw patients from Ohio, Kentucky and Tennessee," McHugh said in a recent interview. "I saw one patient from Texas. And in the last week, I saw a patient from Louisiana."
Now, if SB 1 becomes law, those patients will have to travel to a state with fewer restrictions, such as Illinois, New York or Minnesota, she said.
"You are not going to ban abortions," McHugh added. "You are just going to make patients travel farther to get one."
Story Continues Below