Holcomb to Lead Delegation to Slovakia, Israel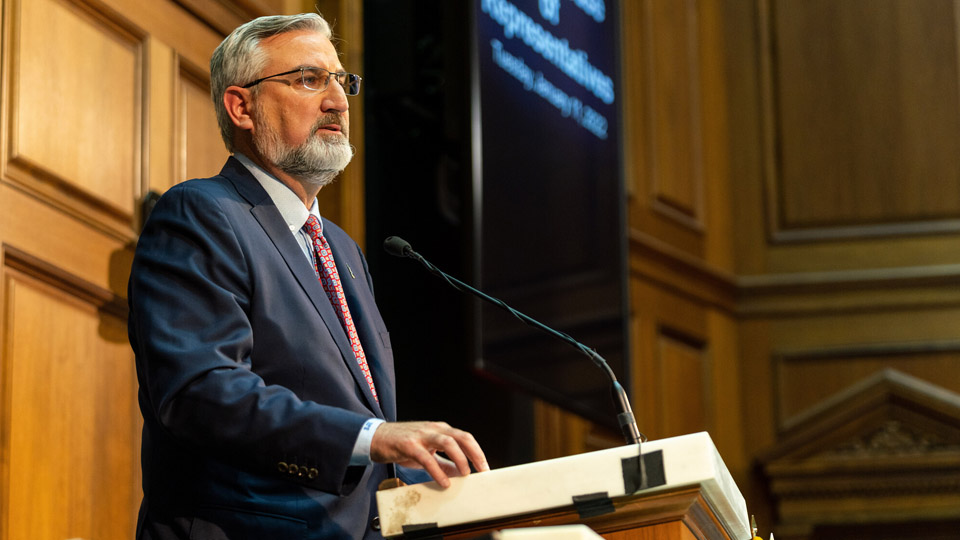 Governor Eric Holcomb will lead an economic development trip to Slovakia and Israel later this month. Holcomb's office says the trip will focus on increasing Indiana's international engagement and cultivating new business relationships in central Europe and the Middle East.
The trip also aims to help promote future economic partnerships. The delegation will include Indiana Secretary of Commerce Brad Chambers, Major General Dale Lyles, Indiana's adjutant general, and First Lady Janet Holcomb.
"Secretary Chambers and I are energized to strengthen relationships with global leaders and job creators while forging new partnerships to advance economic growth and further diversify our dynamic economy," said Holcomb. "This visit also provides an opportunity to do what's right and offer Hoosier support through humanitarian efforts to the Ukrainians who have found refuge in Slovakia and the greater region. As Hoosiers we continue to do our part from Indiana, but we have an opportunity to prove our support and commitment to Ukrainians whose lives are being directly impacted by the Russian invasion."
The delegation will head to Slovakia on March 27 and finish the trip in Israel, returning to Indiana on April 2. The trip comes ahead of the inaugural Global Economic Summit, which will be held this spring and include delegations from both Slovakia and Israel.
Holcomb's office says Lyles will represent the Indiana National Guard to reinforce its partnership and support of Slovakia and Israel. First Lady Janet Holcomb's role will have an economic development and humanitarian focus, while also strengthening cultural ties.
In 2018, Holcomb and the Slovak Minister of Economy signed a memorandum of understanding to identify opportunities to partner in advanced manufacturing, defense, automotive, energy, agriculture technology, information technology and cybersecurity. Also in 2018, through an MOU between the Indiana Economic Development Corp. and the Israel Innovation Authority, Indiana and Israel are working to identify challenges in agbiosciences, life sciences, technology and cybersecurity.
Indiana exports more than $1 million worth of goods to Slovakia including chemicals, computer and electronic products, machinery, petroleum and coal products, and transportation equipment. Slovakia is also home to several Indiana-based businesses, including Evansville-based Berry Global Group Inc. (NYSE: BERY), Indianapolis-based Eli Lilly and Co. (NYSE: LLY) and Green Cubes Technology in Kokomo.
Holcomb's office says the Indiana National Guard has a more than 25-year partnership with Slovakia through joint military trainings and security cooperation objectives.
Additionally, Indiana and Israel share a trade relationship, with the Hoosier State being the fourth largest goods exporter to Israel in the Midwest and the 19th largest in the U.S.
The trip will mark Holcomb's tenth international economic development trip, second trip to Slovakia and third trip to Israel as governor. Holcomb's office says the costs of the delegations are being paid through private donations to the Indiana Economic Development Foundation.
Story Continues Below