Graham Rahal reaches agreement to move HQ to Zionsville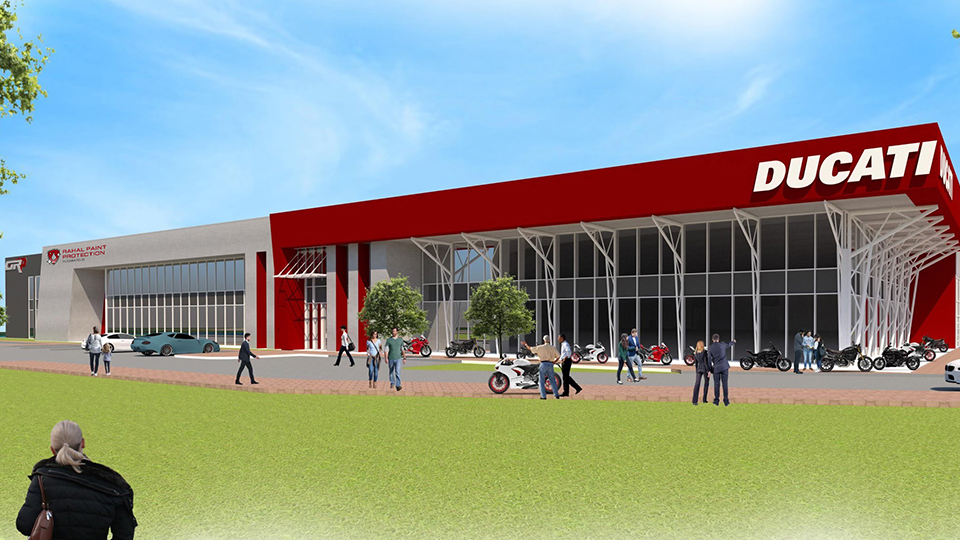 INDYCAR driver Graham Rahal will spend up to $20 million to move his automotive headquarters from Brownsburg to Zionsville's Creekside Corporate Park, town officials announced Wednesday morning.
Rahal, president of Graham Rahal Brands, entered into an agreement with the Zionsville Economic Development Commission to purchase two lots at Creekside where a 115,000-square-foot HQ will be constructed.
More than 45 existing employees are expected to make the move to the new headquarters, and another 35 to 55 could be hired after the move.
The headquarters, which will cost an estimated $15 million to $20 million, will house Graham Rahal Performance, Rahal Ducati Indianapolis, Rahal Paint Protection and the Graham & Courtney Rahal Foundation.
It will also include an automotive center with specialty sales and service for both four-wheeled vehicles and motorcycles; an auto spa for detailing and installation of paint protection film, ceramic coatings and window tinting; indoor vehicle storage; an auto-themed restaurant and small event space; a Rahal Racing Museum and corporate offices.
Rahal's facility will be developed by Carmel-based Studio M Architecture and Planning and Indianapolis-based Dillon Construction Group. A construction schedule has not yet been established.
The headquarters will be built off West 106th Street, west of the future headquarters of Rahal Letterman Lanigan Racing, which is owned by his father, Bobby Rahal.
The $20 million, 115,000-square-foot RLL Racing team headquarters is under construction on three lots at the corner of West 106th Street and Creek Way. The facility will house Bobby Rahal's Brownsburg-based NTT INDYCAR Series team and his Columbus, Ohio-based International Motor Sports Association WeatherTech SportsCar operation.
"Our family has made a big commitment to Zionsville with the RLL facility in Creekside," Graham Rahal said in written remarks. "We feel like that showcases the quality of building that we want to put up. That showcases the quality of work and the expectation of our family and the way we carry ourselves."
Graham Rahal currently operates Graham Rahal Performance at 499 Southpoint Circle in Brownsburg.
"[The Rahals] are certainly investing in their own community," Corrie Sharp, a consultant with the Zionsville Economic Development Commission, told IBJ. "It's great to see businesses do that and have a family legacy."
Creekside Corporate Park has been mostly empty since Zionsville partnered in 2013 with the local school system to purchase 91 acres of undeveloped land along 106th Street from Michigan-based Dow Chemical Co.
However, progress has been made in filling the corporate park in recent months.
Carmel-based Lauth Properties LLC is also working to purchase two lots at Creekside.
Lauth plans to construct a $9 million, 29,000-square-foot building that would be broken up into five 4,800-square-foot spaces for standalone medical offices. To date, seven of the park's 15 lots have been purchased, and there are two companies—Group1001 and DK Pierce & Associates—in operation at Creekside.
"I am very excited about [Graham Rahal's] project and other projects in the works for Creekside Corporate Park," Mayor Emily Styron said in written remarks.
Story Continues Below